Winter is a time of great promise for trout anglers because it's at this time of the year that the trout come to the surface and often move into near shore areas. This is the time of the season when you can troll all day without using your downriggers, because most of the trout will be found in the top 15 feet of the water column.
Typically, when trolling for winter trout I like to rig up with spoons and plugs that allow me to keep moving quickly. This approach is generally pretty effective, but as with all fishing strategies it doesn't work all the time.
When the water is super cold or stained or both, fast trolling may not pay dividends. If the trout are sluggish or if visibility is limited a slow finesse presentation might be required to draw strikes. Here are some of my favorite finesse presentations for lethargic winter rainbows.
Threaded Worms
When targeting cold water trout that are playing hard to get, I have not found anything as effective as a threaded night crawler. To rig a threaded night crawler I start off by snelling a No. 6 bait holder hook on the end of a 36 inch 10 pound test fluorocarbon leader.
Next I take out a night crawler and slide it onto my worm threader. If you've never seen a worm threader, it is a simple wooden handle with an 8 inch section of fine diameter metal tube imbedded in it. The tip of the tube is cut off on a sharp angle.
Once I have the 'crawler impaled on the threader, I slide it down to the handle. After that I place the hook tip in the end of the tube and pull it down tight by gripping the leader against the wooden handle. The final step is to slide the 'crawler up the threader, over the bend of the hook and down the leader.
A night crawler threaded like this can be fished a number of different ways. You can tie the leader to a swivel knotted to the end of your main line and pull it from .50 to 1.5 miles per hour. Rigged like this the worm will spin and glide through the water, making an inviting target for trout. My all time favorite approach is to pull a threaded 'crawler 12 to 18 inches behind a watermelon pattern Sep's Side Kick dodger or Strike Master dodger.
A threaded 'crawler pulled 18 inches behind a set of silver or brass flashers is an old school favorite that has been catching big numbers of trout for decades. Sep's makes fine low drag flashers for this work, but my all time favorite flashers are the Vance's Little Slim Willie's. They are 17 inches long and feature three different blade sizes, simulating a larger fish "chasing" a couple smaller fish. These blades some in either chrome or chrome with prismatic chartreuse tape. I use both, but I use the chartreuse flashers the most.
Trolling Flies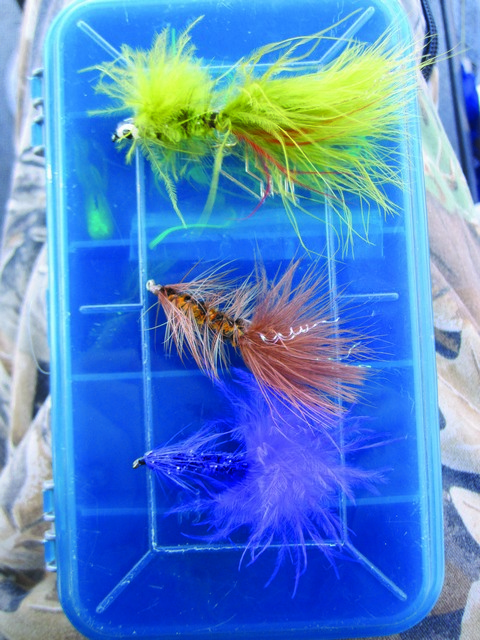 Back in my teenage years I learned that flies would often draw strikes from spooky, heavily pressured or lethargic trout that looked at traditional spinners, spoons and baits with complete indifference.
For trolling, streamer flies are most useful, but occasionally I employ a nymph or soft hackle fly too. For basic finesse fly trolling I tie a swivel to the end of my main line with 24 inches of 6 pound fluorocarbon leader attached to it. I tie my fly of choice to the end of the leader and add an appropriate amount of weight above the swivel in the form of split shot. If I need to go really heavy, I'll often put a quarter to half ounce bullet weight above the swivel. I run this rig 100 and 200 feet behind the boat.
Naturally, a woolly bugger or marabou streamer trolled in this manner will have minimal action. At times that is just what the doctor ordered. If a straight no frills approach isn't working try twitching the rod. This will cause the fly to act erratically, rising and falling as it comes through the water.
Some anglers swear by teaming a fly with a wiggle disk for slow trolling in lakes. A wiggle disk is simply a clear round piece of concave plastic that you put on the line directly above the fly. As the disk moves through the water it wiggles back and forth and that movement is transferred to the fly.
Sometimes I use Wiggle Disks, but at other times I employ small dodgers like Sep's Side Kicks and Strike Masters. Instead I prefer to team my flies with a small dodger. I've had some memorable action while trolling black or olive woolly buggers and marabous behind a watermelon colored Sep's Sidekick.
If I want to get a fly down a little below the surface, but don't want to use my downriggers I've found that tying the mainline from my rod to a deep diving crankbait and then running a 36 inch leader off the back of the plug tipped with a streamer or nymph can be a highly effective approach when the fishing turns tough. The plug takes the fly down 6 to 12 or more feet below the surface. The disturbance and flash put off by the crankbait attracts the trout and when they see the fly they grab it. I think this rig works because it is something they have never seen before and the trout hit it out of curiosity.
Berkley Minnows
As most avid trollers know, rolling shad is one of the best ways to catch big trout and landlocked kings, yet shad can be tough to obtain, store and rig and they are not legal to use at many of our lakes. This is where Berkley Minnows come in.
The Berkley Minnows come in a variety of different sizes, but I favor the 3 inch models. They are small enough to interest pansize fish, but big enough to grab the attention of the big boys too.
There are various ways to rig Berkley Minnows. In fact the PowerBait Minnows often come with jigheads included in the package. These can work well if you cast them out let the free fall and then bring them back with an erratic retrieve. Yet we are talking about trolling so save those heads for later…
Almost all of the time when trolling I run my Berkley Minnows behind dodgers. The minnows themselves have zero built in action, so I rely on a dodger to impart action. If a fast troll is required I go with Sling Blades. For slower presentations Vance's dodgers work great and when I really want to slow things down I go with a Sep's Strike Master.
Okay back to the actual rigging of the minnow. Get yourself a package of No. 6 long shank ring eye hooks and knot one on the end of a short section of 10 pound fluorocarbon leader material.
Insert that hook into the minnow such that the minnow is straight with the hook point coming out of the bait's back with the hook eye shoved a short distance into the baits head. That's it! It may take couple practice runs, but you'll be hooking the baits like a pro in no time.
The baits should be run 2 to 3 dodger lengths behind the blade for optimum results.