In the latest scandal to plague the administration of Governor Jerry "Big Oil" Brown, the Public Accountability Initiative on December 17 revealed that Brown's sister, Kathleen, was paid $188,380 in 2014 and $267,865 in 2013 to serve on the board of Sempra Energy.
That's the company responsible for the devastating Porter Ranch Gas Leak in Southern California – called the worst in the state's history by Time magazine.
The leak began October 23 and continued to foul the air as Brrown posed as a "climate leader" and "green governor" at the Paris Climate Talks. It is currently releasing 36,000 kilograms of methane per hour, leading MSNBC to describe the gas leak as a "catastrophe not seen since the BP Oil Spill."
"It has forced nearly 2,000 families to leave the area, caused the federal government to implement a no-fly zone, and led Los Angeles County to declare a state of emergency," according to the Public Accountability Initiative report. "It has also resulted in a lawsuit by Los Angeles City Attorney Mike Feuer alleging public nuisance."
This gas leak is just one of many environmental disasters that the Brown administration has presided over. While Brown pretends to be a "climate leader" and "green governor," he has overseen water policies that have brought Sacramento River winter-run Chinook salmon, Delta and longfin smelt, green sturgeon and a host of other species to the edge of extinction. His administration in 2011 presided over record water exports out the California Delta — and the killing of millions of Sacramento splittail, an imperiled native minnow, and other species at the Delta pumps.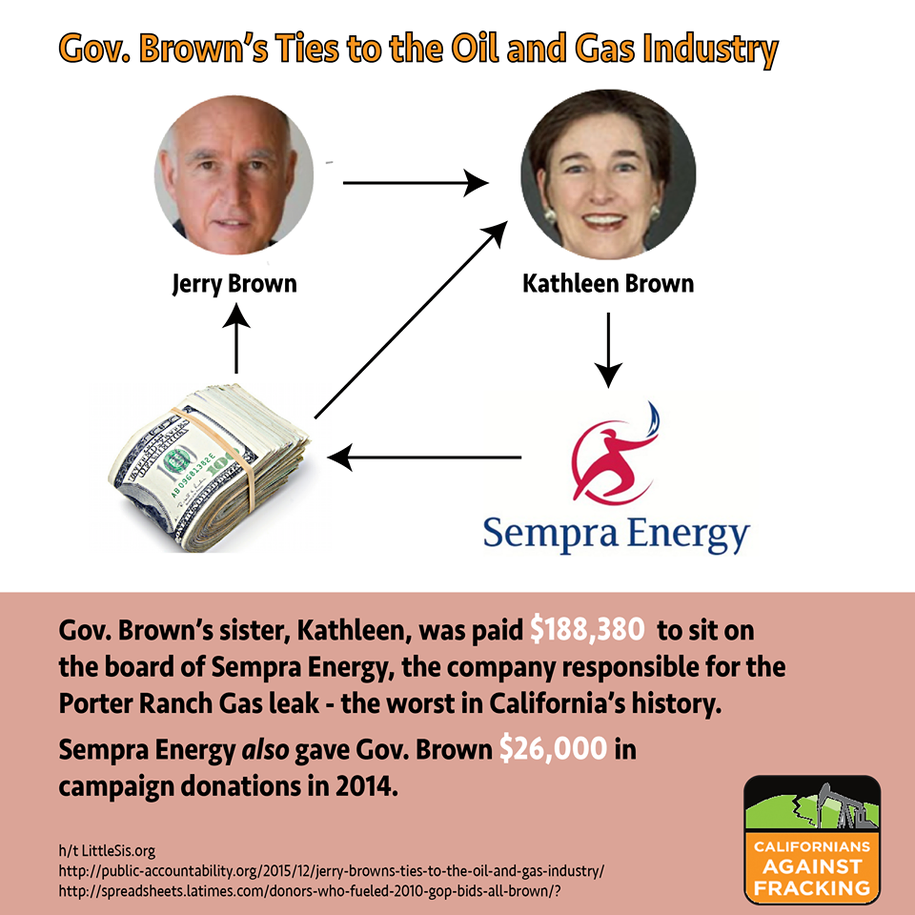 Meanwhile, Brown promotes the construction of the most environmentally devastating public works project in California history, the Delta tunnels; supports the expansion of fracking and other extreme oil drilling techniques in California; and backs destructive carbon trading policies and REDD (Reducing Emissions from Deforestation and forest Degradation).
Until the report was released, the media failed to cover Governor Brown's familial ties to the company when reporting on the leak, but Kathleen Brown's role at the company is "significant," according to the group:
She made $188,380 in her position as a board member in 2014, and $267,865 in 2013.
The current value of her equity stake was $390,851 at the market's close on December 15, 2015. The stake is in the form of 4,252 phantom shares. Phantom shares are paid out in cash upon retirement.
She is a member of the board's environmental, health, safety, and technology committee, which has oversight responsibilities directly related to issues like the leak.
Lynn Schenk, a Jerry Brown "associate and appointee," also serves on the Sempra board and sits on the environmental, health, safety, and technology committee. Her stake in the company was worth $1,071,898 at the market's close on December 15, 2015, according to the report.
Schenk, an attorney and senior corporate advisor, currently serves on the board of the California High Speed Rail Authority. From 1978 to 1983, Ms. Schenk served in the Cabinet of Governor Jerry Brown as California's Secretary of Business, Transportation and Housing.
While Brown's sister and his appointee, Schenk, made big bucks working for the company responsible for the Porter Ranch Gas Leak, Sempra Energy gave Governor Brown $26,000 in campaign donations in 2014, Californians Against Fracking pointed out.
Likewise, the press didn't cover Kathleen Brown's ties to the Forestar Group, a fracking company, before the report was released, but these ties are also significant:
She made $175,000 in the position in 2014, and has been a director of the company since 2007.
She has amassed a $949,653 stake in Forestar – 88,094 common and restricted shares (with an option to buy a further 20,000 shares) worth $10.78 per share at the market's close on December 15, 2015.
Forestar is a real estate and oil and gas company that "specifically cites increased regulation of fracking as a risk to its business."
In addition, Kathleen Brown is a partner in the law firm, Manatt Phelps, used by the state's biggest fracking lobby and the most powerful corporate lobbying group in California, the Western States Petroleum Association (WSPA).
"Manatt Phelps added the state's largest oil and gas industry lobby, the Western States Petroleum Association (WSPA), as a client in 2013, the year Kathleen Brown joined the firm. It earned $461,008 from the contract that year, according to the group's most recent tax return," the report noted.
The report said Brown's record on oil and gas is "surprising for a leader who has staked so much on his climate and environmental legacy," although not at all surprising to this journalist, who has exposed Jerry Brown's anti-environmental record and ties to Big Oil, Big Ag and other corporate interests in article after article.
Jerry Brown's ties to the oil and gas industry run deep and wide, in spite of all of his grandstanding about "green energy" and "climate change" at conferences around the world over the past several years.
Before Jerry Brown in September 2013 signed Senate Bill 4 legislation that would expand fracking in California, the governor "accepted at least $2.49 million in financial donations over the past several years from oil and natural gas interests, according to public records on file with the Secretary of State's Office and the California Fair Political Practices Commission," revealed Robert Gammon in the East Bay Express.
"Brown's relationships with the oil and gas industry likely play a role in influencing his stances on these issues," the Public Accountability Initiative said. "This report, to be released in sections in the coming weeks, will detail Brown's many ties to the industry: through his campaigns and political causes, which have benefited from significant industry funding; through close associates, who play advocacy and leadership roles in the industry; and through appointments to key regulatory roles."
The report concluded that Kathleen Brown's oil and gas industry ties  "raise new questions about Governor Brown's handling of oil and gas matters."
"Are family ties helping shape Governor Brown's stances on the issue of oil and gas production? Are they influencing his response to oil and gas-related crises like the Porter Ranch methane leak? And do they create the appearance of a conflict of interest that will undermine public confidence in Governor Brown's leadership on oil and gas matters?" the group asked.
Evan Westrup, spokesman for the Governor, responded to the report in a statement.
"The state is exercising its full regulatory and oversight authority. The focus is the health and safety of residents, period. To imply otherwise is scurrilous and irresponsible," said Westrup.
I look forward to reading and reporting on the other sections of this long-needed report as they are released. I applaud the Public Accountability Initiative for exposing Jerry Brown's ties to the oil and gas industry while he pretends to be a "green governor" and "climate leader."
While the mainstream media has provided largely fawning coverage of Brown's cynical facade as a "climate leader" at the Paris Climate Talks and other conferences across the globe, Brown is in reality one of the most Big Oil-captured governors in recent California history.
In November 2011, Governor Brown fired two regulators, Derek Chernow, acting director of Department of Conservation, and his deputy, Elena Miller, for not processing permits for fracking and other extreme oil extraction techniques fast enough for the oil industry. Brown replaced Chernow with Mark Nechodom to expedite oil drilling permits in Kern County,
Nechodom, in turn resigned this summer the day after Central Valley farmers filed a RICO lawsuit alleging that Governor Jerry Brown's office ordered the California Division of Oil, Gas, and Geothermal Resources ("DOGGR") to approve permits to inject contaminated water in violation of the Safe Drinking Water Act.
Governor Brown recently announced the appointment of Bill Bartling, 61, of Bakersfield, who has worked as an oil industry executive and consultant, as district deputy for Bakersfield in the Division of Oil, Gas and Geothermal Resources (DOGGR) at the embattled California Department of Conservation.
To read the full Public Accountability Initiative report, go to: public-accountability.org.