The stunningly beautiful Monterey County Coast is a special, magical place for anglers to fish for rockfish, lingcod, salmon, halibut and other fish species.
The coast includes some of the most famous scenery in the world, including historic downtown Monterey, Pebble Beach Golf Course, the white sands of Carmel Beach, the redwoods of Pfeiffer Big Sur Park State Park, the rugged Santa Lucia Mountains and dramatic cliffs of the Big Sur coast.
Of all of the places you can fish in this region, my favorite is the wild and remote region known as the Big Sur coast, the region adjoining the segment of California State Route 1 from Carmel south to San Simeon.
This coast has been celebrated in the poetry of Robinson Jeffers, the novels of John Steinbeck, Hunter S. Thompson's "gonzo" journalism and many "coffee table" books with their iconic photographs of Monterey cypress straddling surf-hammered cliffs. Besides being one of the most scenic places on the coast, the Big Sur Coast also features outstanding lingcod and rockfish action.
I had intended to fish opening day of rockfish season, but high seas and wind had prevented me from getting out on the scheduled trip aboard the Kahuna on April 1, 2015. Instead, I ended up fishing the season's final day, December 31, on the boat out of Moss Landing, a great way to end the year.
"The 2015 rockfish and lingcod season was phenomenal," said Carol Jones, owner of Kahuna Sportfishing. "It was a great year, especially for lingcod. We had limits of lingcod on about 90 percent of our trips. Our biggest lingcod this season weighed 27 pounds."
"A variety of tackle has worked for the lingcod, so it pays to bring an array of lures," she said. "Some days are better than others, particularly when you get into a school of lingcod. When you locate a school of them, they willl often bite on everything and anything you throw at them."
"A lot of the lingcod are hitchhikers that grab onto the hooked rockfish; that was the case few times I went. Also, a lot of lingod hit the teaser feathers on top."
While other boats fish the reefs close to port, the Kahuna specializes in trips to Point Sur because of the relative abundance of fish there.
I fished with 20 other anglers on the trip. The crew included Captain Vic Kumar, along with deckhands Noah Wilson and Scott Borsum. Also taking advantage of the season's last day was Kathy Wilson, who has written a number of fishing and hunting features for the Fish Sniffer, and her dad, Don Hartsock.
At around 6:10 am we left from Moss Landing Harbor for the hot spots on the Big Sur Coast, about a two-hour boat ride on calm seas. When we arrived there, Kumar told us to drop our lines to the bottom and then work them up; the fish were concentrated around 140 to 160 feet.
On the first couple of drifts, the fish were reluctant to bite. However, on the third drift an array of rockfish and lingcod began biting. I started fishing with P-Line Super Flies, tipped with squid strips, before I started using bars to target lingcod. I hooked my first lingcod of the day on a shrimp fly, tipped with squid, and yelled for Noah to gaff it. Then a lingcod grabbed and let go of one of my rockfish on the next drift.
Meanwhile, Gary Wright of Morgan Hill was having a blast, catching six keeper lingcod over the next couple of hours. He used a yellow, orange and white 8-ounce jig. He caught the most lingcod of anybody on the boat that day.
However, lingcod fishing for some reason had slowed down from the hot fishing anglers experienced several days before. "I caught 10 lingcod myself on my last trip but just one today," said Kathy Wilson.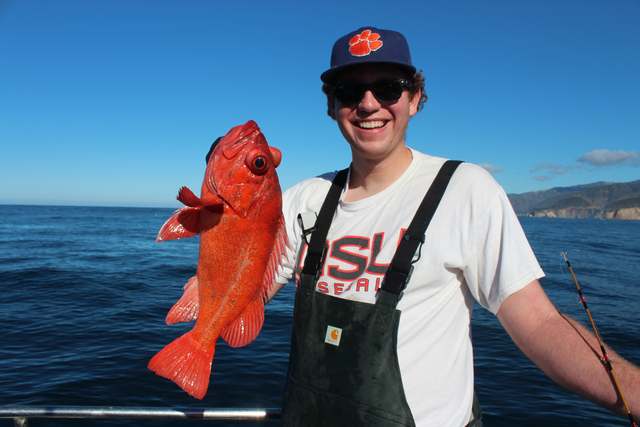 After moving into shallower water closer to shore, we ended up with limits of rockfish and 37 lingcod, 36 vermilion rockfish, 28 copper rockfish and 28 copper rockfish and yes, two cabezon. On the previous day, the 14 anglers aboard the boat caught 42 lingcod, 1 bonito and 150 assorted rockfish.
I caught the two cabezon– the most I've ever landed on any party boat on a trip – while tossing out a P-Line Hali-Drop Jig in Chrome/Blue Glow Belly on two consecutive casts. I also landed my biggest vermilion of the past several years, a 7 lb. beauty.
All in all, I caught seven species – lingcod, cabezon, vermilion, gopher rockfish, kelp rockfish, blue rockfish and yellowtail rockfish  – to fill my sack.
Other anglers reported outstanding variety action. Justin Chaulet of Santa Margarita caught 2 lingcod, one big rainbow perch and his limit of rockfish.
John Grimmig from Springville landed his limit of rockfish including 2 vermilion and lingcod. Philip of Martinez also landed a big lingcod.
The one strange thing is that the lingcod this day appeared to prefer jigs, bars, swimbaits and shrimp flies to whole or live baits. One angler patiently fished a giant mackerel that I was sure would entice the biggest ling of the day, but he never got a bite. And although we caught a few live mackerel, the mackerel seemed to attract more big rockfish than the lingcod. Go figure!
I'm planning to go on the first bottomfish trip on the Kahuna on April 1 – and I just hope we will see fishable weather, unlike the 2015 opener.
Since 1979 when I made my first bottomfishing trip out of Monterey Bay, fishing has changed a lot in the region. Salmon fishing has bounced up and down, with boom years followed by bust years, including the two salmon collapse years of 2008 and 2009. The federal and state governments have severely reduced rockfish and lingcod limits, imposed depth restrictions and made bottom fishing, formerly a year round sport, into a seasonal thing.
Although the federal government's fostering of the over-capitalization of the commercial bottomfish fishery was largely responsible for the decline in rockfish populations, recreational anglers paid the price when the deep water from 300 to 500 feet at the edge of the Monterey Canyon was closed 15 years ago. Then in 2007, a series of controversial marine protected areas, created under the privately funded MLPA Initiative, also went into effect.
But in spite of all of the changes over the years, bottomfishing off Point Sur and the Monterey County coast is superb when the weather allows you to fish.
During the different seasons, the Kahuna offers trips for king salmon, albacore tuna, white seabass and halibut. Shoreline anglers also capture striped bass and perch along the Monterey Bay State beaches throughout the year.
The Kahuna is a beautiful, clean 50′ Delta with all of the electronics and safety equipment and US Coast Guard Certified. With a cruising speed of 18 knots, they get to the fishing grounds fast. For more information, call 831-633-2564 or go to www.kahunasportfishing.com.