The 2016 NorCal Trout Anglers Challenge event held at San Pablo Reservoir on February 6 featured the best fishing of any tournament in the tour since the tour began in 2013. 
"This was the busiest weigh in we've ever had," said Vince Harris, owner of Anglers Press, the host of the event along with the Fish Sniffer magazine.  "The first angler weighed in a fish at 1:05 pm and the weigh-ins continued constantly until the cut off time of 2 pm."
The 200 anglers entered in the derby-enjoyed warm, sunny weather on a spring-like February day at the scenic EBMUD reservoir nestled in the hills above El Sobrante.
Fourteen-year-old Andrew Beard caught the biggest fish landed by an angler during the event, a 4.72 lb. rainbow, winning first place in the Youth Division. He was bait fishing in a boat with his dad Robert, grandfather Ron, Uncle Tom, and brother Michael Beard.
"We landed a total of 25 fish and kept 17 fish," said Beard. "We fished in Scow Canyon with PowerBait and Micetails."
The second through tenth place Youth Division winners were (2) Zack Murkoa, 3.8; (3) Braden Golden, 3.6; (4) Dylan Aiello, 2.82; (5) Colemane Krause, 2.72; (6) Mateo Camancho, 2.58; (7) Chole Murkoa, 2.16; (8) Ian Maghoney, 2.14; (9) Reece Henderson, 2; and (10) Ryan Grisso, 1.88.
The top 25 youth finishers in each tournament are eligible for a chance to win the Grand Raffle Prize: A Fisherman's Dream Kayak Rig.
Jim Cross won first place in the Adult Division by catching a hard-fighting rainbow weighing 4.38 pounds. "I hooked the fish while fishing chartreuse PowerBait from shore at 11 am," Cross explained.
Tony Aiello placed second in the Adult Division by landing a 4.27 lb. trout, while Pat Vigil of Hayward placed third by bagging a 4.25 lb. trout.
Vigil reported a very good day of fishing, limiting out while fishing Biohazard Eggs and chartreuse PowerBait.
"The bite began at 8 am, but I didn't hook the big fish until about noon," he stated. "The fishing was much better than during last year's tournament, when I got skunked."
The fourth through tenth place winners were (4) David Bixler, 4.13; (5) Bruce Alger, 3.83; (6) Jane Wenger, 3.78; (7) Jason Maghoney, 3.75; (8) Rob Thomspon, 3.65; (9) Russell Rafaelito, 3.51; and (10) Jesse Folan, 3.37.
The top 50 adult finishers in each tournament are eligible to win the Grand Raffle Prize, a new aluminum boat, trailer and electric trolling motor package.
Participants are allowed to fish from either a boat or from the shore. The pre-event adult division entry fee is $20 and kids 15 and under receive free entry.
Sponsors of the 2016 NTAC Tour include Fisherman's Warehouse, Berkley Fishing, Atlas-Mike's, Magic Products, Yakima Bait, Silver Horde/Gold Star, Sep's Pro Fishing, Pro-Cure Bait Scents, Dick Nite Spoons and Thomas Fishing Lures. Yakima Baits is giving away $100 at each tournament for the biggest fish caught on a Rooster tail.
The recreation area opened to fishing and other recreation for the season on Friday, February 6. Marcella Shoemaker of the Rocky Mountain Recreation Company reported great fishing both Friday and Saturday.
"A patio boat with 7 guys returned with 35 trout before 1 pm on Friday," said Shoemaker. "I personally saw over 100 fish caught by anglers on opening day."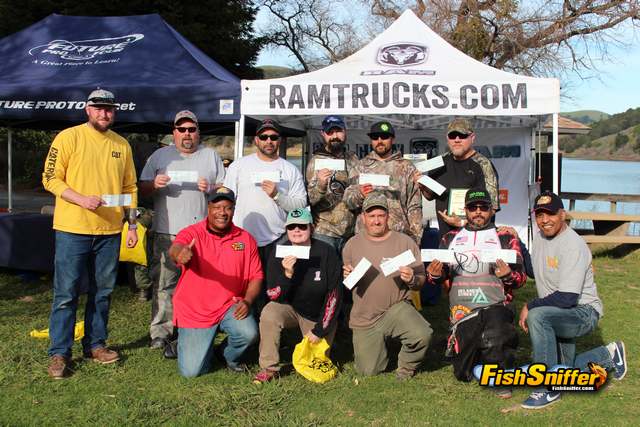 The concessionaire made big plants before the opener. Mt. Lassen Fish Farm stocked 7,500 pounds of rainbows before the opener, with half going in on Tuesday and half on Wednesday so the fish would be acclimated to the lake. They planted the trout near the marina.
"I think we're getting better at doing it every time," said Shoemaker. "Things turned out so well on Saturday because Sheldon Bright, Vince and I care and we worked together to make it happen. People are happy with the results and I like to see people happy."
Now that the opener and tournament are over Mt. Lassen will be planting 1,000 pounds of rainbows in the reservoir weekly. In addition, the CDFW will also be stocking trout at San Pablo.
Hopefully, they will be able to plant trout all year long, as they did in 2014.
The lake level is currently 297.5 feet in elevation, 21.5 feet from full.  "The lake has come up a lot in recent weeks; the water level was in the 280's when it closed in November," she said.
The lake will remain open through Sunday, November 19.
 San Pablo Reservoir is known for the trophy trout it has produced over the years. Stephen D. caught the lake record rainbow trout of 21 pounds, 12.8 ounces on April 18, 2001 while soaking chartreuse Power Bait off Oak Point.
While trout are the most popular species at San Pablo Reservoir, the lake also has good populations of spotted bass, largemouth bass and sunfish. In recent years, the hard-fighting spotted bass has become more common in the catches at San Pablo, making the reservoir the only one in the Bay Area with a population of "spots." The spotted bass lake record is 5 pounds, 9.36 ounces.
The reservoir's big Florida-strain largemouths also make it a popular target of a hard-core group of big bass devotees. Anglers fish an array of methods, such as tossing spinnerbaits, split shotting with plastic worms, drop shotting with plastics and tossing out rainbow trout pattern swimbaits.
However, it was a trout angler, Victor Barfield, not a bass fisherman, who caught the lake record 18 lb. 11.2 oz., largemouth on March 22, 2001 while fishing a nightcrawler and Power Bait in Scow Canyon.
Most of the cats taken at San Pablo are in the 1-1/2 to 5 pound range, but monster cats roam the lake's waters. Dave Edwards of Vallejo set the lake catfish record when he nailed a 31 lb. 4.8 oz. channel catfish while using an anchovy off Oak Point on March 23, 1995.
Crappie, redear sunfish, and bluegill offer good fishing in the spring and summer for anglers using an array of small baits and lures. The redear sunfish record is 3 pounds, 6.4 ounces, while the lake crappie record stands at 3 pounds, 3.2 ounces
The lake also hosts a sleeper population of white sturgeon that are occasionally caught by anglers bait fishing for trout and catfish. For example, Greg Peterson caught and released a 62 inch sturgeon on Power Bait and 4 pound test at the Pines on July 11, 2013. Nai Saephan of San Pablo caught the lake record diamondback of 105 pounds on frozen shrimp on June 13, 2003.
San Pablo has 866 surface acres and 14 miles of shoreline that offers anglers their choice of fishing from boats, both private and rentals, or from shore.  Since San Pablo is a drinking water reservoir, swimming, wading, and other body-contact activities are prohibited.
For more information, contact: Rocky Mountain Recreation Company, San Pablo Reservoir, 7301 San Pablo Dam Road, El Sobrante, Ca. 94803, 510-223-1661, http://www.rockymountainrec.com/lakes/san-pablo-reservoir.htm.
For more information on the NorCal Trout Anglers Challenge, contact: www.anglerspress.com or call 916-768-0938.