Los Vaqueros
(Byron) Though the water at Los Vaqueros is cold at 52 to 53 degrees, recent rains have brought a rebound in catfish fishing.   
"This week saw a resurgence of catfish due to the muddy waters from the heavy rainfall," said Brian Demmunik of the Los Vaqueros Marina. "A number of catfish came out of South Cove and Cowboy Cove where the water was washing down out of the hills.  It has slowed with the clearing up of the water, but a few are still being caught."
Anglers weighed in two monster cats over the past two weeks. Chomnan Loth of San Ramon caught a 13.9 lb. channel cat on an anchovy in Cowboy Cove. Mikell Gi from Antioch landed a 14.8 lb. catfish while soaking nightcrawlers in Cowboy Cove.
"Trout fishing is really good with the usual baits used by rental boaters and shore anglers," said Demmunik. "Anglers are fishing nightcrawlers and PowerBait in Cowboy Cove and the South Cove."
 Big trout honors go to Luis Roman of Pittsburg, who landed a 10.62 lb. trout while employing salmon eggs in the South Cove. Pat Parra fooled a 9 lb. trout with a jig, while Andrew Lopez nailed a 9.34 lb. trout.  "A couple of 6+ pounders also came out of Howden Cove on PowerBait," he disclosed.
Striped bass fishing is slow, with undersized fish under 18 inches still providing the main action. "We are still seeing many undersized fish being caught for every keeper," he disclosed.
The reservoir is now at 51 percent of capacity with 81,000 acre-feet in storage.  It's declining by about 700 acre-feet a week. The shoreline is muddy, so be prepared.
Contra Loma
 (Antioch) Trout fishing is going strong on the East Side, Channel Point or from a boat with Power Bait, Mice Tails or nightcrawlers, according to Joe Sullivan of the East Bay Regional Park District.
Just ask Matilde Quiroga, who caught a 9.12 lb. trout on Power Bait at Channel Point, or Ricky Lara, who caught a 5.5 lb. rainbow trout on a PowerBait/Mice Tail combo near the Swim Lagoon.
Bass fishing is also good for experienced anglers. JP and Mark Guano teamed up to nail an 8.5 lb. black bass on a swim bait from a boat.
"The catfish bite is slow," said Sullivan. "Try fishing at Channel Point, Loma Island or from a boat with nightcrawlers or chicken liver.
If you want crappie or bluegill, use jigs or worms at the Boat Ramp, Loma Island or Channel Point area.
The park district 500 pounds of rainbows in the lake the week of February 15.
Shadow Cliffs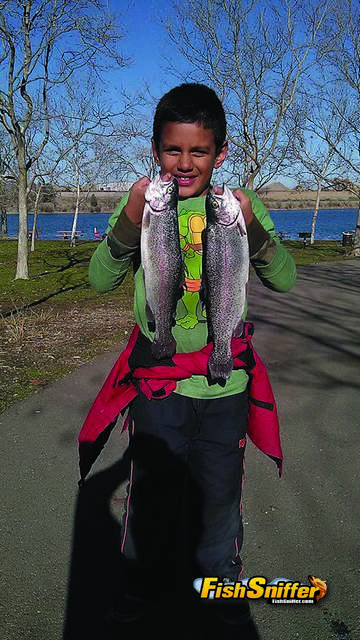 (Pleasanton) Wilson had a great day of fishing when he bagged five beautiful trout ranging from five to seven pounds in 1 hour, reported Joe Sullivan of the East Bay Regional Park District. He reeled them in using green pumpkin garlic Power Bait with sprinkles. 
 Chris from Livermore caught a three-and-a-half pound trout from the 3rd dock on Power Eggs. Vicente Cortez from Fremont landed a beautiful eight pound trout.
The solid fishing is the result of heavy plants of big rainbows lately. The park district planted 1000 rainbows the week of February 8 and the CDFW stocked 100 pounds the week of February 15.
Remember that the regulations for the Arroyo Del Valle Ponds are as follows: catch and release, barbless hooks, artificial lures, float tubes only (no paddles).
Del Valle
(Livermore) Ricky Garcia of Livermore caught a new lake record blue catfish weighing 34 pounds, 5 ounces on Saturday, January 30. He was using anchovies across from the marina, reported Ted Rowland at the Rocky Mountain Recreation Company.
Then on the following day, Garcia landed three channel cats up to 14 pounds, 8 ounces while soaking anchovies across from the marina again.
He wasn't the only angler succeeding at bagging big cats. Kenny Khu of Livermore caught 5 catfish weighing an amazing total of 36 pounds while fishing anchovies near the dam.
 "Shore anglers are also catching catfish from the south end," he revealed. "Your best baits to use are anchovies, sardines, mackerel and chicken livers."
"Trout fishing has been slow this week, but is showing signs of improvement," stated Rowland. "Shore anglers are starting to catch them at the south end; we have had no reports from boaters. Use bright colors of Power Bait, night crawlers, Pautzke salmon eggs and Mice Tails. If you like to use lures, Kastmasters, Rooster Tails,and Panther Martins are your top prospects."
  For striped bass, try fishing deep areas near the dam, with anchovies, sardines, mackerel and chicken livers, he noted.
  Largemouth and smallmouth bass are also deep with no reports of anglers catching any. Try fishing around rock walls and downed trees.
The water temperature is holding steady at 47 degrees. The water clarity is steadily improving daily with 2 to 3 foot visibility as the lake continues to fill.
Quarry Lakes
(Fremont) "Fishing has picked up a little bit, especially for catfish, which haven't been planted since the beginning of September," said Joe Sullivan of the East Bay Regional Park District. "The water has risen a lot."
The disabled-accessible fishing pier at Horseshoe Lake has hardly any slant to it and the boat dock is almost at the top of the ramp
Pha Nguyen of San Jose was fishing from his boat by the peninsula when he bagged a 17-pound, nine-ounce channel catfish. Kim Ravago of Hayward caught a nine-pound, two-ounce catfish while using an orange and white Mice Tail on the right side of Horseshoe Lake past the deer fence.
Rich Rasmussen of Newark caught a four-pound, four-ounce trout using nightcrawlers to the left of the beach. Shin Kato of Fremont bagged a limit of trout, the largest weighing four pounds, while using his trademark spoons    from the left side of the swim beach.
The park district planted 500 pounds of rainbows in the lake the week of February 14, while the CDFW last stocked Horseshoe Lake with 1000 pounds the week of February 1.