Amador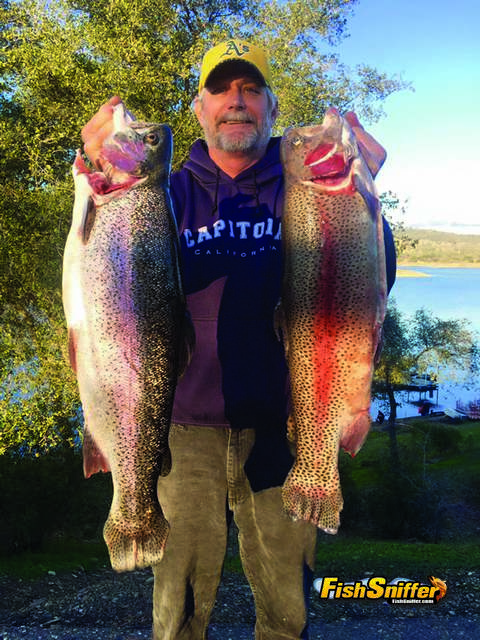 (Ione) Rainbow trout fishing continues to be "pretty good," with plants of 1200 pounds taking place every other week. The plants will ramp up in the spring.
The fish are going down deeper, up to 15 feet with the sunny weather, according to Elise Lockhart at the Lake Amador Café.
Bank anglers are hooking fish while tossing out PowerBait and Kastmasters in gold and silver. Trollers are picking up rainbows while fishing broken back Rapalas and white grubs while trolling the outer edges of the lake.
For example, Shawn Burrell from Elk Grove bagged two beautiful rainbows weighing up to 4.6 pounds while fishing off the dock. Another angler bagged a 3.52 lb. rainbow.
The annual trout derby will run until March 6, 2016 with a one-time $7.00 entry fee.
"The bass fishing is picking up for anglers using the jigs in the back of the lake in the Mountain Springs, Rock creek and Jackson Creek arm," said Lockhart.
Lake Amador is only 5 feet from full. The launch is now open with two lanes and two docks as the cove is full of water.
Camanche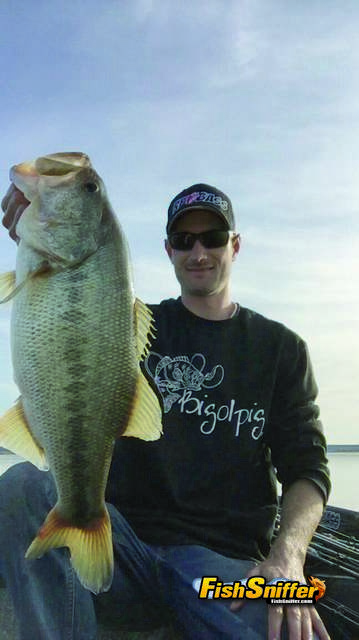 (Burson) The big news at Lake Camanche was the capture of a monster 15 lb. 12. largemouth bass by James Vella.
"I caught the fish on 6 lb. test line while fishing the lake with my dad on February 12," said Vella.  "The fish measured 28″ length and 23.5″ in girth."
A massive 3,600 lb. Mt. Lassen trout plant arrived just in time for Presidents Day weekend, boosting fishing success at Lake Camanche. 1,200 lbs. were delivered to both north and south shore ramps and 1,200 lbs. to the pond, reported Terri Willard of the Camanche Recreation Company.
The following week Mount Lassen stocked 1,200 lbs. with 600 lbs. to the pond and 600 lbs. to the south shore ramp.  To date, the lake management has stocked a total of 31,500 pounds of Mt. Lassen rainbows, including 10,300 pounds into the pond.
"Hot spots reported this week were out by the dam, Little Hat Island, Houseboat Cove, down the Narrows and of course the pond," said Willarrd.. "Hot baits reported were mini jigs at the pond, grubs, silver Speedy Shiners and Rapala lures."
Water temperatures on top were reported from 47 to 53 degrees depending on the area.
Adam Krumm reported, "We made it home from a weekend camping fishing trip at Camanche. We ended up with 11 trout to 3 pounds in all between the 2 days. We hooked all of our fish on top and Rapalas and a silver Speedy Shiners gave us the best luck. We them in several places from the north shore ramp to the dan."
Kent Lambert, EBMUD Manager of Watershed and Recreation, said they are expecting Lake Camanche to have both main launch ramps open for the season. They expect to start releasing from Pardee in March but are unsure of the exact date.
Pardee Lake is up to 87%. The release from Pardee was 11 cfs. at press time. and the outflow from Lake Camanche was at 162 cfs.. As of this report Lake Camanche was 59.42′ to spill level.
New Melones
(Angels Camp) Most anglers focus on trout, kokanee, bass or catfish at New Melones, but the lake is also known for the big crappie that it produces every year.
Jim, Sharon and Allen Munroe caught some quality crappie while trolling Rapalas near the dam. Their biggest weighed 2.90 pounds, reported John Liechty of Glory Hole Sports.
Finally, for the first time this year, bank fishermen have weighed in trout limits at Glory Hole Sports. John Wilson and Harold Odahlen caught two limits of trout while fishing with Kastmasters from the shore.
"The fish are starting to move into shallow water, and there are trout breaking the surface throughout the day," said Liechty. "The best bank areas remain near the Highway 49 Bridge and off of the end of Glory Hole Point with nightcrawlers or trout dough bait floated off of the bottom with the assistance of a marshmallow or Power Egg."
Trollers are working spoons or minnow-imitation plugs near the surface, and most of the limits by boat are coming out of the main river channel. The main channel is devoid of standing timber, and it is a safe area in which to troll on the downrigger.
Liechty, who operates Xperience Bass Fishing, took out client Peter Haskins of Escalon on a search for a double-digit largemouth bass. While tossing out swimbaits, Haskins landed a personal-best 11.02-lb. largemouth bass that he quickly released after it was weighed and photographed.
"This last week the weather was warm and it almost felt like spring," said Liechty. "The bite has been good and everyone seems to be catching some fish"
"The key to getting bites is fishing patient with a slow retrieve. Sometimes dead sticking or just leaving the bait still for a few second will coax finicky fish into biting. A football jig in brown, purple and green pumpkin has been a good choice," he tipped.
"Some days the fish don't bite the jig and will favor a soft plastic presentation. Try using a drop shot, shakey head or Texas rig with your favorite shad or crawdad patterned worm or creature bait," he advised.
New Melones Lake is currently holding 426,167 acre-feet of water. The lake level came up four feet this past week and is currently at 841 ft. above sea level and 245 ft. from full.
The launch ramp at Glory Hole Point is a two-lane dirt and gravel road with no courtesy dock, and it is best to launch with a 4WD vehicle.
Don Pedro
(Fleming Meadows) Lots of floating debris and few fish – that's the word coming out of Don Pedro Reservoir.
Few trout anglers have visited the lake, but those that have report dismal results with few hits and even fewer rainbows landed.
If you do take a trout trolling trip to the lake, the 30 to 50 foot range is a good place to start as shallow trolling has proven to be a bust this winter.
Bass fishing offers anglers the best chance for success at Don Pedro. While it's unlikely you'll encounter red hot fishing, you should be able to boat some spots and maybe a largemouth or two while working drop shot rigs and spider grubs in the 20 to 30 foot depth zone.
As of press time Fleming Meadows is the only operational ramp at Don Pedro and the water level is on the rise.
McSwain
(Snelling) Interest in trout fishing has been spurred on by the recent plant of 1500 pounds from the Department of Fish and Wildlife, and the banks were lined with fishermen during the President's Day Weekend.
The lake remains heavily stained due to water releases from upstream Lake McClure, and the action has been fair with garlic or cheese trout dough bait or nightcrawlers.
A 7-pound brown trout was landed on a blue/silver Kastmaster near the campgrounds. The lake is down a few feet as work on the Exchequer Dam at Lake McClure continues.