Los Vaqueros
 (Byron) Spring has arrived at Los Vaqueros Reservoir with solid trout and striped bass fishing.  
The water level is currently at 82,000 acre feet. Pumping in water resumed April 1 and will continue to the end of May. The water temperature is at 55 degrees and the water clarity is good.
"We will be holding a Trout Derby during the entire month of April," said Brian Demmunik at the Los Vaqueros Marina. "There is a $5 fee to participate with tickets available for purchase at the South Kiosk and the Marina.  Rules are at the Marina and on the derby ticket. It is a largest trout event with prizes for the three largest fish."
Kristi Choi of San Jose landed a 6.2 pound trout while using PowerBait in Cox Cove on PowerBait. Another angler bagge a 6.17 lb. rainbow while soaking PowerBait in Cox Cove.
"Fishing for trout continues to be good with all the trout plants and cooler water temperatures," said Demmunik. "Limits are also coming into the Marina and many have been seen at the fish cleaning station."
They are being caught in South Cove and Oak Point as well as Peninsula Cove.  The baits of choice for shore anglers are garlic scented PowerBaits, nightcrawlers or Kastmasters. Trollers are employing Rapalas and other lures in the coves
Shakers continue to dominate the striper catches. "We are still seeing many undersized fish being caught for every keeper. From shore, cut anchovies or shad are the bait of choices," he said.
Catfish are hit or miss with decent numbers being reported out of Cowboy and South coves following the recent rains. Nightcrawlers and chicken liver are the hottest baits.
San Pablo
(El Sobrante) With the good weather, the water has started to clear and the trout bite is slowly coming back as San Pablo.
"It looks like the pines, rock wall and Sandy Point are yielding the trout," said Marcella Shoemaker of the Rocky Mountain Recreation Company. "Pink, garlic and chartreuse PowerBait are working the best."
Chan L of Oakland landed a trout weighing 6.32 lbs using a Rapala at the Boat Launch. Steven Yu of San Francisco caught one trout weighing 5 lbs using a drop shot rig at the main recreation area.
Mike Yess of San Jose caught rainbows up to 5 lbs, at Sandy Point while using chartreuse PowerBait. Justin Naterman caught one trout weighing 4.31 pounds while soaking garlic PowerBait and chartreuse Mice Tails at the Pines.
Joseph Samado of Fremont brought in a two -trout stringer weighing 3.52 lbs at Sandy Point using garlic PowerBait. Abe Badlozzaman of Moraga caught 3 trout employing garlic PowerBait at the pines.
The bass fishing is also picking up with the warmer spring weather, although no catfish have been reported over the past couple of weeks. Anthony Thomas of Fairfield caught a largemouth using a lure at the Rock Wall.
The lake level is 303.5 feet above sea level and the surface water temperature is 65 degrees. The latest plant featured 900 lbs of Mt. Lassen Trout.
Lafayette
(Lafayette) Fishing seems to be "hit or miss" as boats are going out, but not many fish are being caught, observed Richard Lovato from Lafayette Reservoir.
Some anglers have mentioned having luck with trout using bass rigs, but Lovato didn't receive any more details. 
"The water is a little murky as the reservoir has risen significantly due to run off and continues to do so," he noted.
The last trout plant by the CDFW featured 1,000 pounds of rainbows and the last plant by Mt. Lassen consistent of 1,000 pounds of rainbows.  "That brings the total lbs. of trout for the season to 17,350 pounds," said Lovato.
Shadow Cliffs
(Pleasanton) Trout fishing remains the main angling attraction at Shadow Cliffs Reservoir, reported Joe Sullivan of the East Bay Regional Park District.
The park district planted 500 pounds of rainbows in the reservoir the week of March 28
Big fish honors go to Jon Bayer of Dublin, who caught three trout, the largest weighing 4 lbs., on Power Bait. He was fishing by the 2nd dock.
Mario Gutierrez of Willow Glen landed two rainbows while fishing worms off the first dock. Tim Day of Livermore caught two trout while soaking green Power Bait on the east side of Stanley shoreline.
Alan Postly of Tracy bagged three trout while fishing PowerBait on the 1st dock.
No bass have been reported lately from the lake or the Arroyo Del Valle Ponds. However, fishing for the largemouths should be picking up at both locations as the fish go on their annual pre-spawn bite.
Del Valle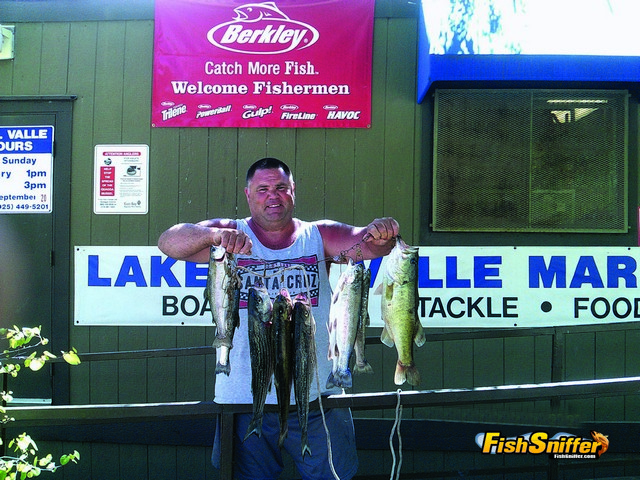 (Livermore) Trout fishing has picked up dramatically at Lake Del Valle, with many anglers catching limits of rainbows.
"Trout are hitting from the south end all the way to the dam," said Ted Rowland of the Rocky Mountain Recreation Company. "Most anglers are catching them on either Power Eggs or any PowerBait with a garlic scent. You can also try smaller jerkbaits, Rapalas, Lucky Crafts, or Kastmasters."
John Cang of San Jose landed a great limit of rainbow trout while using Power Bait, near the Swim Beach. The largest was 5.25 lbs and his stringer weighed 17.5 lbs.
"Black bass are thriving due to the recent rise in water levels," said Rowland. "Look for fallen trees, weed beds and tules. Wacky-rigged Senkos are pulling in the bigger ones from 3 to 6 lbs. You can also catch them on plastic crawdads or shallow to mid-water diving crankbaits."
Catfish are still on the prowl with anglers catching them on either chicken livers nightcrawlers. Most of the recent catfish brought in have been from 5 to 25 lbs.
Douglas Jimenez of East Palo Alto landed a giant catfish weighing 20.22 lbs. while fishing anchovies at the dam.
"Striped bass are being evasive right now, with a few anglers reporting catches," Rowland said. "The best bet for catching them is using either anchovies, chicken liver, sardines or mackerel. All reports have been from the deep rock walls by the dam."
Quarry Lakes
(Fremont) Trout fishing has been slow in Horseshoe Lake in the Quarry Lakes Recreation Area this week, although the smallmouth bass have been biting. 
The slow fishing didn't stop Tom Sanford of Redwood City from fooling a 10 lb. 1 oz. rainbow trout from his float tube on the far side of Horseshoe Lake on trout worms, according to Joe Sullivan of the East Bay Regional Park District.
Nor did it stop Anthony Evans of Redwood City from nailing a 5 lb. 15 oz. rainbow trout on an orange and silver Needlefish lure off Fisherman's Row. Wes Harwell from San Carlos also caught a 3 lb. 8 oz. rainbow trout off Fisherman's Row on Mice Tails and Power Bait.
Use of lead fishing tackle is prohibited at Quarry Lakes. Please go to the entry kiosk to exchange your lead weights for non-lead.    
"There were positive tests for blue-green algae in and around the swimming area. The swim area is currently closed and park visitors should be watchful of their dogs, taking care that they do not contact the water," added Sullivan.
Currently the boat ramp and fishing pier are both open and the water is on the rise.