The striped bass means many different things to different folks, ranging from an alleged "predator" of salmon that is demonized by corporate agribusiness to a prized gamefish that is sought after by many hundreds of thousands of anglers in California.
To the National Marine Fisheries Service (NMFS), California Department of Fish and Wildlife and the state water contractors, the striped bass is a species to blame for salmon and other fishery declines in order to divert attention from decades of abysmal management of the California Delta and Central Valley Rivers, led by the export of massive quantities of water from the Delta.
The striped bass's demonization by state and federal government and water agency officials is in spite of all of the available scientific evidence. Two leading experts on the Bay Delta Estuary and striped, Dr. Peter Moyle, UC Davis fishery scientist, professor and author, and Dr. David Ostrach, former UC Davis researcher, point out that the elimination or reduction in the numbers of striped bass is likely to hurt Delta smelt and other species by targeting a species that preys on the predators of smelt and salmon!
For anglers like James Netzel of Tight Lines Guide Service and I, the striped bass is one of the most exciting gamefish species found in our waters. The fish fight like heck, hit a variety of lures, baits and flies, and provide action all of the way from the beaches of Monterey Bay to the Sacramento River as far as Red Bluff.
One of the most popular areas to fish out of is the Brannan Island State Park Ramp located on Three Mile Slough, the short slough that connects the Sacramento River with the San Joaquin River.
"The launching is centrally located, so you can fish either side, the San Joaquin side or the Sacramento side of the Delta," said Netzel. "Plus you multiple ramps, multiple docks and a giant parking lot with good lights. The recreation area also features campsites with both hook-ups and no-hook ups."
While anglers have been hooking stripers on both the Sacramento and San Joaquin Rivers, Netzel has been experiencing the top action on the San Joaquin so far this season. After beginning his striper trips at the end of March, he reported averaging at least 30 fish a day, a mixture of keepers and shakers."
I had a great day fishing with Netzel and Michael Stall of West Sacramento, on Saturday, April 2 just before our paper went to press.
After launching out of Brannan Island, we began trolling with shallow running Yo-Zuris in redhead/white bodies with white plastic worms and chartreuse with green worms at 7 to 9 feet deep.
The action started right way, with Stall and I hooking several shakers. After fishing for less than 15 minutes, Stall landed the first keeper of the day.
Over the next couple of hours, we hooked one striper after another, a mixture of keeper stripers in the 18 to 24 inch range and undersized fish. The most memorable catch was an 11 lb. striped bass that I landed that made a series of hard runs before we were able to subdue it.
After the bite slowed down at the mouth of Three Mile Slough, Netzel drove his boat upriver to Prisoner's Point and the Sounding Board area. We caught several more fish, including shakers and keepers, while trolling both shallow running  and deep diving Yo-Zuris at 13 to 16 feet.
Netzel trolls at a speed of from 3-1/2 to 4-1/2 mph in shallow water – and from 2-1/2 to 3-1/2 mph in deep water. "The trolling speed all depends on the tides you're fishing," he noted.
Around noon, Netzel drove the boat back to where we had started first thing in the morning and the hot bite resumed, The largest fish we caught after returning was a 6 pounder landed by Stall.
We finished fishing at 1:00 pm with limits of quality stripers to 11 pounds. Netzel estimated that we had released over a dozen keepers with another 30+ shakers. If we had kept our first six keepers, we would have been limited out by 8:30 am.
On the week after our trip, some large females started showing in the San Joaquin in the same areas we had fished. "We landed a 15 and 14 pounder two days ago," said Netzel. "There are now a lot of big females in system. When I hooked the 15 pounder, the guy beside me in a boat hooked a 22 pounder."
The fishing in the mornings slowed down with the big tides, but rebounded in the afternoons with smaller tides.
"Yesterday we caught one keeper and bunch of shakers, with triple and quadruple hook–ups," said Netzel. "When the bite slowed down, we went to Prisoner's Point and landed 2 keepers to 5 pounds, along with some small ones.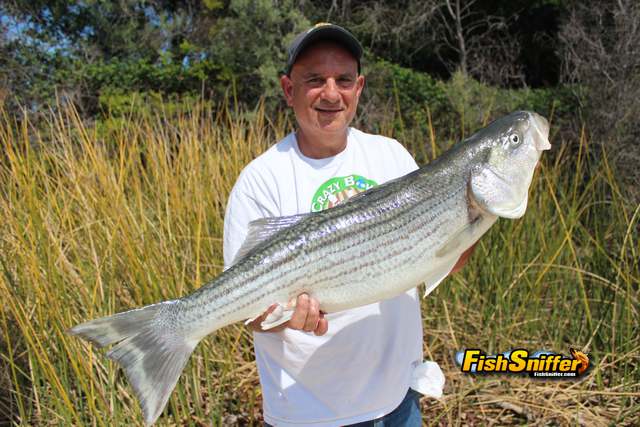 "On the incoming tide, we went back to Three Mile Slough, and trolled in deep water. During an hour, we must have caught and released 25 stripers, including quite a few keepers to 7 pounds. I tried to get my clients to stay an extra hour, but they said they had to go home."
"In the next hour, Mark Wilson caught and released two 17s, one 16 and an 11 pounder while trolling shallow in Three Mile," noted Netzel.
He added "Release the hens if you can because they preserve the fishery."
He will keep fishing stripers until May and then start kokanee salmon trips at Stampede.
Striped bass are not a native species, but they have been in California waters so long that they are an essential component of the Bay-Delta Estuary ecosystem, filling an important ecological niche. The initial introduction took place in 1879, when 132 small bass were brought to California by rail from the Navesink River in New Jersey and released near Martinez. Fishery officials made a second introduction of stripers in lower Suisun Bay in 1888.
"Abundance probably reached a peak of 3 to 4.5 million fish in the early 1960s, due to several years of good habitat conditions for young bass in the late 1950's," according to the CDFW''s "Striped Bass Fishing Map.
From the mid-1960's through 1976, the population varied from 1.5 to 1.9 million fish, but declined to an all time low in 1994. Although many factors played a role in the striped bass's decline, increases in federal and state water exports are regarded as the main factor.
The population rose again to 1.5 million in 2000 after a DFG striper planting program and the Fishery Foundation of California's pen-rearing program were instituted. The population again declined to around 650,000 in recent years, but the good numbers of legal-sized stripers showing in the catches in San Francisco and San Pablo bays over the past year and in the Delta and Sacramento and San Joaquin rivers this spring appear to show an upswing in the adult striped bass population.
For more information about booking striper trips this spring on the Sacramento and San Joaquin Rivers, call James Netzel of Tight Lines Guide Service at 888-975-0990 or go to http://fishtightlines.com.
Rio Vista Area Facts
Location:  The Sacramento and San Joaquin Rivers in the Rio Vista are the two top rivers for striped bass in California. They also support good populations for sturgeon, catfish, king salmon and smallmouth and largemouth bass.
Camping and Lodging:  Motels and r.v. camping facilities are available in the river towns of Rio Vista, Isleton and Walnut Grove. For more information, call California Delta Chambers & Visitor's Bureau, 169 W. Brannan Road, Isleton, CA. 95641, (916) 777-4041, http://www.californiadelta.org.
Boat ramps: To fish this section of river, boat launching is available at the Brannan Island State Recreation Area, Sandy Beach Park Launching Facility in Rio Vista, the Delta Marina Launch Ramp, City of Rio Vista Launch Ramp, , Vieira's Resort, and Isleton Launch Ramp (next to Ramos Oil Company).
Fishing information: Rio Vista Bait (707) 374-5522, Hap's Bait, Rio Vista, (707) 374-2372; Vieira's Resort, Isleton, 916-777-6661.
Delta Striped Bass, Sturgeon and Salmon Charters:
James Netzel, Tight Lines Guide Service, 888-975-0990
Steve Mitchell, Hook'd Up Sportfishing, 707-655-6736.
James Stone, Elite Sportsmen Guide Service, 530-923-9440
Brett Brady, Bare Bones Guide Service, 530-272-7137, 530-263-4451
Rob Reimers, Rustic Rob's Guide Service, 530-632-0051
Captain Anthony, HELPUFISH>NET, 707-812-1825
Dave Hammond, Delta Pro Fishing, 916-479-3492
Jay Lopes, Right Hook Sportfishing, 916-417-5670