Lush green hills, a brim full lake, lots of BIG trout, tons of family fun, great camaraderie and a huge crowd were just a few of the highlights when the Norcal Trout Anglers Challenge tournament tour visited Collins Lake on April 9!
By California standards, Collins Lake isn't large, featuring 1,600 surface acres and 12.5 miles of shoreline, yet despite its modest size, the lake is widely known as one of the north state's premier trout fishing destinations.
Heavily stocked, thousands of rainbow trout are released into Collins Lake annually. A good percentage of these trout are in the 1.5 to 3 pound class, but there are also a great many trophy size fish that range from 4 to 8 pounds!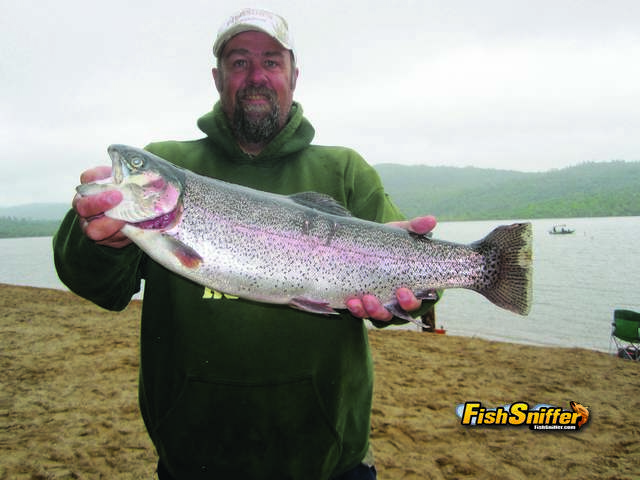 Indeed, trout flow into Collins Lake from all directions. The California Department of Fish and Wildlife stocks the lake with catchables. For each plant the lake receives from the DFW, the Collins Lake Recreation Area funds an average of three plants consisting of higher quality trout from private hatcheries. And then there are the "pen fish".
The recreation area in partnership with volunteers, non-profit organization and the DFW operates a trophy trout pen-rearing project. As a result of the high volume of high quality feed the pen trout receive many of them grow from catchable 10 inchers to quality square tail battlers that weigh 3 to 4 pounds in less than a year.
Hooking into one of these pen fish is more like hooking into a wild steelhead than your typically round tail, pan size truck trout. This is because the fish are completely acclimated to the lake prior to being released. While they enjoy a diet of commercially produced trout food, they also get to sample the natural forage in the lake. Once free of the pens, these rainbows are ready to feed and prosper in the open waters of the lake.
With all these trout swimming around and with Collins at full capacity for the first time in three years everyone was expecting a big turn out for the April 9 NTAC event, but I think we were all taken by surprise by the massive flood of anglers that showed up to compete!
Luckily the facilities Collins Lake provides in the form of picnic grounds, camping sites, RV sites, rental cabins, rental trailers and rental boats are second to none and the recreation area's friendly and professional staff were more than up to the challenge of accommodating the needs of all the visiting anglers.
If you didn't attend the event, you are probably wondering how the fishing was? Well it was pretty darn good despite some major challenges. First of all, it was great seeing the lake at full capacity, but a consequence of a quick rise in the lake level after so many years of drought was dirty discolored water. I wouldn't say the water was muddy, but it was definitely stained.
Beyond the stained water, fair warm weather had prevailed during the week leading up to the tournament, but a storm front pushed in the night before the event dropping rain and wreaking havoc with the barometer.
While little rain actually fell on the day of the tournament, it was cool and breezy and a low dark ceiling of clouds threatened rain all day long.
A look at the standings after all the punches had been thrown reveals that to finish in the adult division's top 10 you had to have a rainbow that weighed over 4 pounds…Yes you read that correctly, every one that finished in the top 10 had a rainbow that weight 4 pounds or more.
This fact in itself speaks volumes about the productivity of Collins Lake. When that many big 'bows are caught on a day with very challenging conditions and lots of fishing pressure, just imagine how incredible the fishing is going to be later on this spring when the water clears and the weather stabilizes!
While I didn't fish in the event, I spent a lot of time hanging around the Angler's Press/Dodge Ram weigh in station and I got to talk fishing with dozens of successful anglers. As a result, I've got a pretty good idea of what's been working at the lake and what was working on the day of the tournament.
The most productive offering was a ball of chartreuse or rainbow PowerBait fished in 8 to 20 feet of water down near the dam. There were some good fish caught on bait up in the narrows too, but not as many as were caught along the west shore between the boat launch and the spillway.
The swim beach is typically a great area for bait fishing, but on April 9 anglers on the beach struggled a bit. They caught trout, but most of them were just average size keepers.
Some trollers did pretty well while others struggled and there didn't seem to be much of a pattern. I spoke with folks that only did so so while pulling grubs and worms. In contrast I spoke to some guys that did great on big fish while pulling Speedy Shiners, Kastmasters and Rooster Tail spinners.
I chatted with one angler that had a four plus pound rainbow and lost two others of similar dimensions while trolling a Rooster Tail spinner teamed with a Sling Blade dodger.
Here's the top 5 in the adult division: John Draper-6.91 lbs, George Leezy-5.25 lbs, Pat Calen-4.87 lbs, Bobby Letzinger-4.67 lbs and Ken Lord-4.63 lbs.
Anglers in the youth division rounded up some good trout too. Amara Grass took the top spot with a 2.81 lb fish. Natalia Smith ended up in second place with a 2.35 lb. rainbow and Mykala Smith rounded out the top three with here 2.09 lb trout!
Special Thanks
During all Norcal Trout Anglers Challenge events a lot of tackle and bait is given away. Without a long list of loyal sponsors these special giveaways wouldn't be possible.
Fisherman's Warehouse is on board and they are pushing a bunch baits, lures and gear down the line to NTAC participants.
Berkley has come on board with PowerBait, rods, reels and fishing line, while Thomas Lures, Sep's Pro Fishing, Magic Products, Acme Tackle, Silver Horde and Dick Nite Spoons have provided an array of lures, dodgers and more.
Yakima Bait has stepped forward and is providing all manner of baits including tried and true Flatfish that have been killing trout for decades. They are also giving away $100 at each tournament to the biggest fish caught on a Rooster Tail Spinner.
Atlas-Mike's is providing an array of Zeke's Floating Bait, scented salmon eggs and deadly scents.
Pro-Cure Bait Scents is also a part of the NTAC team in 2016, so you'll be seeing Super Gel and other products at events this season.
Last but certainly not least, Costa sunglasses are sponsoring the NTAC tour this season and are offering up a selection of high end sunglasses to be given away at tour events.
When it's time to purchase gear, please remember these manufacturers that have stepped forward to promote the great sport of trout fishing across northern and central California.