If you have ever towed a trailer, you probably share in one of my greatest fears: terminal failure on the freeway.  I've been towing boats, toy haulers, flatbeds, any almost anything else with a hitch since I was old enough to steer the truck from my Grandfather's lap.  Even with thousands of miles of experience, I still get chills worrying about all the bad things that could possibly go wrong with a trailer in tow.
To reduce the risk of trailer issues, I regularly perform routine trailer maintenance.  The bearings are checked and packed often and replaced annually, my lights are in working order, the tie-down straps are replaced as needed, and my trailers are generally in good shape.  However, no amount of preparation can prevent all failures, as I learned the hard way.
On Sunday, I was on the way home from the Delta after a morning of fishing with the boat in tow.  As we merged onto the Capital City Freeway (BUS80) in downtown Sacramento, traffic was heavy, as it is every day, but flowing as we headed east.  A semi-truck in front of us hit a bump that just about bounced the trailer completely off the ground.  I thought to myself, "ouch, that hurt," as we approached the bump.
The next thing I remember is the truck jerking hard to the left, almost ripping the steering wheel out of my hands.  As I quickly checked the rearview, I caught a glimpse of what appeared a tire barreling up on our left.  The side mirror confirmed it, our left trailer tire was attempting a pass in the fast lane, unfortunately, no longer attached to the axle on the trailer.
The freeway behind us looked like turn four at Talladega as traffic swerved in every direction attempting to avoid the sparks and chunks of pavement spewing up from my now dragging trailer.  Instinct kicked in, and I managed to grind the truck and trailer to a stop without taking out anyone else in the process.  Our path to the shoulder was clearly marked by a very well defined gouge in the freeway crossing three lanes of traffic more than a ¼ mile long.
As drivers began to trickle past us, I could vividly read their minds thru the wide-eyed glares thinking, "that was way too close."   I am absolutely thankful that no one was injured by us or the momentary chaos we caused.
While waiting for the tow truck to arrive, I had some time to try to figure out exactly what went wrong.  We located the runaway tire in the bushes a ways down the freeway, hub and bearings still intact.  The u-bolts and spring plate were completely gone as well as most of the helper spring on the left side of the trailer.  The spindle, although road-rashed from its prolonged encounter with the pavement, also appeared to be intact.
Ultimately, I don't know if the bearing nut failed first or if the u-bolts broke from the impact of the initial bump.  Either way, I plan on having all of the running gear replaced at this point including the axle, spindles, hubs, bearings, springs, and all of the hardware.
Now, a day later, I can reflect on the experience as just one of those things that comes along with towing a trailer, and am thankful it didn't result in harm to anyone else.  I'm not sure what I could have done to prevent it other than to avoid bumps in the road, but that's not always possible or foreseeable.
As a driver who very regularly tows a boat, I believe it is my duty to make sure my trailer is road worthy and isn't putting anyone else at risk on the road.   This incident will make me even more vigilant in maintaining and inspecting my trailer and its load.  Hopefully, this is the last time I watch my tires pass me on the freeway.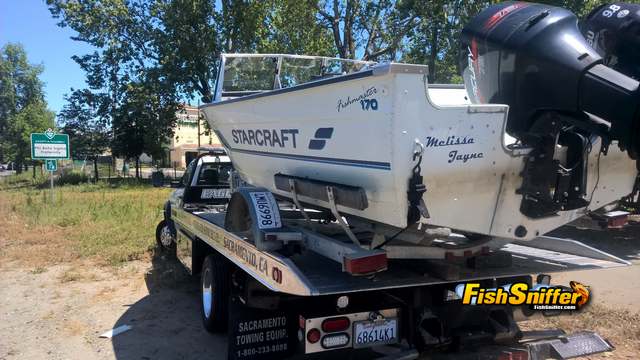 A huge thanks goes out to Travis at Eagle Towing of Sacramento.  He was able to get the trailer loaded up on his flatbed without issue and without causing any more damage.  If you are ever in a bad spot, call him at (916) 454-0958. Pac-West Trailers in North Highlands, (916) 487-4483, will be repairing the trailer.   They are top rate guys with very reasonable rates and quick turnaround times.
I'm hoping to be back on the road, with both wheels, very soon.