Amador
(Ione) Want to catch Lighting Trout? Then head to Lake Amador, where 1500 pounds of these beautiful bright yellow/orange bodied fish with red stripes were recently planted.
 "Its a recessive gene in the rainbow trout species they noticed, so they started pulling them aside and breeding them until the developed the Lighting Trout," reported Lee Lockhart of the Lake Amador Resort.
Successful anglers include Phil., who caught 5.72 lb. Lighting Trout on a fire tiger Rapala 17 feet down while trolling. Tony Taylor of San Jose also landed a 5 lb. Lighting Trout while soaking green garlic PowerBait by the spillway.
The regular Mt. Lassen trout continue to be planted, with the latest plant of 1200 pounds going into the lake on April 26.
Boaters and bank anglers are hooking the trout while using nightcrawlers, Mice Tails, Kastmasters and other spoons. Big rainbow honors go to Nicole, who landed a 7.5 lb beauty while soaking shrimp bait.
"The bass have spawned," said Lockhart. "The females have moved into deeper water, while the males are guarding the nests. Anglers are doing best while tossing out plastic worms."
The lake is currently full and the surface water temperature is 62 degrees. The launch ramp is all pavement and wide-open for launching with the whole cove full of water, and has both docks in the water.
Pardee
(Ione) There is lots of good news on trout at Lake Pardee this week. Bank and boat anglers continue to do really well. From the shore, Stoney Creek landing, Porcupine Point and Woodpile are the best places to find them.
"From the boats, look for them at the mouth of the river and up the river arm. Power bait (rainbow or chartreuse), white Power Eggs and mini spinners have been the best baits," according to Pardee Lake Recreation.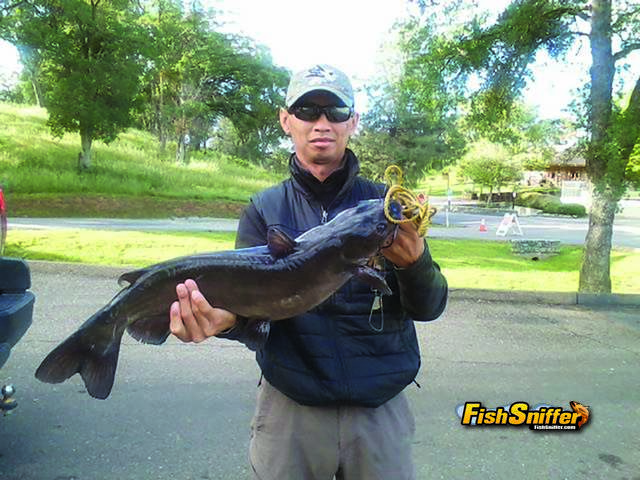 "Kokanee fishing is really picking up, with lots of 12-15 inch kokanee being caught. The best place has been the mouth of the river. You will find them anywhere from 10 to 30 feet down. One report stated that changing up speeds while trolling (slow to fast) produced great results," the report state.
Anything pink seems to attract them. Chrome or watermelon Sling Blades with hoochies have worked well. Orange/pink spinner hoochies with orange dodgers was one set up that was successful.
Anglers gave several reports of catfish caught on the lake this week. From the shore, Woodpile is one of their usual locations. White Power Eggs and worms are working best.  Bass reports have been elusive this week.
"We love to see families coming out and enjoying some time together and getting some pretty good fishing in. This week was a perfect example of that," the report said.
Jesse McDonald and his son Niko, first-time Pardee fishermen, had a great trip  on Monday. The final tally for the day was 6 kokanee and 2 trout.
The Leonard Family had another great time at Pardee last weekend, with the whole family limiting out by 10:15 am. On Sunday, Nathan and Cindy each caught their limit by 9:15 am.
Camanche
(Burson) "Great weather made for another great week for anglers," reported Terry Willard of the Camanche Recreation Company. "We saw plenty of catfish, crappie, trout and bass caught."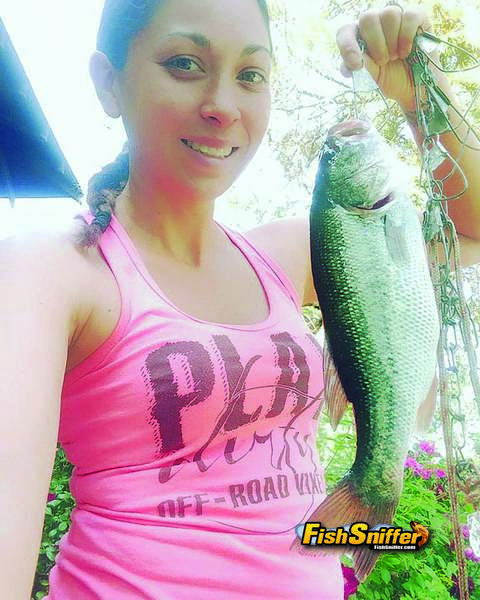 The lake has continued to rise as the snow is melting. Lake Camanche as of this report was at 55% of capacity. "It's a long way from 19% last August," she noted.
The North Shore Main Courtesy Ramp is now open. South Shore Courtesy Ramp has moved to Low Water Ramp #1.
EBMUD is taking advantage of the low water at the main south shore ramp to build a new ADA accessible walkway to the ADA docks.
A plant of 1800 pounds of Mt. Lassen rainbow trout went into the lake prior to the weekend of April 30-May 1. 
Matt Brown Jr.of Manteca caught a 5.2 lb largemouth bass while casting a shad crankbait off the south shore bluffs, commonly known as the Narrows.   
Camanche resident Leann Franck caught 4 bass while fishing worms on the north shore cove. The largest was 4.51 lbs.
New Melones  
(Angels Camp) The big news at New Melones Lake is that the long-awaited kokanee salmon bite is finally on! 
"Most anglers are catching some chunky 14-15" kokanee and some nice rainbows," said John Liechty at Glory Hole Sports. "The kokanee are not very deep and can be caught in 20-35' of water."
"The fish are holding in the main lake near the deepest water off the spillway and dam," he said. "Rocky Mountain Slingblades and Glitterbug's teardrop dodgers have been working well.  Watermelon, pink, gold and silver are all good choices for blade colors."
"Behind the blade run a micro hoochie, Uncle Larry's Spinner or Father Murphy's Bug.  Pink has been a good color choice and multi-colored baits will appeal to fish," he tipped.
The trout bite has really picked up also. "There are plenty of nice rainbows in the main lake over deep water," said Liecthy.
Boating anglers have been trolling the main lake with downriggers and leadcore line to find success. Try fishing a top-line first thing, then drop down 15-30' in the late morning and afternoon.  Needlefish, Excels and Speedy Shiners are working best.
Earl and Tyler Natirass caught a mixed limit of trout and kokanee while trolling hoochies and Slingblades near the dam. Their largest rainbow weighed 1 pound, 4 ounces.
"This the perfect time of the year to target bass," said Liecthy. "The fish are in three different modes: pre-spawn, spawn and post-spawn. This means that fish can be caught near the bank and in deep water in many areas."
The bass will stage near main lake coves and creek channels and then move shallow to spawn. Many baits and rigging methods will work, but it is hard to beat a Texas-rigged worm when fishing near brush and wood. Try using baby brush hogs, beavers and Senkos. There is a topwater bite in the early morning hours also.
Crappie action is superb. "It has been a great spring and anglers are catching a ton of crappie," said Liechty. Try fishing in main lake coves near timber with Beetle-Spins, Mini-Jigs and minnows.
New Melones Lake is currently holding 637,441 acre-feet of water. The lake is currently 885 ft. above sea level and 200 ft. from full. The water temperature is gradually rising, with the average being 62-70 degrees.
Glory Hole Point boat launch is a two lane concrete ramp with a courtesy dock in place.   
Don Pedro
(La Grange) Monte Smith of Gold Country Sportfishing reports that the lake continues to rise, but that the water clarity has steadily improved.
Smith found great action for his clients on his most recent trip to the lake running heavy spoons on lead core for multiple limits of rainbows.
"We released everything, and the fishing was good after the slowdown last week. The water has returned to the clarity of a few weeks ago, and I think it was the wind that caused the difference in clarity," said Smith.
Bass fishing is showing signs of life with plastics on the drop-shot or jigs. The water level is starting to stabilize, and the fish are getting oriented to the banks.
The lake is at 66% with all three launch ramps open.