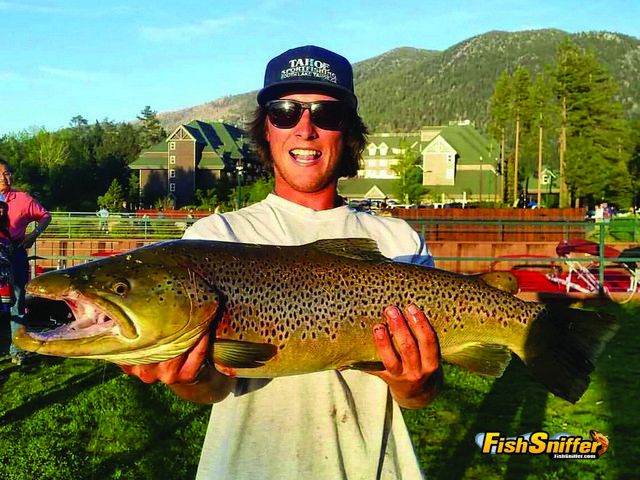 (South Lake Tahoe) June is shaping up to be quite a month for the Tahoe Sportfishing Team. They've been going large with double digit mackinaw and browns in addition to plenty of "pansize" and larger eating size macks!
For example, on June 3, first mate Drew battled a monster 10 pound brown. On June 6 anglers boated multiple handsome browns and a mackinaw well over the 10 pound mark.
When anglers fishing with Tahoe Sportfshing aren't landing big fish they've been racking up lots of macks in the 3 to 5 pound range. These are great eating fish that just can't seem to lay off rigged minnows trolled behind a set of flashers.
Flashers and dodgers teamed with rigged minnows have been the ticket for Gene St. Denis while trolling deep water off the Tahoe City Shelf and Cal Neva Point. Gene's anglers are scoring steady limits of 1 to 6 pound macks and larger fish in the 8 to 19 pound range are showing up too.
Mickey Daniels of Mickey's Big Mack Charters is doing what he does best…putting visiting anglers on mackinaw action at the north end of Lake Tahoe!
Mickey is pulling a combination of lures for fish to 7 pounds. Anglers are keeping some fish for the table and the rest are being tagging and set free.