With the Sacramento Valley in the middle of a triple digit heatwave, I was looking for a way to get out of the heat. It just so happened that I had been in conversation with Captain James Netzel of Tight Lines Guide Service and when he told me that the kokanee were on the bite at Stampede Reservoir it was just the opportunity that I was looking for. I have known James for a few years now, having fished river salmon with him and in talking with him at the Sacramento ISE Show over the winter.
So on June 25, I made the drive up the hill with my friend and kokanee fan, Ian Rigler of Sacramento. We met Captain James before sunrise at the boat ramp and after exchanging pleasantries we were quickly aboard his spacious fully rigged 22′ Boulton Pro Sea Skiff and ready to start trolling.
As a novice Kokanee angler, I listened with serious intent as Captain James instructed, "When you get a fish, if it doesn't pop off the down rigger, thumb the spool and lift up, you don't have to jerk, just a steady pull. As soon as it (line) pops off, reel like crazy to take up the slack, once you get contact with the fish, then just slow your reeling down. Just slowly reel and keep the rod up and let it do the work. In kokanee fishing, if you lose only fifty percent of the fish you hook, you are doing good. Some days you don't lose any and some days you lose twice as many as you catch. If you catch them in the corner of the mouth, you got that fish. If the fish is caught in the bottom of the jaw, it is so thin down there."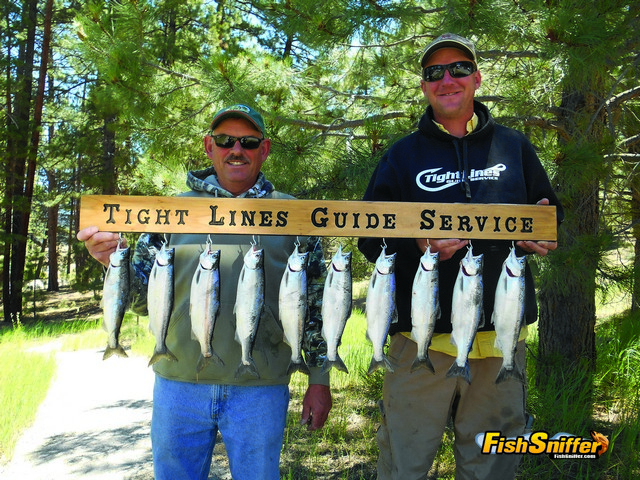 Within minutes James had our lines in the water. Those who follow my writing or have fished with me know that I am a stickler for details and love to know every last detail and James was quick to oblige my curiosity. We began trolling at a speed of 1.0 to 1.2 mph at a depth of 25 to 45 feet, following a set of way points that James had logged on his Lowrance.
James employs 7'9′ Velocity Elite blue glass parabolic trolling rods matched with Abu Garcia 5500 Line Counter reels that he spools with 8lb P Line CXX. On this day James rigged our rods with Rocky Mountain Tackle 4.25" Purple -n- Pink Signature Dodgers trailed by Rock Mountain Tackle double glow pink planktons, a micro soft plastic hoochie with a small spinner on the front. James finished off each out fit by adding two pieces of scented Shoepeg corn to each of the two hooks on the hoochie.
It quickly became evident to me that kokanee anglers are super serious about their scented corn. James has not one but two scents he relies on to keep his clients on the fish at Stampede. He mixes a can of Shoepeg corn with either Pro Cure Kokanee Special or Pro Cure Garlic Oil.
As we began to settle in to our seats we had our first bite of the morning. Ian reacted quickly and was hooked up with our first kokanee. James was the ready with the net but as the fish neared the boat, it made a final quick surge, I saw it flash and then it was gone. I thought to myself, welcome to the world of kokanee fishing.
The disappointment of losing our first fish didn't last long as I soon heard James holler, "Fish On". Ian again fought the fish carefully and after a spirited battle with a few quick runs and an acrobatic aerial jump, James had the kokanee securely in the net. The flurry of bites continued, as we secured another keeper kokanee while hooking and dropping a few along the way.
Then came a lull in the action that lasted for about an hour. And then it happened, I noticed the tell tale bite and replaying the instruction that James had given me in my mind, I quickly took up all the slack in the line until I felt the weight of the fish. Slowing my reeling speed I gingerly played the kokanee, maintaining pressure with the rod as it darted about and jumped out of the water. James was spot on with the net and that is the story of my first kokanee
For the next hour the bite was off the hook as James had expertly located a pod of active kokanee. We had a couple of double hook ups and lost only a few fish. Within short order, Ian and I had limits of kokanee for the table and it was time to call it a day.
When we returned to the launch ramp the summer pleasure boat traffic was increasing at a rapid rate. It was a great morning of fishing and I was sad to leave the comfortable temperature of the Sierra for the heat of the Valley.
Captain James is a first class guide. If you would like to book a trip or to learn more about his services he can be reached at 888-975-0990 or visit his website at http://fishtightlines.com.