Final minutes of the trip… The bite was slow and the fishing was methodical, yet there were big fish around. We had a pair in the box and we'd seen a few dandies landed around us. After spending the entire morning shooting video it was my turn on the rods, but it was late in the morning and the bite window was rapidly closing.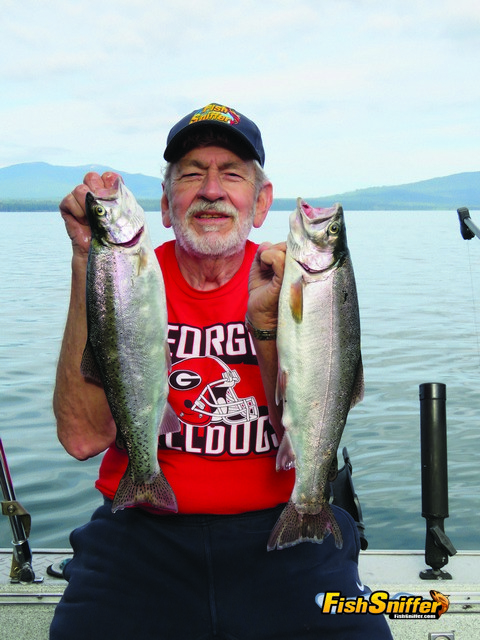 Over the years last minute success has become a hallmark of mine, dating all the way back to 1979, my first deer season as an actual rifle packing hunter, when I hammered a big three point buck on the final morning of the season.
Since then there have been more closing day bucks, jackpot winning lingcod and stripers on the final drift of the day and more then one big trout hooked in waning light of the day that wouldn't actually be landed until after dark. Once I'd beached a 22 inch brown trout on the last cast of the last day of the stream trout season in fading light on a creek that seldom booted out a fish over 12 inches!
Some days I get a little psychic shimmer that tells me I won't score no matter how good the conditions. And there are other days when I just know I'm going to score big no matter how long the odds…That's the feeling I had at Lake Almanor on the morning of July 8…
The trip had actually sparked to life weeks before with a series of telephone calls back and forth with Captain Bryan Roccucci of Big Daddy's Guide Service. In the spring Bryan starts out chasing big trout at Lake Almanor and then slowly switches over to chasing a mixed menu of kokanee, trout and macks at Bucks Lake once summer rolls around.
Back in the old days when I had few responsibilities beyond fishing and writing about it and was spending 150 days a year on the water, I had no problem driving 200 hundred miles for a few hours on the water. These days things are different and when I travel I try to get the most bang for my time in terms of print and video content.
I'd already set up a kokanee trip with Captain Kirk Portocarrero and DFW biologist Monte Currier at Whiskeytown and this set the stage perfectly for bouncing over to either Almanor or Bucks Lake the next day. The question Bryan and I bantered back and forth was whether we should go for numbers of small to medium size fish at Bucks or swing for the fences and target big fish at Almanor despite the fact that the spring bite would be in rapid decline by early July?
I knew I'd get plenty of footage of pansize 'kokes coming to the net at Whiskeytown, so I lobbied hard for a crack at the big brutes that swim the waters of Lake Almanor and in the end I got my way. I'd been wanting to fish with Bryan for years and I was pretty darn excited about fishing with one of the state's premier trophy trout guides.
After the long drive from Redding to Chester and a scant four hours of sleep, Fish Sniffer staffer Gene Rush and I rolled up to the Forest Service launch ramp on Almanor's west side just as Bryan was arriving at 5 o'clock in the morning.
As Bryan parked his truck after dropping the big aluminum Boulton into the water, I walked out onto the floating dock and shot the opening segments of video, explaining that we weren't looking for big numbers of fish. Instead we were hunting for a handful of big bites.
After we all loaded up, Bryan zipped the big boat across the lake and we started trolling a long stretch of shoreline along the east side. The water was about 35 feet deep.
"The trout are cruising along the bottom feeding on huge Hex nymphs. To hook them I've been slow trolling threaded night crawlers just off the bottom without any blades," Bryan advised as he threaded a worm. "We aren't matching the hatch, but the worm looks enough like a nymph to fool some of the trout. This area has been holding lots of big rainbows and browns. A few weeks ago there were a lot more in this stretch, but there are still plenty. We'll see some monster arches on the sonar screen this morning from fish that go anywhere from 5 to 10 pounds."
The first strike actually came pretty quickly. Perhaps within 5 minutes of putting the gear into the water, but the fish didn't stick. On we trolled for another 40 minutes or so, before the next trout came knocking. This one got the hook and immediately went airborne.
Gene had his hands full fighting the thick bodied rainbow, but then things took a turn for the worse when the battle worn Abu Garcia baitcaster he was using started to seize up.
Gene stayed calm and Bryan used the kicker motor to keep slack out of the line as Gene ever so slowly retrieved line with the sickly stiff reel. Before long an impressive Eagle Lake strain rainbow was behind the boat and Bryan deftly scooped it into the net.
After a little celebrating Bryan swapped out the bad reel for a new one and we were on the troll again. Perhaps an hour had passed when Gene hooked up again. This time the fish went deep instead of jumping. Gene kept as much pressure on the trout as he could and we soon had a second 3 pound rainbow, a twin of the first fish, in the cooler.
With fish No. 2 in the box and sun getting high in the sky, the next fish would be mine to play, as I wanted some video footage of me fighting a trout on what I consider one of the West's most beautiful lakes. And this brings us back to the beginning of this story.
An hour passed and then another 30 minutes, before a rod popped off the downrigger on the port side. I'd just started to fight what felt like a really good fish, when it came unbuttoned…
I was disappointed, but not for long. Two minutes later a rod on the starboard side got hammered and this time the hook up was solid.
The fish didn't make any blistering runs or wild jumps. Instead it bulldogged in deep water and shook its head hard and often, making me worry that the 4 pound test leader would snap.
"This fish feels really heavy," I said as I worked the reel gingerly. I wanted to put pressure on the unseen trout, but not too much pressure!
The trout was determined to stay deep, but eventually it came to the surface and showed itself off the starboard corner. At first I saw a brownish, greenish mass and thought I might have a clump of weeds on the line in addition to an average size trout, but a moment later I realized I was hooked up with a handsome brown.
After a five minute fight that seemed to last a half hour, the fish slid into the net. In addition to my hook the big trout had another hook imbedded its jaw and about four feet of light line trailing out of its vent. It had broken someone's heart!
After removing both hooks, cutting away the trailing line and shooting  a quick segment of video, I revived and released the handsome brown back into the lake. How big was the trout? It was solidly over the four pound mark and may well have sunk a scale beyond 5. In the end I wasn't really worried about how much the fish weighed. I'd landed a big beautiful Almanor brown on video and had released it for another angler to enjoy!
Bryan Roccucci, will be guiding on various destinations this summer and into the fall, including Bucks Lake, Lake Davis, Lake Tahoe, Eagle Lake and Almanor to mention only a handful. If you'd like to book a trip with him for trophy trout, mackinaw or kokanee he can be reached at (530) 283-4103. I'll be back on Almanor with Bryan this fall or next spring trying to get my wife Gena hooked up with the brown trout of her dreams!