The tip of my rod quivered with the frantic, nervous swimming motions of my live sardine 10 feet below my kayak. Mr. Sardine was trying to get away from some unseen predator. All of a sudden, the vibrations stopped.
The rod tip slowly bent into an arc, eventually dipping into the water. Line peeled off the reel as a 20 pound Chinook salmon surged forward with Mr. Sardine clamped in his jaws. "Fish on!" I hollered to my nearby friends as the fish towed me west across Humboldt Bay.
The Chinook (king) salmon is arguably the most prized quarry among NorCal kayak anglers. Many kayak anglers will spend years trying before they catch their first Chinook from a kayak. They're a tricky fish to pursue via the plastic boat: the typical NorCal method for targeting salmon is trolling, and it can take literally miles upon miles of paddling across the Pacific before you're lucky enough to get a bite. The kayak angler must accept the fact that they will be skunked on many salmon trips.
But sometimes, salmon make it easy on us. Humboldt Bay has been a salmon hotspot this summer, with powerboats, kayakers, and even shore anglers scoring several beautiful Chinook salmon averaging 15 to 20 pounds.
My brother Matthew lives right on the bay, and is having a stellar year on the salmon. He invited me to come out and experience catching salmon in the quiet waters of a bay. He didn't have to ask twice. I took a few days off work so I could spend several days targeting salmon and California halibut inside the bay.
When Matthew showed me the area we were fishing for salmon, I admit I was skeptical. "Really? Here?" I kept asking. The area consisted of shallow, sandy flats of 10-15 foot deep water virtually devoid of structure, save for some breakwater rocks along the shoreline.
But pictures don't lie, and Matthew had pictures of dozens of salmon he'd caught here over the summer to prove that these waters were indeed attractive to salmon. We drug our kayaks across some sand dunes to the water and launched a couple hours before high tide.
The key, Matthew said, was to watch the color line. As the tide rolled in, you could see the dark, brown ocean water pushing its way into the bay and against the aqua-marine colored bay water. The salmon would come into the bay with the cold 51-53 degree ocean water, then charge into the sardine schools that would continually get squeezed tighter and tighter into the remaining bit of 60-degree bay water. The last two hours of the incoming tide were, by far, the best time to fish.
We dropped either live or fresh dead sardines on two-hook salmon trolling leaders consisting of 20 pound fluorocarbon and two 6/0 octopus hooks. The four-foot leader was attached to a two to four ounce banana weight. We would troll our baits at a slow 0.5mph, just enough to either create a spin with the dead bait or to keep the live bait moving in one direction.
Right off the bat, our friend Jason nabbed a 15 pounder. It was a huge confidence booster seeing that fish! Thirty minutes later, it was my turn. I made S-curves back and forth across the color line with a dead sardine spinning below me, and out of nowhere my rod doubled over into the water as a salmon clobbered my bait. A spirited 15-minute tussle ensued with the fish taking a few spectacular runs across the surface before I could scoop her into the net. I couldn't help but admire this beautiful 19 pound Chinook!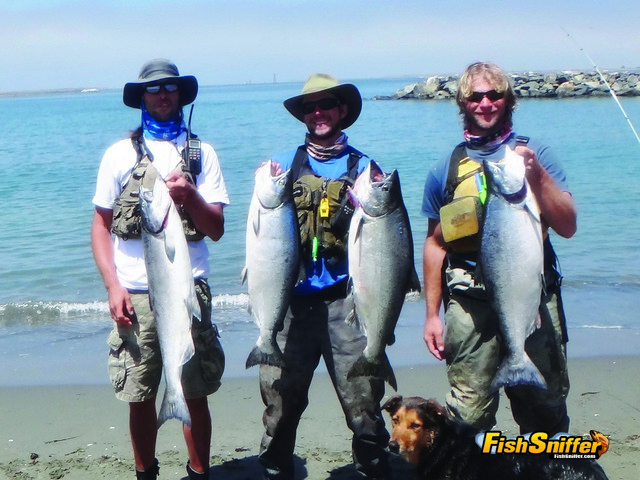 Over the next hour, both Matthew and another friend (Rob) nabbed a 20 pounder each. It was nearly slack tide at this point and I knew I was running out of time. I swapped out my dead sardine for a live one. Live baits can often elicit salmon bites when dead bait isn't producing. It didn't take long for a salmon to find my live sardine. This fish was larger than my first one, and significantly stronger.
He towed me several hundred yards across the shallow flats and into the shipping channel, where he plunged to the bottom at 40 feet. Luckily the tide was still coming in, so I didn't have to worry about being towed into the rough and dangerous "jaws" of the mouth of the bay. It took over 20 minutes, but I finally peeled the fish off the bottom and scooped my second salmon for the day. A gorgeous 20 pound buck!
With my limit filled, I victoriously pedaled back to my crew and relaxed on the calm waters of the bay as they continued fishing. The bite was over by this point, but we were okay with that, as we all scored some amazing fish.
It is an absolute pleasure to catch such large fish in the quiet waters of a bay! I ended the trip with four salmon filling my cooler. The salmon are coming easy this year, but if you chase them on a kayak, be prepared to have them tow you around! NorCal saltwater fishing doesn't get any better!