If you're a long time Fish Sniffer reader, you know that when it comes to fishing success I lean toward streaks rather than consistency. At times I can do no wrong. I catch big fish and big numbers of fish regardless of how the fishing is overall or how the anglers are doing fishing right beside me. I live for these hot streaks!
Buy alas every hot streak has to come to an end. Sometimes I just cool off and the fishing seems to go luke warm, but then there are other times when I descend into a full-blown slump. These times test my patience, because it seems like no matter where I travel, which guides I fish with or how good the bite is for others, I simply can't hook up.
A few weeks ago I had a pretty hot hand. I'd nailed a 20 plus pound lingcod outside the Golden Gate, a four plus pound brown at Lake Almanor, some quality kokanee at Whiskeytown and more, but now I can't seem to hook anything!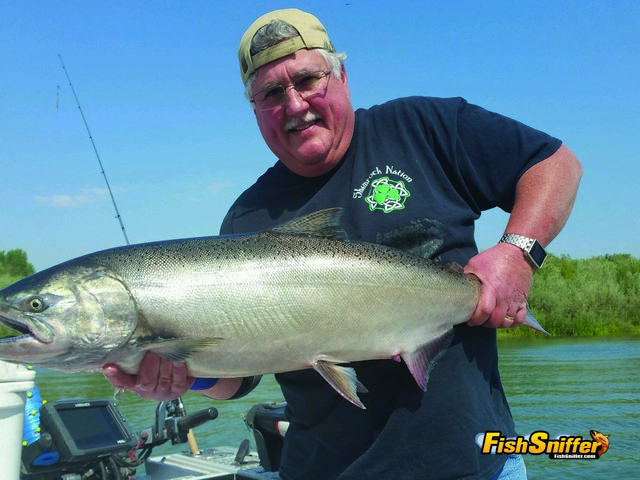 My late summer slump started about 14 days ago when I hit the Sacramento River for an evening trout fishing and filming trip on the Sacramento River with Captain Kirk Portocarrero. I'd caught a bunch of quality rainbows on Lake Shasta that morning, but in the afternoon I couldn't get so much as a bite despite the fact that several big wild rainbows were caught aboard the boat. Of course right then I just thought it was the luck of the draw and didn't see it as the onset of a slump. Slumps creep up on you quietly…
My next trip came together several days later when Captain Cameron Beck of American River Charters called me up and asked if I'd like to take a trip to Hell Hole Reservoir with him in the Eldorado National Forest.
"We'll be fishing out of my drift boat. I don't have electronics and only a 9-horse kicker. Do you think we can catch fish?," he asked.
Knowing that the lake has a solid population of both mackinaw and kokanee, I told him we should be able to find some fish. I grabbed a couple lead core outfits, a bunch of kokanee gear, a jigging rod for the macks and a handful of various spoons and jigs and set the alarm for an early departure the next morning.
Cam and I arrived at the lake just as darkness gave way to dawn. We figured we'd troll our way up the length of the lake in search of kokanee and then try out hands at jigging where the lake begins to narrow.
I tried different colored kokanee lures and different scents while working a bunch of different depths from 10 to about 30 feet deep. Two hours later we'd covered a lot of ground with zero strikes.
It would have been nice to have had a sonar unit to pinpoint the 'kokes, but I was still pretty surprised that we weren't able to stumble onto them. Had we hooked one, I was going to mark the location on my handheld GPS unit. This would allow us to grind on the hot spot in an ever-widening circle, working on the assumption that the first fish had friends…Great plan, provided you can hook that first salmon. I couldn't!
When we arrived at the narrows we hoped that jigging would save our day. I tried all my spoons as well as drop shotting with Gulp! and PowerBait Minnows for zero strikes.
Cameron got a pair of hits on Gibbs Minnows and ended up landing one 2 pound mack. Once the sun got high in the sky, we figured our shot at glory was over so we fast trolled back to the ramp pulling Rapalas and Yo-Zuris without a touch.
My next trip was a return visit to the Sacramento River. This time Kirk and I were hosting a group of Fish Sniffer readers in search of king salmon. I didn't figure on fishing much, but I anticipated filming some salmon being caught. While the fishing had been slow overall, some chromers were being caught and we were fishing with one of the best river salmon guides in the business.
We launched near the old Red Bluff Diversion Dam and started pulling plugs a few minutes later. One hour passed…Two…Three…Nothing! I'd passed my slump onto our readers.
Kirk suggested that I give roe a try just to see if it would change our luck. Drop, bite, HOOK-UP….Squawfish! I released the squawfish and put on more roe. Boom another squawfish. It seemed like a waste of roe, so I racked the rod.
Around noon we made a long run up to the lava country above Red Bluff where the river necks down. Our thinking was that less water meant the salmon would be more concentrated. It was another sound strategy that didn't result in a strike.
When all was said and done we ended the day without so much as a strike. Luckily I had a bunch of prizes for our fishermen in the form of rods, reels and lures from my sponsors at Abu Garcia, Penn, Yo-Zuri and Yakima Bait.
Going into press time and looking for a slump breaker I grabbed my camera, gold pan and river fishing gear and headed down to the Middle Fork of the American. I can almost always hook a trout or two in the American I thought.
The key word in that last sentence is ALMOST, because on this occasion I couldn't buy a hit on spinners, flies or even worms! Skunked again and the slump lives on.
In a few days I'll be competing in Captain Chris Smith's invitation only Ego Trip Lingcod Tournament out of the Berkeley Marina aboard the California Dawn.
After four straight slump trips, I wouldn't bet against me. I know a thing or two about lingcod fishing and I'm due to get hot! We'll see….