Allen Kenneth Bonslett, the former publisher of the Fish Sniffer magazine and a resident of Galt, passed away at the age of 56 on September 8, 2016.
Allen was born in Sacramento May 24, 1960 to Hal and Winnie Bonslett, who founded the Fish Sniffer magazine on their kitchen table in Woodland, California in 1982.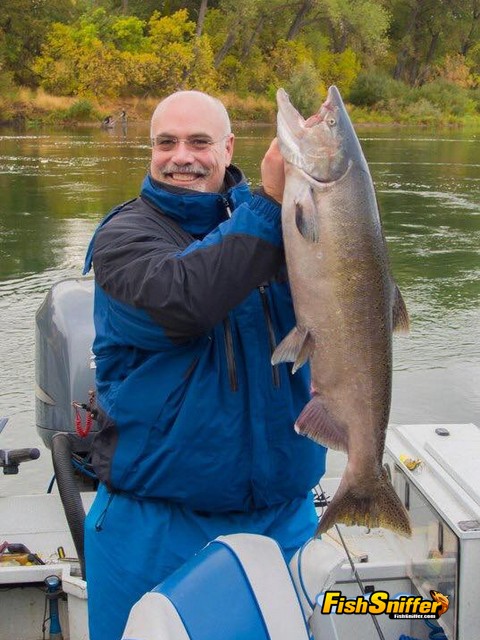 Allen worked with the family business from 1984 to 2008. He worked in a variety of roles, including computer specialist, writer, route driver, but it was in coordinating production of the publication that he worked the longest.
In 1986, Allen spearheaded the transition of the publication of the paper to desktop publishing. The Fish Sniffer magazine became the first-ever fishing publication – and one of the first publications in the Sacramento region – to be produced entirely on a computer, the Apple McIntosh.
He was a loving husband to Nicki Bonslett, father of Elizabeth and Derek. He married NIcki in 1987. His dad, Hal, preceded him in death in September 2000.
I knew Allen for over 32 years as a good friend and co-worker. When I used to see him in recent years, Allen would smile and say, "I love ya, man. Good to see you."
Allen was one of the most thoughtful and insightful people that I've ever known, particularly when it comes to politics and music. We spent hours on the drive to and from fishing trips talking about music, since both us had been trained in music and its appreciation in school.
Allen also had a deep understanding of political issues; we would often discuss the ramifications of what was happening in the State Capitol and DC, especially the impacts of decisions on fish, the environment and the outdoor community.
Two of the best concerts I ever went to were with Allen, a Rush and Jackson Brown concert. We had a great time at both. But probably the most revealing musical moment was when Allen came to the office all excited one morning and asked me to come to his car and listen to a new CD that he had just bought. "You got to listen to this. It's by a group called Nirvana."
He listened to the CD with a big grin on his face. I quickly become a fan.
Allen and I went fishing together many times, with our latest trips to Don Pedro for salmon and trout and to the ocean outside the Golden Gate for salmon when he was still able to fish three years ago. But of all of the fishing, we both got most excited steelhead fishing on the Trinity, Klamath, Eel and Smith Rivers. We both had a great appreciation for the fish, people, scenery and culture of the North Coast.
I also went with Allen on one of scariest adventures we both experienced. On the way back from French Meadows Reservoir 24 years ago, Allen lost his brakes half way down Mosquito Ridge Road after they overheated. It's amazing, but he worked the gears on the truck through the dozens and dozens of sharp curves with no problem and we made it Foresthill with no problem.
The one thing that you could rely on was that no matter the issue, Allen would thoughtfully make his decision based on facts and researched.
One time a staff member claimed that he had caught 300 shad per day in a three-day period. Allen did the calculations in his head and came up with the amount of time mathematically that it would take to catch each shad, proving that this alleged accomplishment was physically impossible for any human being.
At the Celebration of Allen's life was held at the Horizon Community Church in Galt on September 17, Cal Kellogg also spoke about his legacy.
"Over the past dozen years I probably knew Allen Bonslett as well as anyone, better than most. When Allen was working as the Publisher of the Fish Sniffer, he and I spent hundreds of hours on the water together including trips to Alaska, Baja and the Umpqua River in Oregon. In California we fished the California Delta regularly for sturgeon and stripers. We hit the Klamath and Trinty and chased lingcod out of Fort Bragg, Bodega Bay and beyond the Golden Gate," said Kellogg.
"What struck me about Allen as an angler was that he'd accomplished a lot including landing sharks over 500 pounds, big tuna, multiple billfish, king salmon over 30 pounds, sturgeon over 100 pounds and steelhead in the high teens. Yet he had remained humble. There are a lot of guys that would act pretty elite and downright pompous with an angling resume approaching Allen's, but that wasn't his style. He looked at fishing success as part skill, part luck and part opportunity. He was a guy that fished for fun and fished for the table, not for an ego boost," Kellogg emphasized.
"As a leader and as publisher of the Fish Sniffer, Allen could be tough and no nonsense. With deadlines looming publishing can be a stressful and adrenaline filled activity. At those times Allen would have his game face on and you'd better have all your ducks in a row," said Kellogg.
"Once the Bonsletts had sold the Fish Snffer to Paul Kneeland, Dan and I, I remained in close contact with Allen and he shared a good deal about his years as publisher. His father Hal Bonslett founded the magazine and drove it forward. Allen felt that his biggest job was preserving his father's legacy and protecting what Hal had built," noted Kellogg.
"I don't believe Allen would have actively sought out the position of publisher. He would have been much more comfortable with a job in photography or computer graphics, but when the mantel of responsibility was handed to him, he didn't shy away from it. Whether in his capacity as Fish Sniffer publisher or as my friend giving advice the one thing I could always count on from Allen would be a concise well thought our decision or direction. I didn't always agree with Allen's conclusions, but I always knew they were based on lots of reflection and contemplation. Allen was pragmatic, he had a great mind, he loved people and he was a great friend. I miss him," concluded Kellogg.
Of everything I mentioned in this article, the thing I must thank Allen most for is that he encouraged and greatly appreciated my conservation writing and environmental activism.
Allen is survived by mother Winnie and brother Robert and many family and friends.