Lake Almanor
Rainbow Trout Smash Spoons!
(Chester) Very good fall trout fishing has emerged at Lake Almanor mainly for rainbows, but the occasional brown is showing too.
"The fishing is pretty darn good at Lake Almanor right now," related Cliff Spediacci of Hook & Ladder Guide Service. "Myself and another guide had a large group today that we split among our boats and we got about 25 total fish. The lake was recently planted so some of the rainbows we got were small, but we picked up holdovers and wild fish to 5 pounds."
"I'm getting most of my fish on Speedy Shiners trolled anywhere from 20 feet deep on down to the bottom. The water was calm today, which isn't the best condition. We've been doing the best when there is a little chop on the water," disclosed Spediacci.
Bryan Roccucci of Big Daddy's Guide Service has also been enjoying great results while fishing at Almanor.
"The fall brown trout bite isn't underway yet, but we've been getting a brown or two every day. The big news right now is the outstanding rainbow fishing. The fish are still down deep holding anywhere from 25 to 40 feet, but we've been able to speed up our trolling and get hookups on various spoons. It's always fun when you can troll aggressively with hardware for rainbows that run up to 6 pounds," said Roccucci.
American Basin/Jenkinson Lake
Trollers Land Rainbows At Ice House, Loon
by Dan Bacher
(Sacramento) If you want to catch rainbow trout, troll with crawlers and lures or bait fish from the bank at Ice House and Loon Lakes.
For the second consecutive year, SMUD, in conjunction with the California Department of Fish and Wildlife (CDFW), this July and August stocked Loon Lake, Ice House and Union Valley with a total of over 25,000 pounds of rainbow trout.
Bank anglers should employ PowerBait, nightcrawlers, Kastmasters and RoosterTail spinners, while trollers should use Cripplures, Rooster Tails, Needlefish and other lures or nightcrawlers behind dodgers and flashers.
The kokanee season is over for the year at Union Valley Reservoir, now that the fish have moved into the creeks to spawn. However, trolling for mackinaw and rainbow trout should pick up as the water cools.
Fishing for rainbow, brown and mackinaw trout remains very tough at Jenkinson Reservoir, but fishing should improve for trollers and bank anglers as the water temperature cools down.
For big mackinaw, anglers should jig with Kastmasters, Gibbs Minnows, P-Line Lazer Minnows and Buzz Bombs at Hell Hole.
If you want to hook rainbow and brown trout at French Meadows Lake, toss out PowerBait and nightcrawlers or troll with Rapalas from the shoreline. You can expect to find light fishing pressure and great action at this reservoir this time of year.
Lake Berryessa
Target Largemouths, Smallmouths And Spots With Top Water Baits
by Dan Bacher
(Napa) Black bass, including a mixture of largemouths, smallmouths and "spots," offer the top fishing at Lake Berryessa now.
"In the early morning and late evening hours, anglers are hooking up bass on Whopper Poppers and other top water lures," said Jay at Sweeney's Sports. "Spinnerbaits in light green and blue are also working."
"The jig and spoon bite for bass is also really good," he noted. "Anglers are finding the best action while using lures in brown and other natural colors."
The trout fishing "is not the best" now – and king and kokanee salmon are largely absent for the catches, he noted. Trollers using an array of spoons, spinners and imitation lures have been catching a few rainbows averaging 2 to 3 pounds at 30 to 40 feet, but the fishing should improve as the water temperature cools down with the arrival of the cooler fall weather.
When the lake turns over, the fishing from shore can be as good from boats for beautiful holdover rainbow trout. Fishermen should toss out minnows and nightcrawlers in Markley Cove and other areas on the lake.
Crappie fishing should pick up around docks and other structure. Anglers should employ Mini Jigs, small swimbaits and live minnows.
"The bass fishing at Lake Hennessey has been hit and miss," said Jay. "My fishing partner and I caught and released 16 fish on one afternoon trip and 5 fish on our next one. We hooked largemouths averaging 2 pounds and going up to 5 pounds while using Senkos in 8 feet of water and shallower."
Clear Lake
As Water Cools Off, Bass Action Improves
(Clearlake) While most of the bass you will hook at Clear Lake now are in the 12 to 14 inch range, there are some real giants out there. The evidence?
"One local caught and released two largemouths weighing 13 and 11 pounds ago," reported Billy Johnson at Clear Lake Outdoors."
"The fish are showing all over the lake," he said. "The fishing is picking up with the cooler fall weather. Anglers are using whatever method they prefer. They're using jigs, drop shot rigs, crankbaits, Lucky Craft LV 500s and swimbaits – all kinds of stuff."
The catfish bite continues to be slow, probably because there is so much shad available for the catfish that they aren't hitting anglers' baits.
If you want bluegill, fish waxworms and redworms off Henderson Point and Shag Rock.
The crappie bite has been slow also, but the fishing should pick up around docks and cover as the water temperature cools. Use mini jigs and minnows to tempt the slabsides.
Collins Lake
Fall Trout Plants Begin!
by Dan Bacher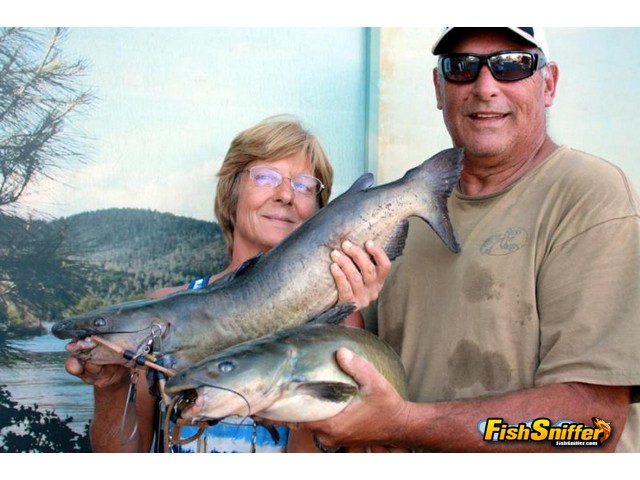 (Oregon House)) Fall has arrived at Collins Lake. That means that trout will arrive weekly between October 17 and Thanksgiving, totaling over 10,000 pounds of rainbows, including huge trophy-sized fish.
The resort will also be raising rainbow trout in 12 net pens for spring 2017 release.
Meanwhile, anglers continue to hook an autumn cornucopia of black bass, crappie and catfish. Kevin and Dave Callison limited out on bass by the bridge while bait fishing, reported Shelly Groce at the Collins Lake Resort.
Victor Jr. landed three catfish, one bass and three crappie while using worms on the other side of the lake. Finally, Matthew Roman caught one bass weighing around 4 pounds while using worms off the marina.
The surface water temperature is 69 degrees and the lake level is 31 feet from full.
Davis/Frenchman Lakes
Shore Anglers Battle Quality Rainbows
(Chilcoot) Bank fishermen are hooking plenty of quality rainbows at Frenchman Lake while employing nightcrawlers and lures.
"Most reports are coming from those who are bank fishing," said Shirley Wiggin at Wiggin's Trading Post. "Turkey Point seems to be where most are having luck with worms and PowerBait."
"John Renolds and Don King from the Bay Area went fishing at Turkey Point and caught a total of 9 rainbows while using worms and PowerBait of all colors. The fish averaged about 1 lb. each, with a couple weighing 2 lbs." said Wiggin.
Will and Ray from Sparks, NV limited out, catching a total of 11 rainbows but releasing one. They too were fishing PowerBait at Turkey Point.
"Ray caught five fishing about 2 lbs. each.. Will caught 6, keeping 5. Two of them were 3 lb rainbows," added Wiggin.
Lake Davis recently received their first snow of the 2016 season. "With the cooler weather, the fishing has improved," reported Jeanne Graham at the J&J Grizzly Store and Campground. "Several fishermen came into the store and reported that they did really well."
"Fly fishermen and trollers have seen several limits plus," said Graham. "They've experienced many hook ups, but a lot of lines have been broken."
Trolling has been best at 15 feet plus in the channel, or in the morning shallower and along the edges of the weeds. Trollers should use Dick Nites in Copper Red Head or Needlefish in Red Dot Frog or Metallic Perch.
Fly fishing is best along the edges of the weeds with Wooly Buggers in black, olive, or cinnamon.
The lake is 56 percent of capacity.
Eagle Lake
Anglers Limit On 3 Lb. Rainbows
(Spalding) Cooler weather and shorter days have spurred excellent October trout action on Norcal's premier rainbow trout lake.
"My clients have been doing really well up at Eagle Lake over the past week to 10 days," reported Captain Bryan Rocccucci of Big Daddy's Guide Service. "There are fish still holding in deep water areas, but we are getting most of our fish in the top 5 feet of the water column while trolling close to structure typically near the shoreline. The trout are keying on tui chubs and when that happens they typically bite pretty well for trollers."
"Our number one offering has been a soft plastic grub trolled fairly slowly. The color the trout prefer changes from day to day. Since they are eating chubs you'd think that natural browns and olives would work best. Some days natural color do work best. Other days the hot ticket is a bright orange grub. You've just got to put out a range of colors and see which one the fish are responding to best," tipped Roccucci.
"Most of the rainbows we are getting now run from 2 to 3.5 pounds. Most days we aren't keeping anything under 3 pounds, so we are coming back to the dock with some pretty impressive limits," Roccucci shared.
Cliff Spediacci of Hook & Ladder Guide Service has been focused on fishing Almanor in recent days, so he didn't have an Eagle Lake report for us this week, but as of press time he was headed back up to Eagle where he expects to spend a good deal of time targeting rainbows for the rest of October and into November.
If you're planning on taking your RV to Eagle Lake this fall, get in contact with the team at the Eagle Lake RV Park and ask them about the Fish Sniffer Special!
Folsom Lake
Anglers Look Forward To Fall Turnover
by Dan Bacher
(Sacramento) There is a 5 mph speed limit now in effect on all of Folsom Lake. This has resulted in very light boat fishing pressure for channel catfish, black bass and king salmon and rainbow trout. In addition, most Sacramento region anglers are concentrating on salmon in the Sacramento and American rivers currently.
The lake is currently holding 296,426 acre-feet of water, 30 percent of capacity and 55 percent of normal. The water level is 386.51 feet in elevation, 79.49 feet from maximum pool.
The Granite Bay's Low Water Ramp and Brown's Ravine's Hobie Cove Ramp are both still in the water as the lake level continues to go down.
Expect rainbow trout and king salmon fishing to improve as the surface water temperature cools down. When the lake turns over, fishing from shore can often be better than fishing from a boat for salmon and robust holdover rainbows. Toss out nightcrawlers, minnows and PowerBaiit, both on sliding sinker rigs and under bobbers, off Brown's Ravine and Five Percent.
For largemouth, spotted and smallmouth bass, you should throw Zara Spooks, Pop-Rs and other top water baits over the tops of rockpiles in the early morning hours. The bass should be pushing up bait, pond smelt and shad up around the rockpiles in the main body. As the morning proceeds, fish the same rockpiles with drop shot rigs with 3 inch shad pattern and Aaron's Magic worms.
Lake Oroville
Trolling Trip Yields King Salmon, Spotted Bass And Trout
by Dan Bacher
(Oroville) You can catch king salmon, spotted bass and even the stray trout if you go trolling at Lake Oroville.
Just ask Paul Kneeland, Fish Sniffer Publisher, and John Brassfield of Trucksmart stores, who recently fished Lake Oroville in the Fish Sniffer 21' Rogue Jet Coastal.
"We caught a total of 7 salmon, 12 bass and one trout," said Kneeland. "Our top salmon weighed 4 pounds, 14 ounces, while the others ranged from 14-1/2 to 15-1/2 inches long. The bass ranged from 10 to 15 inches in length. The trout, a rainbow, measured 13 inches long."
The trolled with "Wonderbread" Speedy Shiners, plain silver Apex Trout Killers and white hoochie/dodger combos under Canon Downriggers at 45 feet deep and 2.2 mph.
"We saw two other boats out trolling for salmon and several boats bass fishing," he said.
The reservoir is currently holding 1,574,903 -feet of water, 45 percent of capacity and 73 percent of average. The lake level is 738.75 feet in elevation and 161.25 feet from maximum pool, and dropping rapidly.
Pyramid Lake
Big Cutthroats Are Showing
by Mike McNeilly
(Truckee) Big fish are on tap at Pyramid Lake. That statement should come as no surprise to Fish Sniffer readers. The action hasn't been as good as last year, but there are still plenty of trophy Lahontan Cutthroats in the catches to excite anglers.
Lou Varela recently landed a 15 plus pound LCT on a boating trip to the big lake. The fish was a fine specimen of the giant Pilot Peak race of Cutthroat Trout. Other notable catches are being brought in by diligent trollers and vertical jiggers. The jig bite obviously is much tougher on windy days. Most seasoned anglers switch tactics according to the prevailing weather conditions.
Fly anglers are still struggling at this point. A few fish are being taken by guys working deep drop off beaches early and late in the day. The best action is found stripping wooly buggers along the bottom at this point. The fly bite is in no way hot. Mostly die hards are trying at this time.
In the very near future, anglers should expect a major die off in the vertical jigging bite. There should be a good bite on suspended fish in the deep waters off of Hell's Kitchen. Those who are willing to thoroughly work the lake's snaggy structure with Flatfish will also be rewarded.

Shasta Lake
Rainbows, Browns, Spots And Largemouths Grab Lures
(Redding) The days are getting shorter, the nights are getting cooler and Lake Shasta is slowly shifting from summer to fall fishing mode.
Trout that had been locked in the thermocline are beginning to spread out and anglers are hooking fish from 15 feet deep all the way down to 60 feet and deeper. Shad pattern lures are the way to go, with Hum Dingers, Needlefish, Excels and Apex Lures all producing well as are Wiggle Hoochies and rigged shad.
Most of the trout being caught are rainbows that fall within the 12 to 18 inch class, but the occasional brown to 5 pounds has been caught. The browns are typically found holding deeper than the rainbows.
Both the main body and the lower reaches of the lake's major arms are producing trout.
Bass anglers are using drop shot rigs and spoons to pull spots and largemouths off main lake points. The best action is 20 to 40 feet deep. Most of the fish being caught are spotted bass that run 12 to 14 inches, but spots to 4 pounds and largemouths to 5 have been landed.
When the light level is low there has been some topwater action, but it's been hit and miss.
As of press time Shasta 69 feet from maximum pool and boat launching is available at multiple ramps around the lake.
Lake Tahoe
Fall Mack Attack Pushes Forward
(South Lake Tahoe) Cold nights in the high country are dropping the surface temperatures at Lake Tahoe and as a result both deep water and shallow water trollers are picking up macks. The most consistent fishing is still taking place for deepwater anglers, but anglers working the shoreline are starting to hit fish on minnow plugs.
The Tahoe Sportfishing team is putting their clients on solid mack action while working at the big lake's south end. Minnows teamed with flashers have been working well when trolled from 100 to 200 feet deep. The average mack is going 3 to 5 pounds and there have been larger fish into the teens caught.
Mickey Daniels of Mickey's Big Mack Charters has been successfully trolling Carnelian Bay. Mickey starts out trolling briskly in shallow water before slowing down and working progressively deeper. His clients are hooking macks running up to 8 pounds.
Fish Sniffer reader Connor Burke fished Tahoe last week and reported catching a 19 inch rainbow and a 22 inch mackinaw while fishing offshore of Cave Rock.
"I was pulling a threaded night crawler behind a set of Vance's flashers at 35 feet when both fish hit. I hooked a third fish that felt pretty heavy, but after fighting it for about 30 seconds the leader snapped and it was gone. I think it was a bigger mack," exclaimed Burke.
There have been reports of mackinaw to 7 pounds being caught at Stampede Reservoir by trollers pulling Rapalas and Flatfish plugs.