You have to love it when a plan comes together. You look at the tides, look at the weather forecast, and head to the water to see what really happens. In most cases, Mother Nature throws some curveballs into your game plan. This fall, I was able to put my fish planning skills on the line, with both stripers and sturgeon as the intended targets.
I hit the West Delta with RJ Sanchez of Oakland. We had been arranging to go trolling, but I was really onto a hot bait bite, so we decided to change plans.
In fact, I can honestly say that several of my early-November bait fishing trips in 2016 were the best striped bass fishing I have ever seen. There were days where we couldn't bait our rods up fast enough, with double and even triple hookups on quality stripers to fourteen pounds.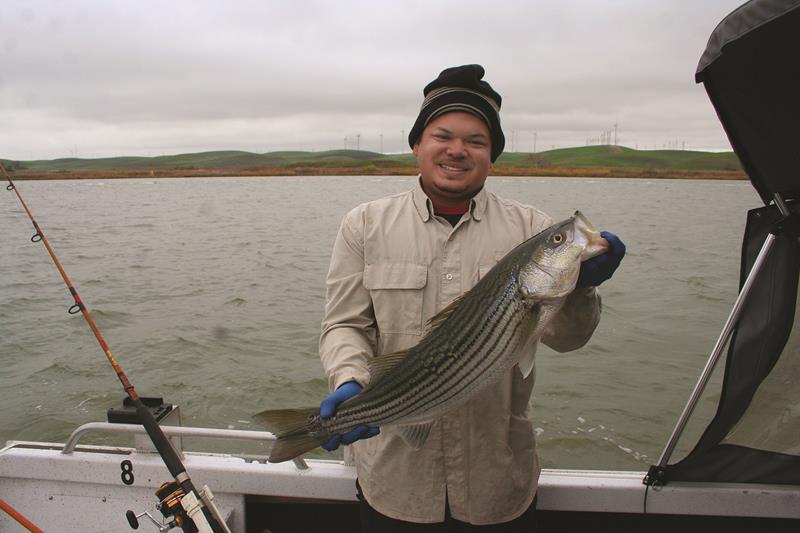 I knew that the red-hot action wouldn't last, but I was hoping to at least get RJ onto some decent stripers and maybe even a bonus sturgeon if we were lucky. I had a pretty good game plan in the back of my mind, and I was pretty confident that we would get some nice fish.
I met RJ at the launching facility at a quarter to six in the morning. We motored the boat towards a spot between Sherman Island and Pittsburg on the Sacramento River in 22 feet of water. As we anchored, the incoming tide was pushing against the southeast winds, creating rolling swells. The rollers weren't massive whitecaps like I've seen in the past, but they were enough to keep the boat pitching in a mild fashion.
The incoming tide was predicted to go slack around 10:30 am that day. My plan was to fish for sturgeon during the slack tide period, and fish for stripers when we had decent current.
In my experience, bait fishing for stripers from a boat during a slack tide is not very productive. Sometimes, the slow or slack period during the tide change can last for several hours. I've only caught a handful of stripers during the slack tide while anchored up with bait. Stripers just don't seem to move around very much during the slack period.
Sturgeon, on the other hand, seem to feed very nicely when there is little or no current. During my striper trips, I usually try for a bonus sturgeon during the slack tide to pass the time.
By 8:00 am, the strong southeast winds had swung the boat in the opposite direction of the waning current. At that point in the trip, we had landed a few small keeper stripers, but nothing too exciting. Since a tailwind had spun the boat against the current, we had to move a lot earlier than I had anticipated.
Our next spot was a deep stretch of water not far from our initial location. I slowly scanned the bottom, looking for sturgeon marks on my sonar unit. I finally saw some marks where it was 50 feet deep, so we dropped anchor. "Let's give it a shot here," I suggested.
As the current slowed to a standstill, several hours passed without any bites. Our 'noodle' striper rods had been replaced by stout sturgeon poles armed with barbless hooks loaded with lamprey eel and night crawlers.
RJ and I were talking and looking at some ships off in the distance when RJ called attention to his rod. "It's a bite", I murmured. The rod tapped a few times, and then started to load up. RJ immediately laid pressure into something heavy. I was worried that we may have hooked our own anchor rope, as the boat had swung around due to the swirling winds and changing tide. "It's a fish!"he shouted.
The words had barely left his mouth when the sturgeon went airborne off of our portside stern. RJ skillfully pumped and reeled the fish to the side of the boat and I prepared to net it.
As sturgeon often do, the fish had rolled in the line, and it was coming in tail first. Just as RJ got it to the side of the boat, the fish untangled itself and made a drag-burning run under the hull. RJ followed the fish around the motor at the back of the boat and eventually got it to the net.
The sturgeon was a keeper, and it filled RJ's first sturgeon tag of 2016. By the time we had the fish tagged and bled, the outgoing tide was finally starting to trickle out towards the bay. With our bonus sturgeon on board, I pulled anchor and moved.
We set up on our second striper spot of the day in 26 feet of water. The tide was barely starting to flow when RJ's rod loaded up. Since we were using circle hooks, RJ slowly started to reel to set the hook. His rod started pumping, so he pulled it out of the rod holder and fought the fish.
It ended up being a nice eight pound striper that put up a great fight. As the tide picked up, an afternoon shower kept us under the canvas top when we weren't too busy landing fish or preparing our baits. RJ capped off the trip with a nice six pound striper for the box, and we made our way back to the rain-soaked dock.
Although the action wasn't red-hot, we managed to fish until two o'clock for six keeper stripers, four of which we kept for fillets. I addition to this, we had Zip-lock bags full of chunky sturgeon fillets.
Autumn and winter in the Delta can produce great results for anglers willing to soak bait. Stripers and sturgeon are both in the cards, and if you plan your day right, you might be lucky enough to pull both in the same trip. If your plan works out, you might even burn a sturgeon tag.