The lake was narrow, cold and crystal clear, but not particularly deep. There were big masses of weeds that supported a vast array of aquatic insects. The rainbows lurked among the weeds feeding and hiding from the sun.
My wife Gena and I hadn't been married long and we'd just gotten our first boat, a 12-foot Gregor skiff equipped with an electric trolling motor. I had zero experience with trolling at that point and my tackle box only sported a very basic assortment of lures. What to use?
All the reading I'd done indicated that a red Wedding Ring Spinner with a brass blade, tipped with a piece of night crawler was a good all around choice for rainbows and I just happened to have a brand new red Wedding Ring with me.
Out of the package it came. I attached a swivel to the end of my line and then tied the spinner's leader to that. I tipped the spinner with a section of worm and then added a couple big split shot above the swivel to get the rig down a bit.
With all the weeds in the water long line trolling was out of the question. I spooled the lure back about 40 feet and started maneuvering around the weed beds with the trolling motor. The water was so clear that I could easily see the red spinner against the green backdrop.
One second the spinner was there, the next second it disappeared. For a moment, I thought it had simply went behind some weeds, but then there was a tug and at the same moment I saw the flash of a fish…Rainbow On!
Since I only had one Wedding Ring, Gena and I took turns battling trout on our newly discovered "money rig". In all we landed over 20 fish and when we got off the water we had full limits of rainbows to about 3 pounds. I had been introduced to the deadly Wedding Ring. Needless to say, the next time I stopped into the tackle shop I left with a pretty extensive collection of Wedding Rings!
Since that time, I've always had at least a few Wedding Rings stashed in my trolling gear and I've caught a lot of fish on them, including hundreds of trout and kokanee, some landlocked kings, bluegill, bass and even crappie.
Recently, Gary Miralles of Shasta Tackle merged with Mack's Lure, the folks that manufacture the world famous Wedding Ring.
Anybody that has read my trout fishing stuff over the past decade or so, knows that I'm a big fan of the lures and blades provided by Shasta Tackle including the Hum Dinger, Cripplure, Sling Blade and the ultra deadly Wiggle Hoochie.
When I heard of the merger it prompted me to visit the Mack's Lure website and what I saw there blew me away. Sure, they still make my old reliable red Wedding Ring, but they also feature a bunch of Wedding Ring variations that I've never used.
At some point, the flood waters from this epic winter are going to recede, the water in our reservoirs is going to clear and we are going to start thinking about trout trolling, first in our foothill reservoirs and then in the high country lakes that dot the Sierras and Cascades.
When my trout trolling season kicks off, I'm going to hit the water with a solid selection of Wedding Rings, both the old school single hook version with a brass or chrome blade as well as some of the "new to me" Wedding Ring variations featured on the Mack's Lure website.
Before we take a closer look at the lineup of Wedding Rings offered by Mack's let's take a moment to consider why spinners are such a great choice for trout.
In terms of attraction, spinners are just about the perfect trout lure. They put off lots of vibration. The trout feel this vibration through their lateral line and come in from long range to investigate. The same blade that is putting off vibration is also putting off flash to a lesser or greater degree depending on the finish and size of the blade being used. Beyond flash and vibration, Wedding Rings are intended to be tipped.
Pieces of worm are popular amount trouters and of course kokanee guys like to tip their Wedding Rings with corn. Other tipping options include small anchovy fillets, Gulp! worms and minnows, Berkley grubs, maggots, salmon eggs and even PowerBait. Tipping a lure with natural bait or with artificial baits that put off lots of scent does nothing but increase the effectiveness of your presentation.
Finally, while you can troll Wedding Rings briskly, they are also a lure that performs well at low speeds. This means at times when the fish are not super aggressive, the Wedding Ring is a lure that will stay in the strike zone for an extended period of time, increasing the odds that you'll tempt a strike…Here's a look at some of the Wedding Rings that are on my radar for the 2017 trout season.
The Classic Wedding Ring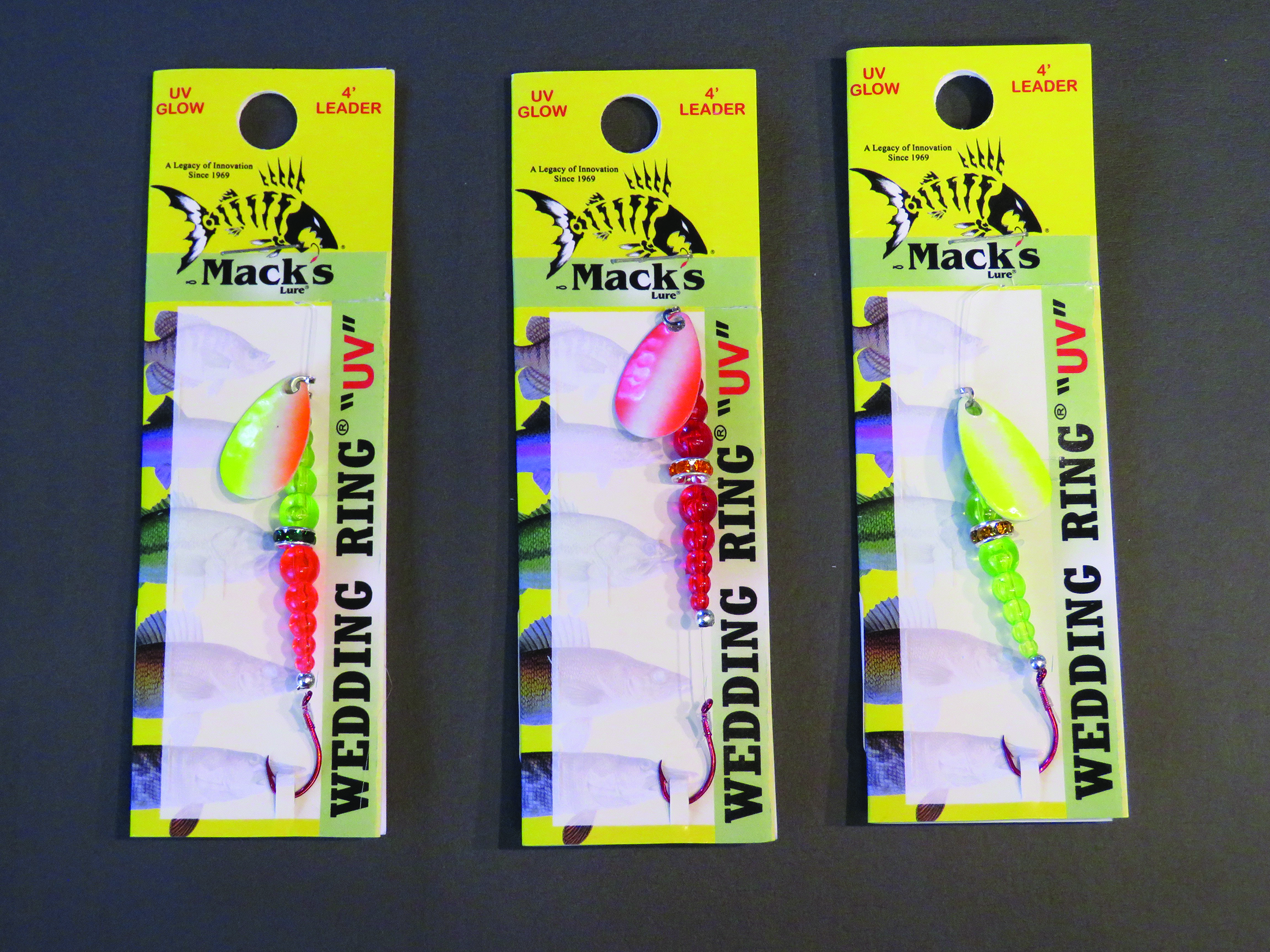 This is the iconic spinner most of us know. When most folks think of fishing a Wedding Ring they think of a red single hook Classic Wedding Ring. This lure has been tempting trout for over 40 years. What most folks fail to realize is that the lure is offered in more than two dozen color combinations. And they all catch fish!
The Classic Double Whammy Series
When tipping a standard Classic Wedding Ring with worm, the best approach is to apply the worm to the hook using a worm threader. This is very effective, but threading worms takes a bit of time.
With the Classic Double Whammy Wedding Ring, threading isn't needed because the spinner comes equipped with a pair of snelled octopus hooks. This is a great time saver, simply, pin the top hook in the head of the worm and put the rear hook in the body of the worm. Any trout that comes knocking is going to end up getting hooked.
The Wedding Ring Super Series
If you believe like I do that a big lure often equals big fish, you are going to love the Super Series of Wedding Rings. Super Series spinners are a magnum version of the old classic. They feature a large No. 5 spinner blade and a correspondingly large octopus hook.
This is the lure you'll want to arm with a whole 'crawler or a whole anchovy fillet when big 'bows and browns are in the mix. These spinners are offered in 9 fish catching color combinations.
I'm confident that this lure is going to produce some big trout for me this season and probably some big spotted bass and smallmouths too. Bass love spinners and I usually catch my fair share of suspended bass when trolling for trout.
The Smile Blade Spindrift Trout
This is a lure that I've never fished but want to try badly. It's basically a variation of the Wedding Ring that utilizes a different bead arrangement and a Smile Blade instead of a standard metal Colorado style blade.
According long time Angler West Television host and producer Justin Wolff, the Smile Blade creates a lot of wiggle and flash.
"The VMC Spindrift hook that the lure comes with features a built in swivel allowing the bait you tip the hook with to spin. This makes for more movement and usually more strikes," says Wolff.
It's the hook that really has me sold on this lure. It will be perfect for fishing threaded worms on, but I also want to experiment using it with brined shad, anchovy fillets and Berkley Power Grubs.