Los Vaqueros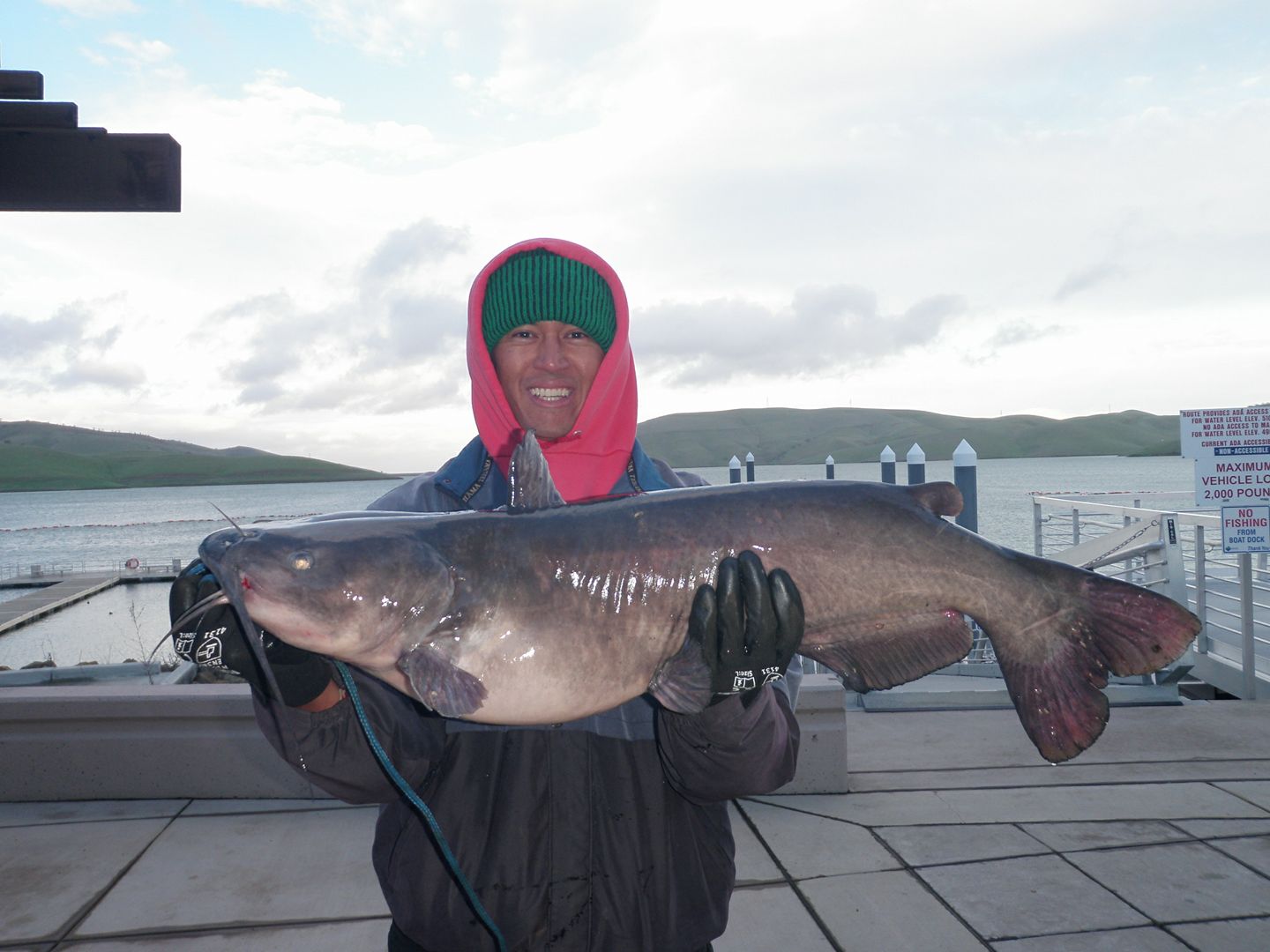 (Brentwood) Both pontoon boats at Los Vaqueros Reservoir were damaged by extremely high winds and are temporarily out of service. They are being repaired, so no pontoon boats are available for rental. The 16-foot boats were undamaged and available, according to the Los Vaqueros.
"Trout are doing very well at Los Vaqueros," said Brian Demmunik of the Los Vaqueros Marina. "Stripers are slowing, and catfish are hit or miss. "
The trout are being caught in South Cove and Oak Point as well as Peninsula Cove.  The baits of choice for shore anglers are garlic-scented PowerBaits, nightcrawlers or Kastmaster lures.
A 14.7-pound catfish was caught using chicken liver this past week in South Cove along with 12.0 and 8.3 pound cats using anchovies.
The reservoir is currently storing 137,200 acre-feet of water, 86 percent of capacity.  This is the most water ever stored in the reservoir, and pumping is expected to continue through the month.
The water temperature remains 57 to 58 degrees. Water clarity varies with the rain, but is murky now.
Contra Loma
(Antioch) Contra Loma Reservoir has kicked out some beautiful rainbow trout ranging from 5 to over 10 pounds over the past couple of weeks. Anglers are hooking the trout while using PowerBait, white Mice Tails or assorted lures at Channel Point or the boat ramp.
Big fish honors go to Rocky Nagano, who fooled a 10.5 lb. rainbow with Power Eggs at Channel Point. Juan and Ricky caught a pair of 8.2 and 6.1 lb. trout with PowerBait and a Kastmaster from a boat, reported Joe Sullivan of the East Bay Regional Park District.
Zackery Baylasy fooled a 7.1 and 6.14 lb. trout with PowerBait at the northwest fishing dock. Matilde Quiroga enticed a 5.5 lb. rainbow with rainbow PowerBait at Channel Point. Bryan Black caught a 6.5 lb. trout with Pink PowerBait at Channel Point.
The water is around 52 degrees and murky. The water has risen fast at Contra Loma, slowing the bass the bite for now.
"Black bass have been biting best on artificial baits/lures and nightcrawlers around the lake," advised Dan Mathisen of Dan's Delta Outdoors in Oakley. " Try a wake bait or a party crasher."
Catfishing has been best for anglers fishing from boats with nightcrawlers or chicken livers. No crappie, bluegill or carp have been reported lately.
San Pablo
(El Sobrante) Trout fishing has continued to be very slow at San Pablo Reservoir.
"I am hearing that the bite is starting to improve," said Marcella Shoemaker of the Rocky Mountain Recreation Company. "However, I have no fish to report; only hearsay from some of the regulars."
"There were no private boats out this weekend due to the launch closure.  I am happy to report the launch will have no future closures for the rest of the season and only 1 more regatta will be held in May with the boat launch staying open for everyone," she noted.
The lake level is 316 feet above sea level and spilling over. The surface water temperature is between 52 and 54 degrees.
Chabot
(Castro Valley) "The lake is full and spilling over," said Stan Wong of the Lake Chabot Fishing Outfitters. "The latest rains have muddied up the lake quite a bit. Hopefully, the water clarity will get better. "
"Our current water level is at 106%," noted Wong. "Overall fishing has been slow."
Water temperature remains in the 50's and visibility is about less than a foot.
Currently all trout plants are suspended due to water going over the spillway, with the latest plant of 750 pounds going in the week of February 20.
Trout fishing is tough. Successful anglers are using PowerBait and Mice Tails to lure the trout in. Trolling also has been slow.
Wong hasn't heard any reports of catfish or bass caught over the past couple of weeks
Temescal
(Oakland) Until further notice, the lake will be CLOSED for water contact and fishing, according to the water management department and the city of Oakland,
Anglers pulled out a few 12"-15" trout before the lake was closed. Anglers landed the trout while using PowerBait Mouse Tails in orange and white. Fishermen also found some success with floating Power Eggs in pink and orange.
Del Valle
(Livermore) Since January 11, the main park at Lake Del Valle has been temporarily closed due to flood related issues. Visitors may still park in the arroyo area and outside on mines road if they want to walk in.
Mud, tree limbs and debris churned up by floodwaters currently litter the park.  There are no facilities open; visitors entering the park do so at their own risk. The campground and reservations were closed for the next 7 days due to power issues.
The closure could last longer if future storms flood Del Valle again and make it harder for crews to do massive storm cleanup, according to the East Bay Regional Park District.