Lake Almanor
Spring Trout Action Starts
(Chester) "Slowly but surely the spring trout bite is getting underway here at Lake Almanor, but we've got a ways to go until I'll be describing the bite as hot," related Bryan Roccucci of Big Daddy's Guide Service.
"Right now there is ice on parts of the lake and the water is murky.  Some areas are more clouded then others. The water temperature is sitting at 38 degrees, which is about 3 degrees cooler than usual at this time of the year."
"There are plenty of trout up shallow including some very nice browns. We've been picking up fish every day. Some of them are pretty big, but we are having to work hard to get them. Early in the morning I've been trolling fairly slow with flies and soft plastics. As the day goes on I switch over to fast trolling with toplined Rapala minnows," said Roccucci.
"My preferred approach at this time of the year is generally fast trolling with minnow plugs, but when the water is really cold in the morning the slow approach has been working better," Roccucci concluded.
There have been few reports of bank anglers fishing at Almanor at this time. The combination of ice and frigid air temperatures have been keeping most bankies away.
Toward the end of March and into April we should begin to see more and more bank anglers working Geritol Cove and other areas of the lake. PowerBait, Zeke's Sierra Gold and inflated worms will all produce fish once the bank bite kicks in.
Lake Amador
Bass and Trout Begin to Wake Up
(Ione)  Bass fishing has picked back up in the last couple of weeks and lots of people are also catching rainbow trout at Lake Amador.
"What beautiful weather we are having," said Elizabeth Lockhart at the Lake Amador Resort. "Both fish and fishermen are loving it."
She said the spillway is still a hot area for shore fishermen.
"With the sunny weather, the dam should be a good area while fishing the debris line," said Lockhart. "Trout usually like to hang out in the shade underneath.  As usual, PowerBait and Power Eggs are knocking them out when used shallow and close to shore."
"Bass fishing has been very good with large jigs, Brush Hogs, and swim baits in the 10-25′ range.  Usually the main hot spot for bass is up toward the back of the lake this time of year, but some are being caught closer by the Dock and RV Park point," Lockhart stated.
The NorCal Trout Anglers Challenge is coming up on March 18th. "Don't forget to check us out on Facebook for more catches and details," she said.
Jeremy Silvas from Pine Grove did well at the Spillway on green PowerBait, catching three rainbows weighing up to 3.86 pounds. Papa Greg caught his limit of rainbows, with his best fish weighing 4.5 lbs., at the Spillway while soaking garlic PowerBait and white Power Eggs.
Gary Bush limited out on trout while fishing from his boat. His two biggest fish weighed 5.1 and 4.1 pounds. Finally, Ryan Jones caught and released an 8 lb. largemouth bass while using a baby Brush Hog at the RV Point.
Collins Lake
7-1/4 Lb. Rainbow Tops Catches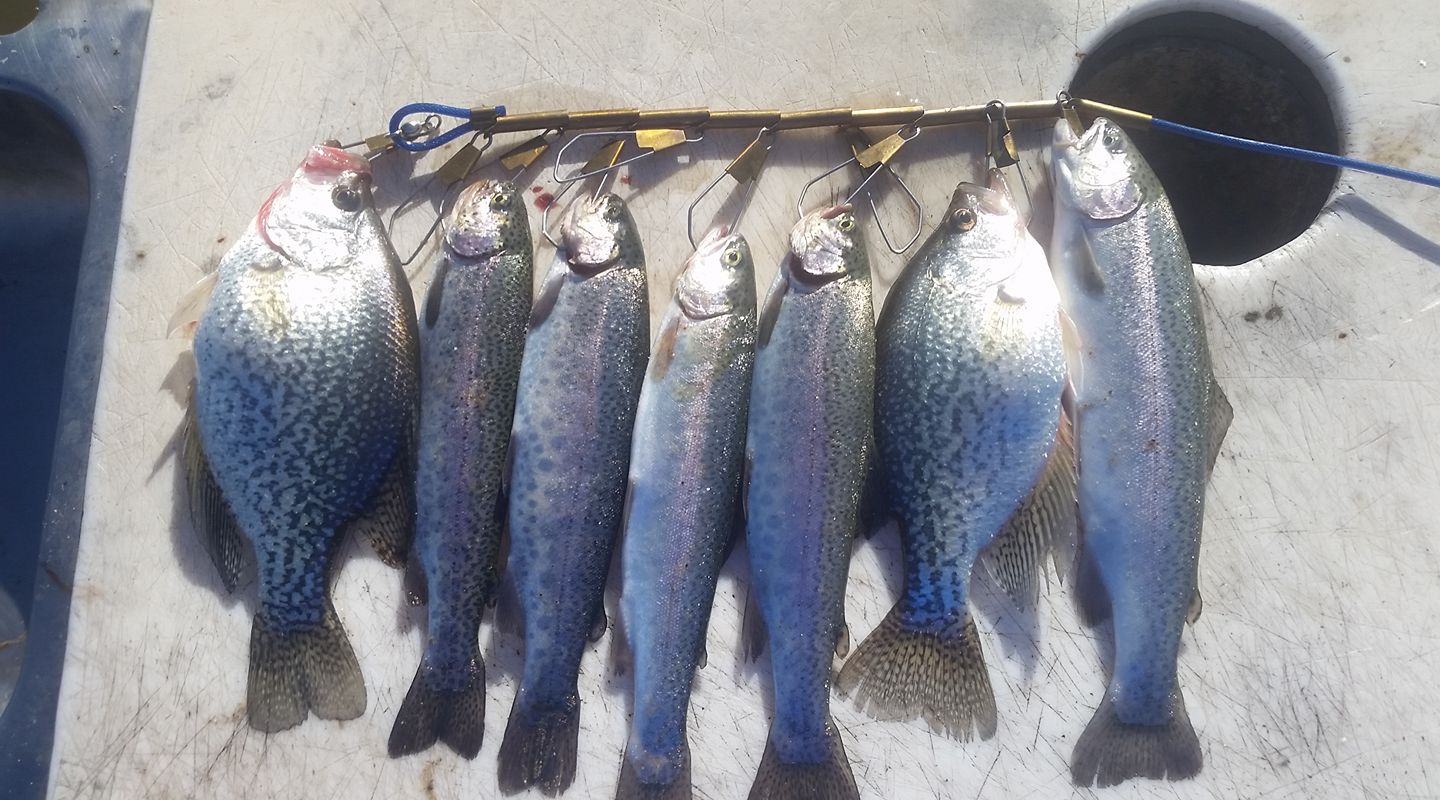 (Oregon House The spring trout planting program continues at Collins Lake, with the first plant of 1800 pounds of Mount Lassen rainbow stocked just before Presidents Day weekend. The plants are going in on a weekly basis.
The lake water continues to go over the spillway into Dry Creek, a tributary of the Yuba River
Shore anglers are picking up some rainbow trout while soaking worms, PowerBait and other baits with a lot of scent near the dam
Big fish honors go to Hunter Shiun, who landed a 7-1/4 lb. rainbow while fishing from shore near the dam. Thirteen-year-old Juliana Van also caught a 3.75 lb rainbow while soaking PowerBait from shore in the murky water.
Finally, Victoria Johnson caught a limit of trout to 2-1/4 lbs. while soaking green PowerBait off Road 4, according to Justine Portilllo at the Collins Lake Resort.
The lake management will be stocking rainbows throughout March, April and May. Although the lake is muddy now, anglers are gearing up for a great fishing season with all of the water in the lake now.
For channel catfish, anglers should fish near the bridge with clams, chicken liver, anchovies, sardines and other smelly baits for the cats. The cats are feeding upon all of the insects, worms and other forage that are going into the reservoir.
Roy Rillera landed a catfish around 3 pounds while fishing cut bait near Campsite 206.
If you want to hook spotted and largemouth bass now, try using large Senkos and other high profile baits that make a lot of noise.
Folsom Lake
Boaters Should Use Extreme Caution Due To Driftwood
(Sacramento) Since December, hardly anybody has been fishing for black bass, rainbow trout, king salmon or channel catfish at Folsom Lake, due to the current flood control management by the Bureau of Reclamation.
"Folsom Lake is currently experiencing a serious problem with driftwood floating over the entire lake," reported the Folsom Lake Marina website. "Brown's Ravine has the only usable ramp at this time and has one courtesy dock. Boaters need to use extreme caution when on the lake."
"Most of the driftwood is water-soaked and like an iceberg, the biggest part is under the water. While much of the floating wood is in large groups, many single floating logs are on the lake too," the marina operators advised.
"Folsom is being drawn down to insure that we have enough storage space for our excellent snow pack, which sits at 196% above normal. Flood control levels change on a daily basis. Currently flood control is around the 400′ level," the report noted.
"While the lake is going up quickly one day and down quickly the next, we should remember that this was what Folsom Lake was designed to do. Folsom Lake should be able to offer a great boating season and a great place from families to come and enjoy the park," the report concluded.
The spring pre-spawn bite, when jigs, Senkos, drop shot rigs, tubes, spinnerbaits and crankbaits will all produce black bass, is just around the corner.  Rainbow trout and king salmon fishing should also improve soon as the lake water stabilizes and clears this spring.
Folsom Lake's water level was 416.78 feet in elevation, 49.22 feet from maximum pool, and the lake was holding 502,007 feet acre-feet of water, 51 percent of capacity, at press time.  The surface water temperature has risen to 54 degrees.
Pyramid Lake
21 Lb. Cutthroat Tops Catches
(Reno) On February 18, a section of Pyramid Lake reopened to fishing. Not all of the lake's shore is open, but the area from the North Nets Beach to Shot Dog is currently back in business. This also includes Pelican Beach; which means the boat ramp is also open.
Boaters and bank anglers are back on the water, and the bite has been good to excellent depending on the day. Several anxious anglers hit the water as soon as the lake was legally reopened, and the reports coming in were very good.
Brad Bugica of Reno related that he caught 30 fish on a banker's hours shore fishing trip, topped by a whopper of 21 pounds. Brad used wooly buggers on a fast sinking line and a marabou jig on a spinning rod. This was Brad's third career cutthroat over 20 pounds.
Another guy with three career cutthroats over 20 pounds, Jeff Morris, reported a similar report. "I caught around 30 fish in the morning- but nothing big. In the afternoon I moved and caught another 30 or so fish. I rolled a big one right at my ladder." Jeff was also swapping back and forth between wooly buggers and a marabou jig.
Lastly, Brad Stout and his daughter Ashley reported another very comparable day on the water. "We hooked a bunch of fish. Ashley broke a big one off." Brad was unsure how big the fish was, but it was clearly not the average 2-4 pound Summit Lake fish that are currently swarming the beaches around Sutcliffe.
Fishing should remain good to very good throughout the month of March. Expect the crowds to get very dense with a premium on beachfront property. A tactic that may really payoff is for normally shore bound anglers to build a navy.
Since the beaches are closed from shore, it is possible to take a boat to places far and wide and anchor in very shallow water where shore anglers would normally be taking residence. From this shallow anchorage, cast jigs and wooly buggers, or diligently suspend nymphs under a bobber. Solitude and big fish should be on tap.
 Rollins Lake
Rain And Mud, Mud And More Rain!
(Colfax) "Maybe the name of Rollins Lake should be changed to the Mud Bowl or Mud City, because it's been super muddy for a month and there is no sign that it is going to clear up anytime soon," quipped Jason Pleece of Meadow Vista.
"I drove up to Colfax today to have lunch with my wife and we ran up to Rollins to check out the water. I knew it was going to be muddy with the continued rain, but it was even more muddy then I expected. I've been fishing the lake for years and I've seen it muddy up before, but it's never been this bad," said Pleece.
"The good news is that the lake is full and that it looks like we'll have a good fishing season once things clear up, but I just don't see the lake clearing for several weeks. First it has to stop raining for a while, which hasn't happened. Once the big inflows stop, it will still take some time for the mud to settle out of the water," Pleece asserted.
Wildhorse Reservoir
Ice Fishing For Trout Should Improve
(Elko) The ice at Wildhorse Reservoir is still in good condition with 15 to 20 inches of good ice with about two to three inches of snow on top as of Thursday.
As of Thursday, February 23, the edges were a bit soft making it difficult to get a wheeled vehicle onto the ice, according to Joe Doucette, conservation educator for the Nevada Department of Wildlife.
"However, with temperatures expected to be below freezing all weekend, chances are they will harden and anglers should be able to drive ATV's onto the ice.  Fishing has been slow with the unsettled weather, but with good weather and a new moon coming up it should improve," said Doucette. "Rainbow PowerBait with garlic scent has been working as has worms and jigging with jigs or spinners. "
"Look for water depths of four to ten feet and fish about three feet below the bottom of the ice using a jig tipped with a worm or some PowerBait," he advised.
The sledding hill and the ice skating rink are up and running.  The campground is open.