Beautiful Lake Amador, located in the Mother Lode foothills on Jackson Creek near Ione, lived up to its a reputation as one of northern California's premier spots to battle huge trout when the NorCal Trout Anglers Challenge traveled to the reservoir on March 18.
Anglers caught six trout 5 pounds or over in during the event that drew over 150 anglers. The lake was full and in great shape, with the lake planted with large numbers of rainbows since October of 2016.
"We weighed in a total of 52 trout during the event," said Vince Harris of Angler's Press, the sponsor of the event along with the Fish Sniffer. "It is without a doubt that the Lake Amador trout planting program is one of the best in Northern California."
Rob Cetinich won first place in the adult division with a rainbow weighing 5.81 pounds. He won $300 and a trophy for his efforts.
Jimmy Wynne captured second place with a monster 5.79 lb. rainbow. He took home $230 for his catch.
Jason Pandolfi won third place with a 5.56 lb. rainbow, winning $230. He was fishing a nightcrawler from shore in the Carson Creek arm when he hooked the huge fish.
"I landed 4 other trout while fishing a weightless worm," said Pandolfi. "The fish fought hard on the 4 lb. test line. It took about 6 minutes to get in."
The fourth through tenth place winners were (4) Chester Clark, 5.47; (5) Sam Deleon, 5.12; (6) Dale Stuckey 5, (7) Dave Quick, 3.95; (8) Kimberly Sidvers; (9) Bob Schmidt, 3.87; and (10) Scott Stern, 3.18.
The anglers entered in the youth division also nailed some quality trout.
Matthew Caluya won first place in the youth division by landing a 2.98 lb. rainbow.  Caleb Crenz won second place with a 2.86 lb. rainbow, while Reece Stahl finished third with a 2.69 lb. trout.
The fourth through tenth place winners were (4) Wesley Conn, 2.2; (5) Joey Hill, 2.07; (6) Reef Smith, 2.03; (7) Blane Ebojo, 1.7; (8) Jacob Trejo, 1.67; (9) Joseph Alvarado, 1.24; and (10) Owen Laferriere.
Derby participants landed their fish both from shore and boat on an array of lures and baits, but the majority of anglers I talked to hooked fish on PowerBait and nightcrawlers.
It was at Amador where I experienced one of the most magical fishing trips I have ever made to any California lake. While targeting bluegill with golden grubs on a late spring morning, I found amazing fishing for hard-fighting trout in the 3-1/2 to 4 pound class under the boat docks.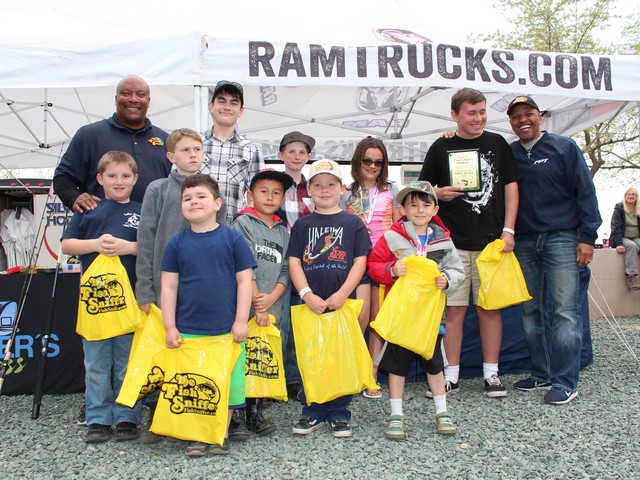 Instead of hooking bluegill, I caught and released a bunch of trout, along with putting five on the stringer. My stringer weighed close to 20 pounds – and all of the fish sported full tails almost like those of wild steelhead.
Amador is unique among northern California lakes in that the trout stocked in the reservoir for decades were raised on site in the Lockhart family's fish hatchery.
The lake featured three different strains of trout – cuttbows (cutthroat/rainbow hybrids), steelhead/rainbow hybrids and the standard catchable rainbows stocked every year by the Department of Fish and Wildlife.
However, the lake management was forced to shut down the hatchery during the drought in 2013, due to lack of water to keep the facility going During the meantime, the Mount Lassen Fish Farm has done a great job of keeping the trout fishery going with regular plants of rainbow trout, including trophies, from October through May over the past three years.
The lake level went over the spillway both this year and last year, due to the heavy rain in the Jackson Creek watershed that feeds the lake, providing plenty of water for the hatchery operation.
Lee Lockhart of the Lake Amador Resort said he plans to have the on-site hatchery in operation again by mid April. Reopening the hatchery has required them to do a number of repairs on the concrete ponds and tank.s
Lockhart noted that the costs of operating a hatchery and feeding fish have risen dramatically in recent years. They plan to start raising around 40,000 pounds of trout per year, along with continuing to buy trout as necessary from Mount Lassen.
"The state of California has made it hard for the little guy to get the operating costs down," he said. Plus, the cost of raising trout has gone up from $.70 per pound when they opened the hatchery in 1987 to around $3.00 now.
The hard fight that Amador trout offer anglers, along with their beautiful  fins and colors, are due to the unique strains of fish grown here and the conditions they are raised in.
First, the hatchery raises the fish in tanks 5 to 6 feet deep, rather than 18 inches deep like other hatcheries, making for better growing conditions.
Second, when the fish reach the age of 8 months and are taken out of the raceways, they are raised in 7 octagonal tanks with a constant current running through them. Swimming in the current forces the fish to become strong and healthy.
Third, the resort uses top quality "EWOS" food to raise their fish.  Since it includes krill and sardines, it helped give the fish's flesh their unique pinkish orange color.
Fourth, the lake management keeps the amount of fish in the hatchery at a lower density than the state and other hatcheries, so the fish display squared, rather than rounded, tails.
Fifth, the quality of the fish they raised also has to do the unique strains of fish they raise. While they first spawned fish from brood stock, they began buying eggs because it was less expensive.
"We raised kick-ass fish that fought like hell," he noted. "Over the last 15 years of operation, 90 percent of the fish were Donald strain rainbows and 10 percent were cuttbows. We plan to buy the Donaldson strain rainbows this year, but the cuttbows aren't currently available. However, because costs to raise fish have tripled, we aren't going to be able to raise 100,000 fish per year like we used to."
While trout offer the most popular fishery at Amador from October through May, the lake also hosts great populations of Florida-strain largemouth bass, channel and blue catfish, black crappie, redear sunfish and bluegill. Amador is managed just as a fishing lake – no water skiing or jet skis are allowed.
The largemouth found in Amador are Florida strain/northern hybrids. Northern strain bass were planted in the lake after it was filled in 1968, followed by the introduction of Florida-strain largemouth by the CDFW in 1973.
The lake management also plans to plant channel catfish this spring and summer, like they did last year, to supplement the natural population of cats in the lake.
For more information, contact: Lake Amador Resort at 209-274-4739, www.lakeamador.com.
 Lake Amador Facts
 Location: Lake Amador, located on Jackson Creek in the Mother Lode foothills near Ione, features 400 surface acres and 13-1/2 miles of shoreline when full. The reservoir is managed as a fishing lake – no water skiing or jet skis are allowed.
Fishing Season: Fishing is open year round. The lake management and California Department of Fish and Wildlife plant the lake from mid October through mid June, depending upon the surface water temperatures.
Resort Facilities: Amador is a full service resort complete with a marina, fishing dock, café and store. The Tackle Box Cafe, located in the Lodge, serves breakfast and lunch on Fridays, Saturdays and Sundays. Also located in the lodge is a large general store and beer bar with a large screen TV. A well-stocked bait and tackle store with rental boats is also located in the lodge. Unlike many other lakes, Amador encourages fishing from its docks. The resort also features two 18-hole disc golf courses and a DG pro shop.
Launch Ramps: The lake has an expanded launching ramp with new docks and a paved parking area lighted at night for nocturnal fishing adventures.
Camping: Full hook-up RV sites and a 150 site campground, with showers and flush toilets, are nestled along the shoreline of Lake Amador. The sites are available year round with reservations or just show up. They always have room except maybe on some holidays.
Day Use and Other Fees: The parking fee (1 vehicle up to 4 people) is $7.00, with $1.00 extra per person. The fishing permit costs $7.00 per day. The boat launch fee is $7.00 per day; kayaks, canoes and float tubes are $3.00 per day.
Fishing information: Lake Amador Resort at (209) 274-4739, www.lakeamador.com. Larry Hemphill of Larry Hemphill's Instruction and Guide Service, (530) 674-0276, offers guided trips for black bass.