The Sacramento Municipal Utility District's Rancho Seco Reservoir, a scenic 160-acre year round recreational facility nestled in the rolling countryside of Sacramento County between Galt and Ione, has hosted trout derbies every spring since 1993. This year the two-day SMUD Spring Trout Derby featured a huge turn out of 833 people, including both adults and children.
You don't have to look hard to find Rancho Seco Reservoir, the popular fishery located off Highway 108 in South Sacramento County near Herald. The two huge cooling towers of the decommissioned nuclear plant dominate the horizon for miles as they rise out of the vineyard-studded hills of south Sacramento County like ancient megaliths from a lost civilization. 
Just before the derby, Mount Lassen Fish Farm stocked the reservoir with 4,500 pounds of feisty rainbow trout and 500 pounds of trophy rainbows.
Anglers enjoyed beautiful spring weather and good fishing for big rainbows both days of the event, but the best fishing took place on Saturday. Fishermen caught fish from shore, from kayaks and from other small boats while tossing out Kastmasters, Rooster Tails, small jigs and lures and other lures. Anglers also bagged trout while bait fishing with PowerBait, Power Eggs and nightcrawlers.
"There was a phenomenal turnout, a lot of fish were caught and next year's event will be even more epic," said Sheldon Bright, Fish Sniffer staffer and organizer of the event with Vince Harris, owner of Angler's Press, on behalf of SMUD.
The derby, like previous ones, featured three divisions: adults (17+), youth (11-16 yrs) and lids (10 and under).
Jerry Xiong won first place on day one by catching a 7.84 lb. rainbow from his kayak. He earned himself a boat package plus $100.  The boat package was a 14 foot Tracker with a Minn Kota trolling motor, a "Rancho Seco special," according to Bright.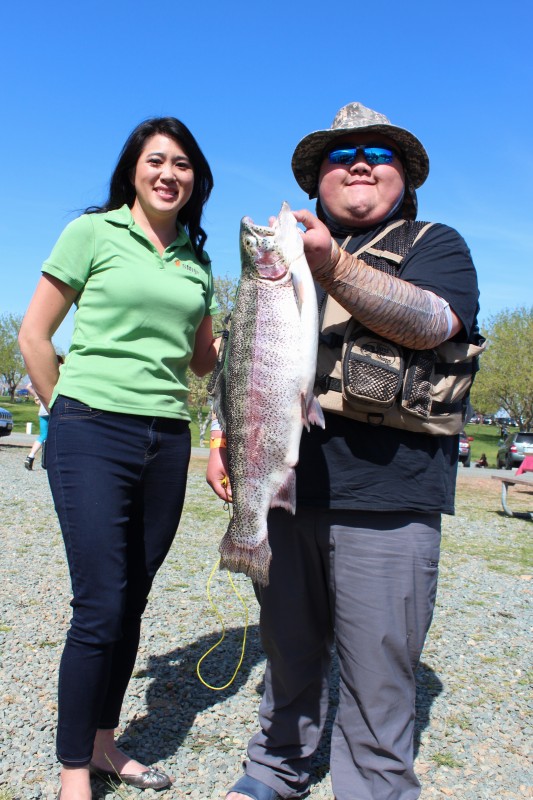 Mike Ringler finished second by catching a 6.58 lb.  trout, winning $75. Jay Xiong came in third place with a 5.34 lb. rainbow, winning $60, while Deng Vany placed fourth with a 5.18 lb. rainbow, winning $25.
Naimoua Moua placed fifth with a 4.91 lb. fish, going home with $25 and a 2 day park pass. Chris Faircloth placed sixth with a 4.91 lb. rainbow, winning $20 and a 1 day park pass. Mario Machado came in seventh, winning $20 and a 1 day park pass.
The eighth through tenth place winners were: (8) Cindy Dearth 4.52; (9) Dax Castro, 4.11; and (10) Owen Owens, 3.98.
Calilou Xiong won first place in the youth division with a 5.93 lb. rainbow, winning $50 and a 12 foot fishing kayak.
The second through sixth place youth winners were: (2) Mick Fritzsche, 4.01, $40; (3) Trevor Myers, 2.87, $30; (4) Cameron Ringler, 2.2, $20; (5) William Keller 1.91, $20; and (6) Jaiden McNeil, 1.3, $10 plus 1 day park pass.
Rodney Durrett won first place in the kids division with a 5.16 lb. rainbow, winning $35 for his efforts.
The second through eighth place winners were (2) Sauoa Fernandez, 3.62, $30; (3) Riley Graham, 2.78, $25; (4) Jack Epps, 2.57, $20; (5) Garrett Williams, 2.3, $15; (6) Ella Martino, 1.52; (7) A.J. Wood, 1.43; and (8) Trinity Grey, 1.4.
Jarred Ross won first place in the adult division on day two of the derby by catching a whopping 5.13 lb. rainbow. Like the day one winner, he won a 14 foot Tracker with a Minn Kota trolling motor, a "Rancho Seco special, and $100.
Ross was fishing Power Bait from shore when he hooked the big trout. "I was excited after seeing a couple of big fish caught near me. Then I hooked my fish," said Ross.
The second through tenth place winners were (2) Joe Hiss, 4.12, $75; (3) Angela Grey, 4.1, $60, (4) Tom Billmeier, 3.85, $25; (5) Nick Billmeier, 3.51, $25 + 2 day park pass; (6) Clarence Morla, 3.17, $20 + 1 day park pass; (7) Joey Billmeier, 2.93, $20 + 1 day park pass; (8) Mark Underwood, 2.41; (9) Gonzalo Nazario, 2.34; and (10) Andrew Trujillo, 2.3.
Ali Xiong won first place in the youth division with a 3.17 lb. trout, winning $50 and a kayak. He enticed the fish while tossing out a Kastmaster.
Jordan Alla topped the kids division with a 2.48 lb. rainbow, winning $35.
The second through sixth place winners were: (2) Jaxon Carlin, 2.3, $30, (3) Ryan Ancog, 1.81, $25; (4) David Ross, 1.77, $20; (5) Dylan Carlin, 1.73, $15; and Cash Richie, 1.63.
After the second day weigh ins, Al Ernst, SMUD's Facilities and Maintenance Supervisor, said, "I want to thank everybody for attending today. For seventy years, SMUD has been community owned, that's owned by you. I appreciate you being our owners."
Supplied by the Folsom South Canal diverting water from the American River, Rancho Seco was built to serve as a source for emergency cooling water in the event of a nuclear accident. After the power plant was decommissioned in a ballot measure approved by the region's voters in November 1990, the lake became a year-round recreational facility.
Rancho Seco not only kicks out huge trout, but also is legendary for the big Florida-strain largemouth bass that thrive in its fertile waters.
"Fish Chris" Wolfgram of Vacaville shattered the lake largemouth record when he caught and released an 18.4 lb. largemouth bass on April 10, 2003. The monster bucketmouth, one of the largest ever caught in northern California, sported a length of 29″ and a girth of 24.5″.
The largest bass are taken in the spring during the pre-spawn, spawn and post spawn periods. Anglers nail them while using Huddleston and other rainbow trout swimbaits, Senkos, swimbaits, plastic worms, spinnerbaits and jigs.
Rancho Seco is a lake with the potential for producing a state or world record largemouth bass. The lake has the three characteristics needed to produce record class fish: Florida-strain genes; conditions that allow the fish to reach large size; and a good food source, particularly planted rainbows.
The lake also features good populations of redear sunfish, black crappie and bluegill, along with channel catfish. Fishing for all four species is best for boaters, float tubers and shore anglers in the spring and summer.
On August 16, 2015, Brad McGarity of Galt set a new California state record for "hybrid sunfish" when he landed a fish weighing 1 pounds, 4 ounces and measuring 11 inches long and 11.25 inches in girth.
Rocky Mountain Recreation Company is the concessionaire at Rancho Seco. The lake's amenities now feature boat rentals including aluminumfishing boats with electric motors, paddle boats, and kayaks.
This reservoir also hosts, redear sunfish, bluegill and crappie. Fishing at the family oriented facility, now operated by the Rocky Mountain Recreation Company in conjunction with the Sacramento Municipal Utility District, (SMUD), is available year-round.
For more information about the Rancho Seco Recreational Area, call 209-748-2318 or visit http://www.rockymountainrec.com/lakes/lake-rancho-seco.htm or https://www.smud.org/en/about-smud/community/recreational-areas/rancho-seco-lake.htm
Rancho Seco Facts
Location: in the rolling hills of southeastern Sacramento County east of Herald. From Sacramento, take Highway 99 south to the Highway 104 exit. Go east on Highway 104, 15 miles, to the Rancho Seco Park exit.
Fishing Season: The park is open year round to fishing and other activities from 7 a.m. to 6 p.m. The park entrance gate is locked nightly.
Day Use: The day use fee is $10 per vehicle, senior/disabled $8..
Boat launching facilities:  The park's 160-acre lake is maintained at a constant level year round, so you will find no problem launching. You can launch an electric motor boat, rowboat or sailboat from either of the two boat ramps. The boat launch fee for a trailer and vehicle is $15, senior/disabled $12. The fee for car top launch kayak is 13/11 senior/disabled.
Tent Camping: There are 20 lakeside campsites where you can pitch a tent or sleep under the stars. Each campsite has a barbecue, picnic table and drinking water.  A semi-private 1-1/4 acre grassy area is available for group campovers and special events. Reservations are required at least two weeks in advance.
RV Camping: The southwestern rim of the park features 18 RV campsites. Each site has a barbecue, fire pit, picnic table, drinking water and electrical outlets. A dump station is conveniently located. The maximum stay is 14 days.]
Picnic Facilities: One hundred shady, grassy picnic areas adorn the lake's southern shore. Picnic tables and barbecues are available on a first come basis. Picnic areas can be reserved for groups of 30 people or more.
Swimming: the lake is roped off along a 36,000 square foot sandy beach. Lifeguards are on duty during the summer. Children should always be supervised by a responsible adult.
Extras: General Store (open May-September), solar heated showers, fish cleaning station, 3 public restrooms, horseshoe pit, Rec. Room with washer and dryer (for overnight campers only), handicapped access.
Information: 24 hour informational recording, (209) 748-2318; RV, tent and group camping and picnic reservations, 800-416-6992.