The red hot striped bass bite is not the only thing that has fisherman talking. Anglers across the Sacramento Valley are buzzing with excitement about the new Cousins Tackle FSTR 795 Striped Bass Trolling Rod. After numerous requests from customers, the team at Cousins Tackle led by master rod builder Wade Cunningham took up the challenge to design and build the perfect striped bass trolling rod, one worthy of the Cousins name.
Cousins Tackle Factory Rep, Tony Andreini explained the characteristics the team was striving for. "You want a glass tip like you have with a cranking rod so that you get the action of the bait and you won't throw the treble hooks," said Andreini. "Stripers can get pretty big and you want to be able to handle them. When you start getting deep down into the rod, you don't want it to just flatten out and not do anything. Adding graphite gives the rod extra power without adding a bunch of weight and diameter to the blank."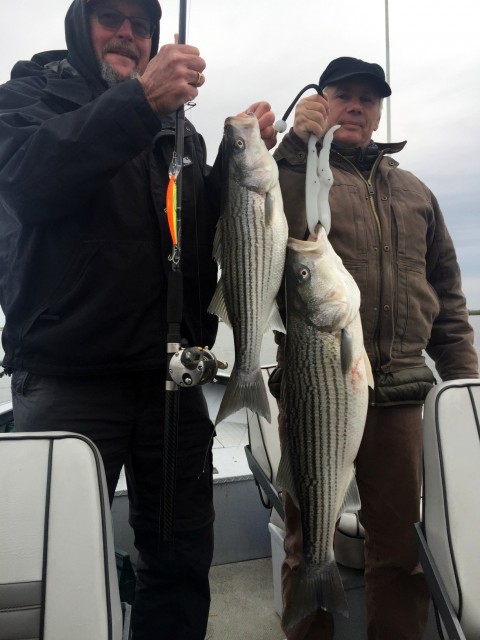 With input from Cousins Guide Staff, the team built and tested a variety of different blanks, before it found the ideal blend of action, power and balance in the form of a specially designed fiberglass/ graphite blank. The SSTR 795 measures 7'9" and is rated for 8-20lb line and a lure weighting of 3/8 oz to 1 1/2 oz. The rod has a very distinctive look that comes from its natural white glass tip that transitions into a black graphite lower end. The blank is fitted with 10 brushed stainless steel alconite guides, matching tip top, an EVA foregrip, a carbon rear grip handle and a rubber gimbal butt cap.
Out on the water Captain James Netzel of Tight Lines Guide Service (888-975-0990) has been putting the SSTR 795 through it paces with great success. "The rod has great back bone, you can really control the fish," said Netzel. "It has a soft tip so that you can see the action of the lure. You can easily see if the action changes which indicates you have a weed on your line or if a fish has taken the tail off your lure. The white tip is very easy to see against the water. I like the composite handle because it slides out of the rod holder easily and it will not get chewed up like cork. The foregrip is EVA foam and gives you something good to hold onto that won't slip. I had Delta trolling pioneer Clyde Wands on board and he gave the new rod a big thumbs up. He was really impressed with the soft tip and strong backbone."
If you'd like to be one of the first lucky anglers to fish the new Cousins Tackle Striper Trolling Rod, it can be found at all Fisherman's Warehouse locations, Johnson's Bait and Tackle in Yuba City, and the Outdoor Pro Shop in Cotati.