A while back, we chatted about trout fishing in this column and I tossed out a few of my go to baits and strategies that tend to work across a range of different destinations and situations.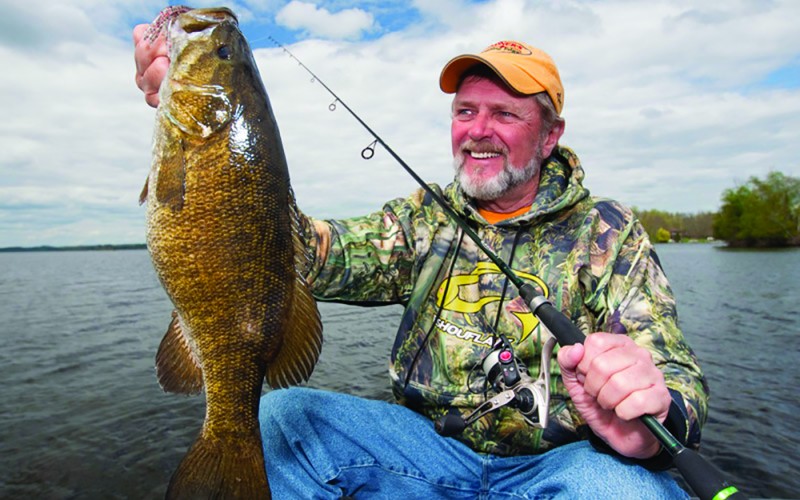 This week I decided give black bass the same treatment. I've caught bass on just about every bait you can imagine including live night crawlers, minnows and crawfish, but all things considered I prefer to tempt my largemouths, spots and smallmouths on artificial lures. In the following paragraphs, I'm going to toss out a trio of my favorite offerings and approaches. If I could only use these three approaches I'd catch plenty of bass during any given season and they'll produce plenty of fish for you too!
Dropping Plastic
"Drop shotting is one of the most effective methods you can employ for black bass residing in reservoirs. Drop shotting is largely a light tackle vertical presentation approach aimed at catching fickle suspended bass in canyon reservoirs that feature clear water and little cover beyond rock piles, creek beds and drop offs.
At the heart of the rig is a light fast action-spinning rod teamed with a reel sporting 6 or 8-pound test fluorocarbon line. A small light wire hook is tied into the line via a Palomar knot and a split shot or drop shot weight is clamped onto the end of the line.
A soft plastic bait, most often a worm from 3 to 6 inches long is pinned on the hook with the hook point exposed. The distance between the hook and the split shot determines how far off the bottom the bait will be worked.
In terms of colors, my first choice in clear water is generally something resembling a bait fish in a clear, light blue or light purple hue. If the water is stained I tend to go with darker colored worms. Witch's T, brown with a chartreuse tipped tail, is my favorite "dark worm".
When employing a drop shot rig, a strike might be signaled by a tap or two, but you might only feel weight or the line might go slack, if the bass moves up with the bait in its mouth. Regardless of how the fish strikes, the hook set is always the same.
First, you want to reel down to the fish and load the rod tip and then jab the hook home with a short, sharp stroke. Since you are using a small hook and light line, it is important to have your drag set correctly. When playing the bass, simply keep the rod loaded and slowly work the fish up to the surface.
One of my favorite situations for working a drop shot rig is when I'm confronted with steep slopping banks that are dotted with stumps. You'll find a lot of rocky stump studded banks at lakes like Bullards Bar and Shasta.
When working stumps, I don't fish with an exposed hook point. Instead, I swap the traditional mosquito style hook for a small offset shank worm hook and Texas rig my bait with the hook point lightly buried beneath the skin of the worm.
Good Vibes
What if I told you there was one bass lure that you could effectively use in water of virtually any depth, regardless of water clarity or cover that would catch fish day in day out during every month of the year? A lure that effectively mimics both baitfish and crawfish, that can be burned, slow rolled, ripped, jigged or banged off solid structure such as rocks, dock pilings or tree stumps.
You'd probably want to run out and pick up a selection of these miracle lures, right?
Well, the good news is that you probably have some of these lures in your tackle box right now, but the bad news is that you likely tie these lures on infrequently at most and if you are like many bass anglers you don't use them at all. The lure I'm referring to is the lipless crankbait.
The Bill Lewis Rat-L-Trap and the Yo-Zuri Rattl'n Vibe are just two of the different lipless crankbaits that crowd the market. The fact of the matter is that virtually every manufacturer of hard baits offers a lipless crankbait. Most of these lures share common characteristics. They all shake violently when retrieved, most have internal rattles that generate a ton of noise and they all drive bass crazy.
When the water is clear, you'll want to crank quickly. When the water is stained or muddy, back off with the speed. Most lipless cranks sink. This allows you to systematically cover a broad range of different depths with a simple cast, count down and crank approach.
As with most crankbaits, lipless cranks will catch a bass once in a while when retrieved through open water, but it's when they are worked near or actually bouncing off cover that they are at their most effective.
Bass anglers encounter three basic types of cover…rocks, wood and weeds. Rocks are the easiest to work for the beginner. Simply cast the bait beyond the area where you think the bass are holding, allow it to sink and retrieve it such that it bangs and bounces off the rocks.
Weeds and crankbaits don't mix, everyone knows that, but this assertion is dead wrong when it comes to lipless cranks. When working submerged weed beds and weed edges, a lipless crank is one of the very best baits you can employ.
When you feel your bait load up in the weeds you want to respond by ripping it lose and then burning it with the reel. This is the way that you trigger reaction bites when working the salad. Remember, if you're not hanging weeds, you're not fishing the bait correctly.
Pop 'Em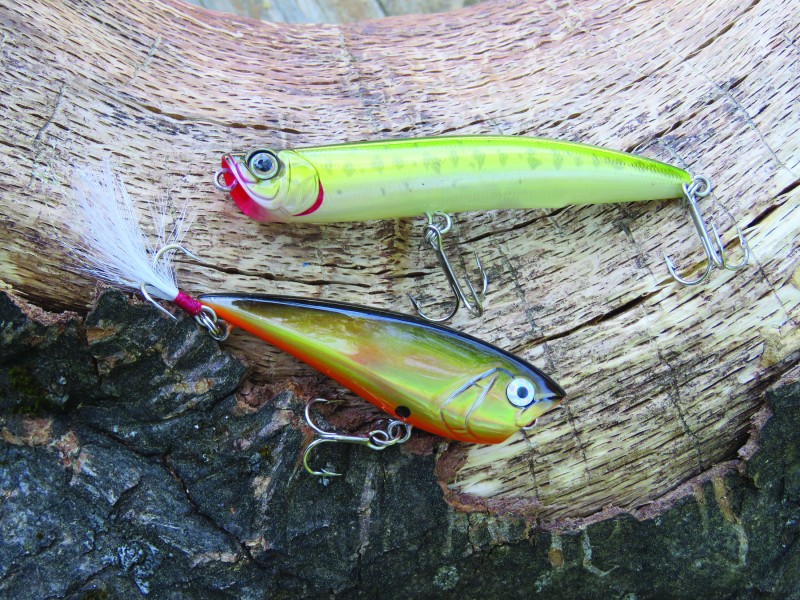 What is the best topwater bait for bass? That's a tough call for me. I love walking baits, but they can be hard to work for some folks and if you need a bait that stays in the strike zone a walking bait with its steady rhythmic motion might not be the best choice.
Likewise, I have a soft spot for poppers. They are easy to fish and you can keep them in a small strike zone for an extended period of time.
When I first started fishing poppers I was a Rebel Pop 'R' man. A few years later I switched over to poppers from River2Sea.
Last year, I stumbled on what I consider to be the perfect popper, the Yo-Zuri 3DB Popper. This bait features a double cupped mouth that can throw a ton of water. It has a ribbed belly that only adds to the vibration the bait creates and also slows its progress across the surface. It's Mylar dressed tail hook pulsates subtly with the slightest surface ripple and it reflects light in much the same way that a real minnow does.
The thing that really sold me on the 3DB Popper is the fact that it's a duel action bait. You can fish it like a traditional popper or you can "walk the dog" with it.
When working in popper mode, toss the bait into a likely area, use the reel to pick up any slack and just let the bait sit. Let it rest until the rings from its splash down have gone away, then give it a single light pop or two and let it sit some more. If you think the bass are aggressive shorten the amount of time you let the bait rest between pops.
When the bass are really aggressive, walk the dog with the bait and steadily chug it across the top.
This popper is a great tool for taking the temperature of the bass. On one cast, you can work the bait slowly and methodically. On the next cast, you can keep it moving and really cause a commotion.
I don't think you need a big range of colors in terms of poppers. My favorite is a semi clear patter Yo-Zuri calls Prism Ghost Shad. It's a very realistic shad imitation. Silver and black is a great choice as is Sex Shad, a traditional dark over light shad pattern. I've got a couple baits in the Prism Frog pattern simply because I think they look cool.
If the light level is low and you need a bait that you can see well on the surface, a Bone pattern bait is the way to go. It will appear as a dark silhouette to the bass, but it will stand out distinctly for you against the backdrop of dark water.