Situated at the edge of the Carson-Iceberg Wilderness, Lake Alpine is one of the most beautiful of the lakes found in the Ebbetts Pass region and Alpine County.
Any time you throw a bait, spinner, or fly into the lake's usually cold waters you could hook a trophy rainbow, since huge trout up to 9 pounds roam the waters of this reservoir. However, smaller fish make up the majority of the catches, particularly after the California Department of Fish and Wildlife stocks he lake.
On July 15, I attended the annual Lake Alpine Kid's Fishing Day event. Three members of the Alpine County Fish and Game Commission – Stephan Krayk of Bear Valley, Bruno Huff of Markeeville and Donald Connor – were there to help the kids and their parents go fishing and enjoy the morning.
"Before the event, we planted 1,800 pounds of rainbow trout, including 900 pounds of trophy fish 3 pounds and over and 900 catchable trout ranging from 11 inches to 2 pounds," said Huff, who provided fishing reports on the Carson Pass region for years to the late Tracy Chimenti, former Fish Sniffer staffer. "We had 100 kids attend the free event."
Fishing was unusually slow, probably due to the heat wave that quickly warmed up the water temperatures on the lake. Only two fish were weighed in during the event.
Thirteen-year-old Cecily Greenberg won the biggest fish award by catching a 20 inch rainbow weighing 2 pounds on PowerBait. Ryan E. landed the first fish, a 16 inch rainbow, while soaking PowerBait from shore with his father.
"When we released the fish into the water, the trout took off as fast as they could towards the center of the lake," said Huff. "I don't know if it was the water temperature or not."
"Last year at the same spot we had one of our most successful kids events event," he noted. "The kids themselves landed 70 fish total."
The Commission will make another plant of 1,800 pounds, half trophy-sized fish and half catchable fish from 11 inches to 2 pounds, also from Desert Springs Fish Hatchery, in mid September.
Earlier that morning before the larger fish were landed, Bryan Wood of Los Gatos reported catching and releasing six trout in the 10 to 12 inch class while soaking PowerBait from shore. He also managed to land a beautiful 18 inch wild rainbow at Spicer that afternoon after the action on Alpine tapered off.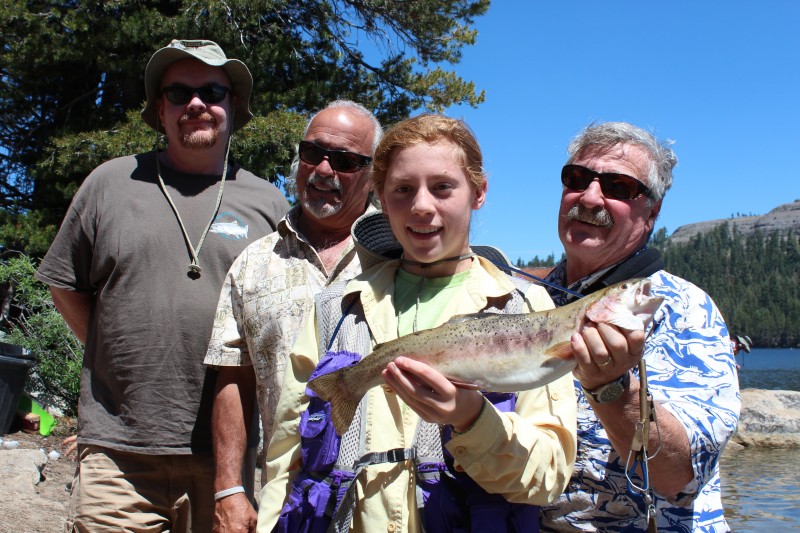 The tough fishing that day not only applied to Alpine.  Fishing was also slow for bank anglers at Spicer Reservoir and Union Reservoir that day. On the other hand, trout fishing was very good on the North Fork of the Stanislaus River near Spicer Reservoir Road, where I hooked three trout to 1-1/2 pounds right before dark on black/gold Panther Martin spinners.
Besides being a quality fishery, the recreation area offers anglers well-maintained, comfortable facilities while giving them the feeling of fishing in a high country wilderness. The reservoir, located off Highway 4 in Stanislaus National Forest at an elevation of 7,350 feet, holds 180 surface acres when full.
"It is by far the top fishing lake in the Ebbetts Pass area and has excellent facilities," said Bill Reynolds, owner of Ebbetts Pass Sporting Goods in Arnold. "Because of its high elevation and cool water temperatures, it provides both good bank fishing and boat fishing year round, though spring and fall are the best times."
A lot of the lake is shallow, so the fish during the summer school up in the deep water, according to Reynolds. When you find a pod of fish, fishing can be really good.
Although there is no official lake trout record at Alpine, an angler weighed in a 9 lb. 6 oz. rainbow at Reynolds' shop in 2008.
Brown bullheads like those found at nearby Union and Utica reservoirs are also believed to swim in Alpine, but Reynolds hasn't heard any reports on catfish catches in recent years.
The entire shoreline has top-notch fishing access, since it is surrounded by an excellent trail, including a paved section that is handicapped accessible. For that reason, Alpine gets more bank fishing pressure than other local lakes.
Reynolds advises bank anglers to employ a variety of baits in an array of colors on a 24 to 30 inch leader on a sliding sinker rig near the boat ramp and the dam. Anglers should use chartreuse garlic PowerBait, Berkley Mice Tails, Power Eggs, nightcrawlers and other offerings on a 24″ to 30″ leader with a sliding sinker.
Trolling is also productive at Alpine. Trollers should pull Apex lures, Needlefish, Triple Teazers, Rooster Tails and Uncle Larry's spinners. Trolling Wedding Rings and Wiggle Hoochies, tipped either with a nightcrawler or a Gulp nightcrawler, behind small dodgers is also effective.
The lake is also a good spot for fly fishermen fishing from pontoon boats and float tubes. The better patterns include sparrow nymphs, woolly buggers, stone fly nymphs, ants, Adams, mosquitoes, stimulators and bead head nymphs.
The recreation area features five developed campgrounds with a total of 112 campsites and three developed day use sites – Chickaree, Lake Alpine, and Marmot – including 48 picnic sites with grills, flush toilets and piped water  and a concrete boat launch.
Lake Alpine Lodge, a full-service summer resort, also offers cabin rentals, a restaurant, public (fee) showers, laundromat, boat and bike rentals, and a general store.
The 161,000 acre Carson-Iceberg Wilderness that Alpine is the gateway to straddles the crest of the Sierra Nevada range, divided almost evenly between the Stanislaus and Humboldt-Toiyabe National Forests. The federal wilderness area features gorgeous high country scenery, with several peaks rising above 10,000 feet, broad river valleys, perennial creeks with small waterfalls, granite-strewn slopes, and meadow-filled valleys.
The headwaters of the East Fork of the Carson River, the Clark Fork of the Stanislaus, and the Mokelumne River are located in the wilderness. The Carson River, named for Kit Carson, and a distinctive granite formation called the Iceberg on the southern boundary give this area its name
Although Lake Alpine offers a superb trout fishery itself, there are many other exciting fisheries nearby. One of my favorites is Spicer Reservoir, situated on the North Fork of the Stanislaus River about 10 miles up Spicer Reservoir Road from Highway 4. I have experienced my best shore fishing for the lake's gorgeous square-tailed rainbows in the spring after ice-out and in the fall after the turnover.
Another solid prospect is Union Reservoir, about two miles from Spicer. At Union, you can catch both a limit of rainbow trout and a mess of scrappy brown bullhead catfish while soaking nightcrawlers and PowerBait there during the summer.
For more information about fishing Lake Alpine and the lakes of the Ebbetts Pass High Country, call Ebbetts Pass Sporting Goods, 209-795-1686.
 Lake Alpine Facts
Location:  is a small, scenic reservoir surrounded by conifer forest located just east of the community of Bear Valley on State Highway 4, at an elevation of 7,350 feet 50 miles east of Angels Camp. It covers 180 acres at a depth of 40 feet. It is the central attraction of the "Lake Alpine Recreation Complex" in the Calaveras Ranger District.
Season: open all year, but road access is subject to winter closure and the lake ices over during the winter. The CDFW and Alpine County both plant rainbow trout during the late spring, summer and early fall.
Boating: A boat ramp is located near the Lake Alpine Picnic Area. The maximum speed limit on the lake is 10 mph. No overnight mooring is permitted, and motorized boats are not allowed on the lake at night.
Camping: Forest Service Developed Campgrounds with a total of 112 campsites. The Lake Alpine Campground features piped water, disabled accessible restrooms, tables at each site and BBQ grills at each site . Reservations are first-come, first-served. The campgrounds are open from June to October, weather permitting. For more information, contact the Calaveras Ranger District, 5519 Highway 4, P.O. Box 500
Hathaway Pines, CA 95233, Phone (209) 532-3671,
FAX (209) 533-1890, www.fs.fed.us/r5/stanislaus/contact/
Day Use Area: Forest Service developed recreation facilities include three developed Day Use Sites (Chickaree, Lake Alpine, and Marmot) featuring 48 picnic sites with grills, flush toilets and piped water; and, a boat launch.
Lodging: Accommodations are available at the Lake Alpine Lodge, a full-service summer resort operated under Special Use Permit with the Stanislaus National Forest. The Lodge is open from May 1 through October 31 (weather permitting). It offers cabin rentals, a sit-down restaurant and cocktail lounge, public (fee) showers, a laundromat, canoe, kayak, row and motor boat rentals, mountain bike rentals, and a small general store with groceries, fishing and camping gear, house wares, souvenirs, etc. For more information, contact Lake Alpine Lodge, 4000 Highway 4, PO Box 5060, Bear Valley, CA 95223, phone (209)753-6350.
Fishing Information and Tackle:  Ebbetts Pass Sporting Goods, 925 SR-4 in Arnold Plaza, P.O. Box 579, Arnold, CA 95223, phone (209) 795-1686, Fax (209) 795-4725