Working with The Fish Sniffer certainly has its benefits!  I just completed nine intense days that included 7 days of fishing – and – actually catching a ton of fish.
The week started out with a long planned trip to beautiful Hotel Palmas de Cortez at Los Barriles on Baja's East Cape.  I was joined by Bridget Looney, long time friends Dave and Wanda Barsi of Oak Run, and my brother Ken Kneeland and Dena Salazar of Merino Colorado.  We had    3 full days of fishing, and just about loaded the boat!  On our first day, Bridget and I landed 5 yellowfin tuna that weighed 173 pounds on the dock scale!  The largest was 61 pounds that took the two of us an hour and 15 minutes to land on my 7'Cousins composite Rod/Penn Torque reel loaded with 40 lb. test Yozuri Hybrid line.  At the end of the day, the tasty margaritas went down smoothly around the palapa bar by the pool, helping to ease the aching muscles in our arms!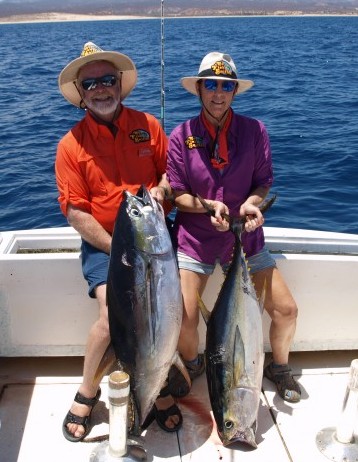 The next morning we again boarded the 28-foot diesel cruiser and headed out for marlin, dorado and wahoo.  The dorado were not to be found, but we did catch a nice wahoo, and 3 marlin, including a 280 lb. blue marlin that fought for an hour and a half, and then came to the boat and died!  We normally release the marlin we catch, but with this one already dead, we figured marlin steaks were in our future!
The days at Hotel Palmas de Cortez were fantastic, with great fishing, great camaraderie and great food and service.  It is one of the best resorts on Baja's East Cape and I highly recommend it to my friends.  For more information, call them at (877) 777-8862 or see them at www.vanwormerresorts.com
We arrived home late Wednesday evening and spent the next two days catching up on work.  Then, late Friday afternoon we hooked up the Rogue Jet 21 Coastal and headed to the Barsi's home in Oak Run.  Saturday morning we were on the road to Whiskeytown and the Kokanee Power Whiskeytown Kokanee derby.  We launched the boat at Whiskey Creek and fished the main lake for some great kokanee fishing!  Most everyone caught lots of quality kokanee to 16 inches.  The hot ticket for us was a Paulina Peak pink dodger followed by a small pink Paulina Peak spinner hoochie at 50 to 70 feet deep.  The quality of the kokanee was fantastic, with Randy Berquist and team winning the derby with a total weight of 87.6 ounces, or an average of almost 2 pounds per fish!  The Kokanee Power derby was lots of fun with a great group of people.  The catered barbeque lunch of tri tip, chicken, salad and more was extremely tasty! For more information on all the Kokanee Power derbies, got to www.kokaneepower.org.
We left Whiskeytown in mid afternoon and went to Shasta Lake.  We launched the Rogue Jet at the Packers Bay ramp, after throwing in our sleeping bag and other camping gear.  It was a typical hot summer day, but when we got hot, we just jumped out of the boat into the clear water to cool off.  We headed over to the Dry Fork area and started fishing.  In one hour we caught 10 nice rainbows, from 15 to 20 inches.  We used Tasmanian Devils and Excel spoons in red and white colors behind Vance's Cannonball flashers at 65 and 80 feet deep.  Then we found a small, secluded cove between Dry Fork and the dam and anchored the boat.  We barbequed burgers on the portable propane stove and enjoyed the peace and quiet of the evening as most of the skiers and boaters left the lake.  We pumped up the double bed size air mattress – which fits perfectly behind the swivel seats of the Rogue Jet – and slept soundly as the night air cooled down to almost 70 degrees.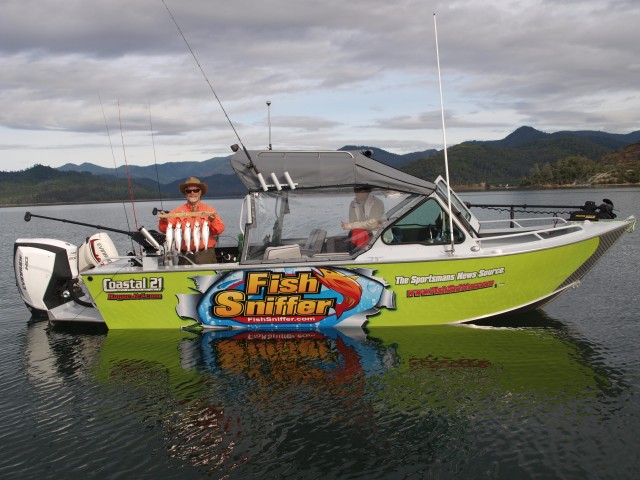 Sunday morning we moved to the mouth of the McCloud arm and dropped the downriggers.  I put on a "bloody cop car" Excel and also a rainbow trout pattern Hot Ticket spoon, and never changed them all morning.  I saw a few marks at 100 feet deep, so dropped down to that depth and started catching trout!  These were fat, burly rainbows that had been gorging on shad.  They would rip the line off the rigger and tear line off the reel several times, before finally slowing down as the got to the surface and it's 85 degree temperatures.  We caught 5 fish in a row all over 19 inches and 3 pounds, with the biggest being 22 inches and 4.1 pounds on the digital scale!  After keeping a few and releasing several nice rainbows, we decided to call it a week!