With Northern California in the midst of a brutal heatwave, I was looking for an escape from the heat, preferably something that involved fishing. At the start of the week, I had made an early morning bass trip to Folsom Lake. The first few hours were refreshing, but the tough bite and crazy boat traffic ruled out a sequel.
What to do, what to do? A quick call to Captain Jonathon Smith on the Happy Hooker revealed he had a few spaces available for the holiday weekend. That's all it took and I was good to go. When I arrived with Ian Rigler at the Berkeley Marina, it was t shirt weather at 5 am, a rarity to say the least. At the dock we were greeted by Captains Chris and Jonathon Smith who would share duties for the day. Once on board Ian and I made our way to the bow where we found our fishing spots along the rail.
With Captain Chris at the wheel, he made a quick stop at Pier 47 to pick up several scoops of live anchovies from the bait receiver. Once underway again, Smith set course for the Farallon Islands some 30 miles to the west of San Francisco.
I always say that one of the best things about fishing are the people you meet along the way. On this day, I had the pleasure to fish with John and Sandra Parker of Visalia. The husband and wife team are avid anglers and great company. On the ride to the islands they shared stories of Shaver Lake kokanee and frequent trips to Avila Beach and Morro Bay for Central Coast rockfish.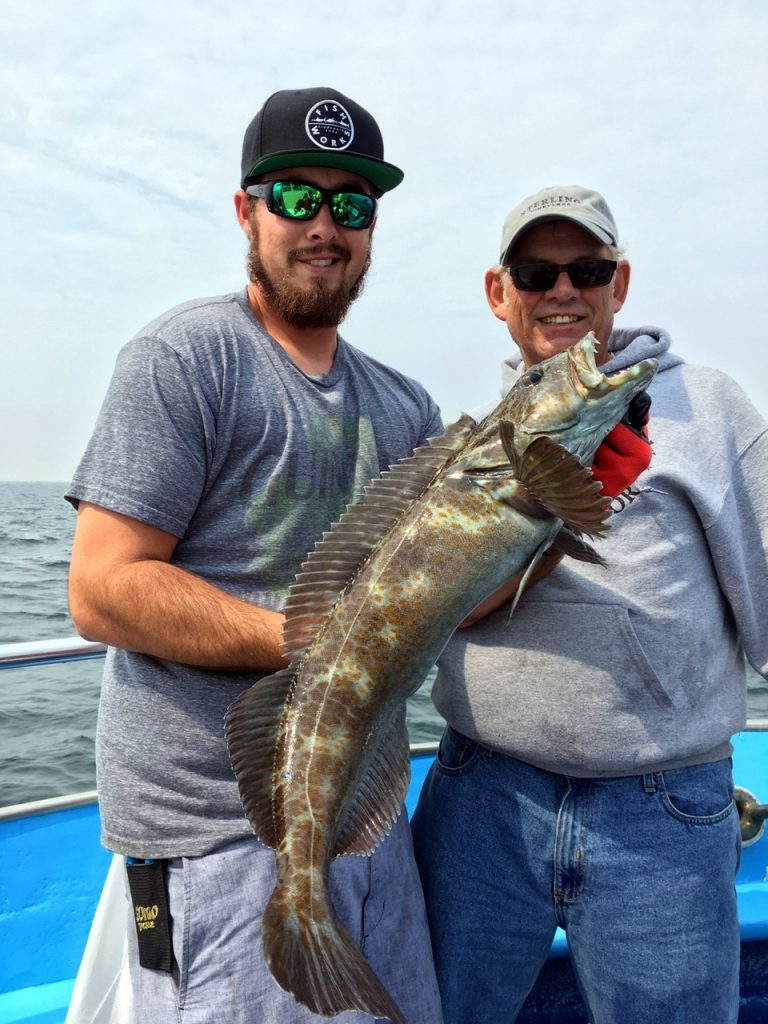 When we arrived at our destination, Captain Chris skillfully maneuvered the boat into position for our first drift then instructed us to drop our lines. As fast as our baits reached the bottom, shouts of, "Fish On" could be heard from all corners of the the boat. Soon an array of rock fish began hitting the deck, sometimes two at a time. On the rail next to me, John and Sandra were fishing P Line Rock Cod Rigs that featured two small plastic squid imitations in lieu of traditional shrimp flies. These rigs were certainly the hot ticket and each time I looked their way, the pair were hooked up again.
I started out with an 8 oz lingcod iron attached to the end of a 40lb mono leader with a 6" New Penny colored Berkeley Gulp Grub teaser tied above it. Unfortunately for me, the speed of the drift and the deep water were proving to be too much for my 8 oz jig, making it difficult to keep my line vertical. So while everyone around me was busy hooking up with rockfish, I was frantically searching through my tackle for a heavier jig.
With a 12oz Diamond Jig in place, I lowered my line to the bottom and was immediately rewarded with a strike. Setting the hook I brought my first rockfish to the boat. It had engulfed my teaser bait. The fast pace action continued and I added several more rockfish to by bag.
When the bite began to slow, Captain Chris worked diligently to keep us in the fish. He instructed us to "Wind Em Up" before making a move to a nearby spot for another drift. Not long after our lines were in the water, the shouts of "Got One and Fish On" again began ringing out. Next to me Ian landed a nice keeper ling on a Diamond Jig. After what seemed like an eternity, I felt a solid strike and was soon hooked up with a good fish. Immediately the fish powered its way back toward the rocky bottom. From the way it was pulling, I knew it was a lingcod. I was glad I was using 50lb FINS XS Braid on my Avet SX G2 MC reel and Cousins F670L-7′ rod.. This combination is the perfect mix of functionality and power. After several more strong runs I finally had the fish boat side where deck hand Greg skillfully gaffed it and swung it aboard.
The fast paced rockfish action slowed from its torrid start but remained consistent. In its place anglers began getting into the lingcod. Ian continued with the Diamond Jig and was reward with a nice limit of lings. After losing my jig to the bottom, I switched over to a trap rigged sardine. This proved to be a good decision and I was able to complete my limit of lingcod in addition to tallying a few more quality rockfish.
Time flies when the fish are biting and before I knew it, Captain Chris informed us we nearing the conclusion of our final drift of the day. And a good day it was. The boat finished with ¾ limits of rockfish and 37 lingcod for 28 happy anglers. It's always a great time when fishing with the Smiths, if you would like to book a trip on the Happy Hooker, please call (510) 223-5388.
Cousins Tackle Rods And Avet Reels Make For Potent Lingcod Medicine
For the past couple of years I have been begging and borrowing tackle each time I headed for the salt. So last winter I decided it was time to invest in a nice rod and reel combo of my own that I could take on the charter boats.
I turned to Fish Sniffer Editor, Cal Kellogg for advice. Kellogg suggested that I look at the Cousins Tackle F670L-7. So at the Sacramento ISE Show in January I spent time in the Cousins Tackle booth handling the rod. It quickly reminded me of my old Fenwick Pacific Stick, a rod that served me well over the years.
The F670L-7 is a classic fiberglass boat rod with an old school feel that reminds me a lot of the Cousins Tackle Glass Reaction Bait Rods that I use for freshwater black bass. The F670L-7 is very durable and perfect for the abuse that charter boat fishing can inflict. It has quality components including Fuji BNOG Guides and a Fuji Reel Set. I also like the fact that this rod was designed and manufactured in the United States, Huntington Beach to be exact.
With rod in hand, it was time to select a reel. Last season I fished with Flash Sport Fishing out of San Francisco. Captain Steve Talmadge runs a great six pack charter program. He outfits his boats with Avet Reels and I was happy to have had the opportunity to fish them at length I was really impressed with the way the reels performed and after a little research I chose an Avet SX G2 MC. New for 2017, the Generation 2 reels offer increased drag performance and more line capacity. To complete my setup, I spooled the SX up with 50lb FINS XS Braid.
I am happy to say that this combo has more than met my expectations. Early in the season it accounted for some nice halibut and striped bass. Recently I have taken the combo outside the Gate on a number of deep water bottom fishing expeditions with great success. I can't wait to see what's next in line for my Avet/Cousins tandem.