Fishing guides can be nomadic. Here today and gone tomorrow. Such is the case with Captain James Netzel of Tightlines Guide Service. With the Spring striped bass run in the Delta rapidly winding down, he has shifted his focus to other more promising angling opportunities. Netzel is one of the foremost experts when it comes to High Sierra kokanee. He spends the summer months guiding his clients to some of the best kokanee fishing in the state. Netzel frequents Stampede, Boca, Donner and Lake Tahoe and just to mix things up offers mackinaw trips as well. "When it is triple digits down in the valley, we are p here in cool Sierra where the temperature is a whopping 70 degrees," said Netzel. "This is just a bonus to go along with the excellent fishing."
So far this season, Netzel has been treating his clients to limit style fishing. Not only are the numbers up but also the quality of the fish are good for this early in the season. "We are seeing a lot of fish in the 14" to 15" range," said Netzel. "It's not unusual to have a few fish measuring 15.5" as well. I expect the quality to continue to increase as the season goes on. This is going to be a great year. I think we will see fish pushing the 20" mark that weigh close to 2 pounds."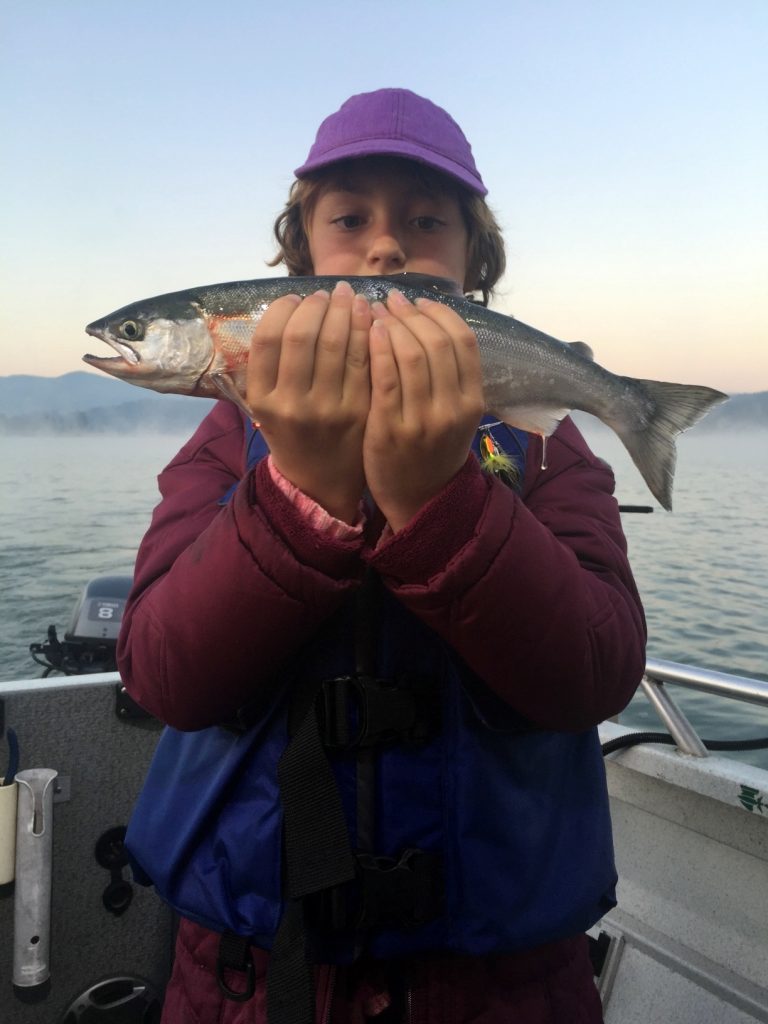 It was a late day in May that I met up with Captain James for on an action packed day at Boca Reservoir. Joining us were my buddy Ian Rigler and Ron Kimble and his daughter Willow Cramer. When we arrived at the lake I was puzzled to see that we did not make the customary turn at the dam that is because this year the road over the dam is closed making the access to the launch ramp difficult. Instead, Captain James elected to launch off the sloping bank on the east side of the lake. "I recommend a 4WD vehicle for launching here as there is no ramp or dock. Last year I had to tow out several guys who got stuck."
With Netzel's spacious 22′ Boulton safely in the water, he steered us to our first stop of the morning and began setting out the lines. Netzel added a piece of scented shoepeg corn to the hooks of a pink Radical Glow tubes trailing a Rocky Mountain Tackle Dodger. It wasn't long before the first rod had a strike. Netzel pulled the rod from it's holder and handed it to Willow who expertly fought the chrome bright kokanee within range of the net where Netzel expertly scooped up the first keeper of the day.
With no lines in the water we scrambled to get our lures baited and set on the down riggers. What followed next was an incredible flurry of action. In fact the action was so fast and furious that we had difficulty keeping our rods in the water. As quickly as the action began it ended. When the frenzy is on you must take advantage of the opportunities and we did not. Kokanee are notorious for their ability to come unbuttoned and this morning was no exception. Netzel estimated we had over 50 fish hooked but many came unattached, leaving us short of our limit.
When the bite shut off, Netzel reached into his bag of tricks searching for a bit of magic. This is when a guide is worth his weight in gold. There is no substitute for experience on the water. Captain James made a few lure and location changes and in short order we had filled out our limit.
Back on shore, Captain James expertly filleted our catch. Kokanee are outstanding table fare and nothing is better when they are freshly caught. Since our trip to Boca, the action at Stampede has exploded and as such Netzel has been concentrating his efforts there.
If you would like to to book your own land locked salmon adventure to the "Truckee Triangle", you can contact Captain James Netzel at 888-975-0990 or visit his website at www.fishtighlines.com.
Tight Lines Kokanee Gear
"Are you catching any?" asked the two anglers as their boat approached.
"We have our limits," replied Captain James Netzel as he stowed our gear for the return trip to the boat ramp.
"We have not gotten a bite," said one of the men in a voice tainted with both disbelief and frustration.
Captain James as he is apt to do, spent the next fifteen minutes talking with the two fisherman and answering all of their questions. He held nothing back. As one of the premier Kokanee guides in Northern California, Netzel is known for his expertise and transparency when it comes to helping other anglers. His seminars draw big audiences and are always packed with fish catching information.
In between guide trips, the Fish Sniffer caught up with Captain James who was happy to provide the details on his complete trolling setup for catching Sierra kokanee .
Rod:
Cousins Tackle Kokanee Special 7'9" KC790-2TG and 7'3" KC730-2TG – "These rods have good back bone so you can control the fish. They have very soft tips so you can detect the bites and bend them down to the down rigger so that you can pull up the slack when a fish pops it off. The other reason you want a soft tip is that when you are reeling up a fish you always want to make sure you have pressure on the fish and with a soft tip rod its a lot easier to keep pressure on the fish than with a stiff rod. They have everything you need in a kokanee rod."
Reel:
Abu Garcia 5500C Line Counter Reel – "Line counter reels are a must. I can tell my clients exactly how much line to let out."
Line: 
25lb Fins 40G Braid tied to a 30′ leader of 12lb Gamma Fluorocarbon – "The braid/fluorocarbon combination can detect the smallest of bites. We caught a 2" kokanee and a 3"cutthroat and the rod tip was dancing."
Lures:
Rocky Mountain Tackle orange and pink double glow planktons connected with a 12" leader to a matching 3" RMT Dodger – "The micro hoochies are smaller than your average hoochie. The guys that are using the full size lures like you use for typical kokanee are not catching them like we are. The glow in the dark baits actually glow in the color of the lure. If it is a red one it will glow red, if it is pink it will glow pink. Typical glow in the dark lures just glows green. I tip them with garlic or tuna flavored corn."
Trolling Speed:
.8 – 1.2 miles per hour – "Most guys troll too fast. I catch more fish slow trolling"
Depth: 
30′ – 45′ – "This is a good starting range. Pay attention to your fish finder and be willing to change depth."
A special thanks to Captain James for giving us the lowdown on his tackle setup. Having fished kokanee with James a number of times, I can tell you that his ability to adapt and figure out the bite is worth the price of admission. If you would like an on the water, hands on instructional session, consider booking a trip with James. You won't be disappointed.
Captain James can be reached at (888) 975 – 0990 or www.fishtightlines.com.