"Last weekend was all about Dungeness crab and crab/rockfish combination trips on Saturday and Sunday, and all ports from Shelter Cove south to Half Moon Bay returned with spectacular results," reported David Hurley of USA Fishing's Hot Sheet.
"Limits of big, meaty crab were the rule along with limits of rockfish and a healthy lingcod count. The crab season should be great for the next 10 days before the commercial season open, and once the commercial set all of their gear, the jumbos that were found this weekend will be much harder to locate," said Hurley.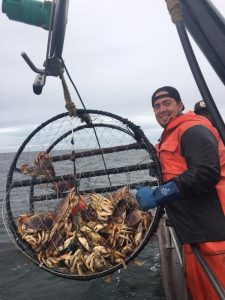 In Bodega Bay, Captain Rick Powers of the Bodega Bay Sportfishing Center and the New Sea Angler rounded up 47 full limits of rockfish and crabs on the November 5 crab opener. His crew of anglers added 59 lingcod to 20 pounds to the tally as well.
According to Hurley, Captain Tom Mattusch of the Huli Cat said, "It was a good Dungeness crab opener, the weather was good on Saturday for fishing, anglers got rockfish and 10 lingcod to 18 lbs. The wind picked up in the afternoon which made the weather a bit sporty while pulling pots. On Sunday, it was beautiful weather, calm water and a little to no wind all day. Anglers got rockfish, lingcod and this time limits for passengers and crew!"
Hurley went on to report that, Chris Arcoleo of Chris's Landing in Monterey said, "The crab opener was better than I expected, but it doesn't look like there is a tremendous amount of crab out there. Captain Tinker on the Check Mate returned with 101 Dungeness crab for 19 anglers along with limits of rockfish and 3 lings while the Caroline had 43 crab for 10 anglers on a private charter along with rockfish limits and 9 lings. They are filled up throughout the next week as there is great interest in the crab/rockfish combination trips."
Anglers departing from the Berkeley Marina aboard the California Dawn and Happy Hooker enjoyed excellent combo action on the opening weekend of crab season.
"We made it to the Islands and the fish didn't disappoint," reported Capt. Chris Smith of the Happy Hooker. "Huge rockfish including a 14 pound
boccaccio came over the rail, as well as meaty lingcod. Crabbing stayed true to form and provided limits of jumbos for everyone onboard."
Capt. James Smith of the California Dawn was very enthusiastic about the results opening day saying, "The weather was flat and beautiful. Rockfish bit well and the lings we're finally on the chomp once again. Crab Fishing was nothing short of spectacular, we took full limits of all quality commercial grade Dungeness. Our final count for the day was 33 limits of rockfish, 37 limits of crab and 27 beautiful lingcod."
Jason Rivers headed down to the Pacifica Pier for the crab opener and experienced good results.
"The pier was pretty crowded and some guys told me they'd arrived at midnight. I actually had to wait for a spot to open up, but it was worth it. I got a total of 9 crabs casting a snare rig baited with mackerel heads. 5 of those crabs were keepers and one was huge weighing in at just over 3 pounds," exclaimed Rivers.
"I have a boat, but I really enjoy the challenge of crabbing from the bank or from a pier. Now that opening weekend is in the books most of the keepers around the Pacifica Pier will have been mopped up, but there are lots of other opportunities up and down the coast. Next weekend my girlfriend and I are planning to work our way up the coast camping and crabbing. The plan is to hit the Dillions Beach area first and then maybe work the area near Bodega Bay on Sunday. I'll bring along my propane tank and turkey cooking pot. Hopefully we'll be eating fresh crab, breakfast, lunch and dinner," quipped Rivers.