The chinook salmon run is the most anticipated fishery in the in the Sacramento Area each year. Some anglers start as early as the opener in July, hoping to intercept some initial fish blasting through.
The problem with fishing in the Sacramento Region is that on some days, you have a better chance of winning the lottery than you do of hooking a salmon. Salmon fishing can be broken down into two basic requirements.
First off, decent numbers of salmon have to be present if you are going to stand a chance of hooking one. You can't just pick a single salmon off of a spot like you would be able to do while largemouth bass fishing. There needs to be a lot of them moving through.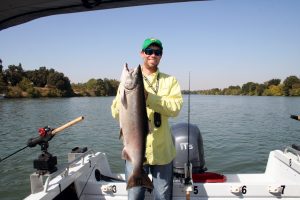 In addition to being present, they actually have to be biting when your lure goes whizzing past. I used to do a lot of salmon fishing in the early 2000's when way more salmon were present in the river system. I can tell you even on days when salmon were rolling everywhere, we still would only catch them during a few brief bite windows each day.
Now imagine fishing when only a few schools of salmon move through all day. Were they biting when they passed you? If not, welcome to Skunksville.
To start this season off, my choice of days to fish hadn't been great. All of my trips were those "you missed the morning bite", or "should have been here yesterday" type of deals. When I found myself questioning my own techniques, I had to take a time out and remind myself of the basics. Don't overthink fishing for river salmon! If they are there, it'll happen.
Armed with some newly polished Silvertron spinners and a fresh mindset, I returned the Sacramento River with Gil Perez of Sacramento this October. The red glow of sunrise provided a beautiful backdrop to start our trolling journey. We trolled downstream, starting above the Garcia Bend area.
As we approached the Freeport Bridge, two anglers in a boat were photographing a freshly caught king salmon. "They're in here," I remarked to Gil. I ran half a mile upstream to see if I could get the school to bite, but it was no dice. We moved downstream to try a new area.
We made a pass, and still nothing. I chatted with a guy who said he had heard of only one caught all morning. "Not again…" I was thinking.
Just after high noon, the air warmed and the sun calmly glared off the water. In the distance, I could faintly make out some guys bleeding a salmon on a stringer. We pulled lines, ran upstream, and headed back through that same area. A few minutes into the troll, Gil thought he had a bite. I looked back, but all I saw was the sinker bouncing along the bottom. A few seconds layer Gil said, "There he is!" and we were hooked up.
Gil held the rod high and kept steady pressure on the fish. When he got the fish to the boat, I quickly netted it. The salmon was a beautiful 9 pound hen with fresh scales…chrome in the box!
We continued trolling downstream and had barely put the rods in the water when my clicker started buzzing. The fish felt small and came off after about 20 seconds. Fish off!
After bleeding and icing Gil's fish, we ran back upstream and trolled down once again. Not ten minutes into the pass, I had another one on. It came in fast, and we got a brief glimpse of the fish before it shook free. Another little one, and another fish off!
Luckily, I didn't have much time to sulk over losing back-to-back fish because my reel once again started screaming. I could tell it was a bigger fish, and Gil had time to clear the rods. After a few minutes, I had the fish to the boat and Gil moved in with the net. "Ok, now" I said as I lifted.
The fish was almost in the net when it reversed course. The sinker tangled in the netting, and I uttered, "No-no-no!" to signal that the fish was out of the net. The 10 pound test dropper leader to the sinker snapped, as it is designed to do, and the fish sped away from the net. What happened next only took a split second to transpire.
The salmon swam away from the net, peeled some line, then reversed directions and jumped directly into the net. "He's in there! He's in there!" I shouted in excitement. Gil pulled the net to the side of the boat, and we had salmon number two for the day.
We had four bites within a 30 minute window, more bites than in all of my previous salmon trips for the year combined. It only went to prove if salmon are present and they are biting, you had better be ready to fish. Otherwise, you snooze you lose.
My fish turned out to be an 18.5 pound female, which provided not only a great deal of smoked salmon, but also a decent amount of roe to use as sturgeon bait. Just as fast as the bite had turned on, it turned off. We didn't see or hear of anything else caught, so we pulled lines and called it a day at 2:30 pm.
Will you experience a morning bite during your next salmon trip? Mid-afternoon? Right at dusk? The only way to find out is to get out there and fish. It'll happen.