The bi-annual Addathon Iron Man Sturgeon Derby returned to the California Delta on the rainy and windy weekend of November 4th and 5th, but it didn't stop the competing teams from catching mind-blowing numbers of sturgeon.
119 under-size, 104 slot-size, and 24 over-sized sturgeon were landed by 28 two-man teams for a whopping total of 247 sturgeon, according to the derby director, Andy Doudna.
"The wind was pretty bad at times, especially when the strong outgoing tide went up against the west wind. A lot of the guys looked in sheltered water when the wind was at its worst on Saturday afternoon but found little to no fish. The ones that stayed in open water found some of the best success," he related.
Greg McElroy and Dan Ditlevsen of Brentwood once again took first place honors after winning the Spring Derby by landing 17 under-size, 21 slot-size, and 4 over-sized sturgeon.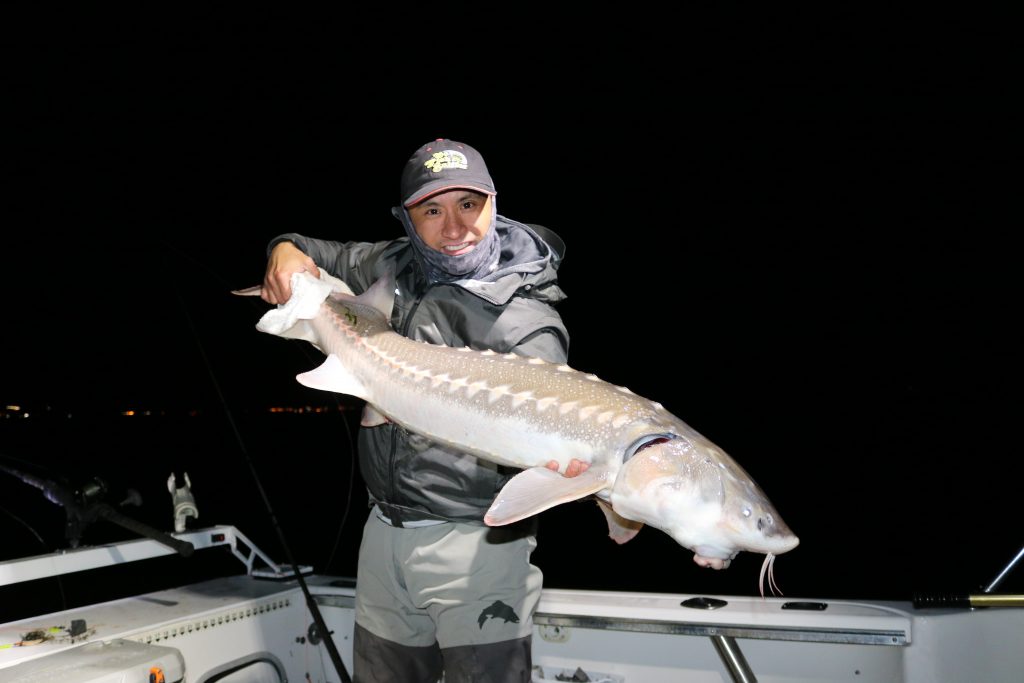 "We moved around a lot during this derby. Every 30 minutes we were pulling anchor if we didn't get any bites. We found fish from PIttsburg all the way up to Rio Vista. We used salmon roe for bait," McElroy noted.
Cesar Trapasso of Orangevale and Rickey Acosta of Sacramento took second place with nine under-size, 14 slot-size and 1 oversized sturgeon.
"We found fish both incoming and outgoing tides in Suisun Bay, Big Cut, Grizzly Bay and the Horse Shoe. However, we had to fish them smart because how swift they were going to move with the water movement. On bigger tides, we fished shallow water from eight to 25 feet. On small tides, deeper water 30-75 feet. With the big tides we fished shallow during the middle of the tide and deep during the tide changes. We used lamprey eel and salmon roe for bait," Trapasso tipped.
Manny Borges of Vacaville and Mike Long of Fairfield took third place with 11 undersize, 10 slot-size and two over-size sturgeon.
"The fish were all over from the sloughs, Mothball Fleet and Pittsburg. Just had to find that ones that were on the chomp. Incoming tide seemed to produce more fish this go around, but we did get a few on the outgoing. We used eel, roe, grass and ghost shrimp," Borges noted.
Many of the teams eagerly looked at wind and weather reports several days before the derby, as a weather system approached California. With forecasts changing by the hour, it was clear that wind was going to be a factor come derby day.
"The wind definitely played a factor. We had less quality fishing time bouncing around with the wind at least not until the tide was ripping," McElroy noted.
"Definitely hard to see the bites, boat control was tough and it was hard to keep focused," Borges said.
"We had to find areas where the wind and tide were flowing in the same direction so the water was flat," Trapasso related.
The Addathon Ironman Sturgeon Derby is a 100% catch and release platform that requires anglers to record a video of their catch being measured and safely released. Anglers then record each entry on a customized scorecard on their mobile device.
At the end of the derby, Doudna verifies each video submitted by the teams and audits them against the score cards. An innovative, yet purposeful way to not only allow anglers to compete in a one-of-a-kind platform, but to also capture a glimpse into how the sturgeon population is doing.
"There were a lot of shaker landed this year. Some of them smaller than 20 inches. High rainfall from earlier this year has a lot to do with that. It means we had some successful spawning," he said.
Doudna is currently pulling numbers from the 2017 spring derby to compare data. Findings from his research will be posted on the Addathon Iron Man Derby Facebook group.
For more information on the Addathon Ironman Sturgeon Derby, visit the Facebook page or e-mail Andy Doudna at addathonderby@gmail.com