Lake Chabot, a scenic East Bay Municipal Utility District (EBMUD) reservoir situated in the foothills east of San Leandro in the unincorporated area of Castro Valley, is a popular destination for anglers in search of trophy bass, crappie, rainbow trout and even sturgeon, but the lake wasn't open to fishing and recreation for most of its history.
Built in 1874-75 as a primary drinking water supply the East Bay, the 315-acre lake was closed to fishing and other recreation for 91 years. The lake finally opened for controlled recreational uses in 1965 after legislation was passed in the 1960's. The lake now serves as a standby emergency water supply.
After several years of drought that left many docks out of the water, the lake filled again over the past couple of years with average rainfall in 2016 and record rainfall in 2017. The lake was 90 percent of capacity at press time.
Over the past couple of years, anglers set two new lake records. Ryan Reynolds of San Mateo set a new largemouth bass record for Chabot, catching a 19-pounder, one of the largest bass ever landed in northern California, on October 28, 2016.
Reynolds was fishing with a jig at Alder Point on Lake Chabot at 10 a.m. when he hooked his monster fish. He then released the lunker back into Chabot, one of the lakes that has benefitted from habitat projects initiated by former tackle shop owner John Walton and the East Bay Regional Park District over 20 years ago.
This fish obliterated the previous record by two pounds. The previous record largemouth caught at Lake Chabot was reeled in by Louis Vasquez in 2002 and weighed 17 pounds.
Then another record was broken this summer. Francisco Escobar of Castro Valley caught and released a 2.34 lb crappie at Chabot, a new lake record, August 16. He landed the fish while fishing a lure near the tules.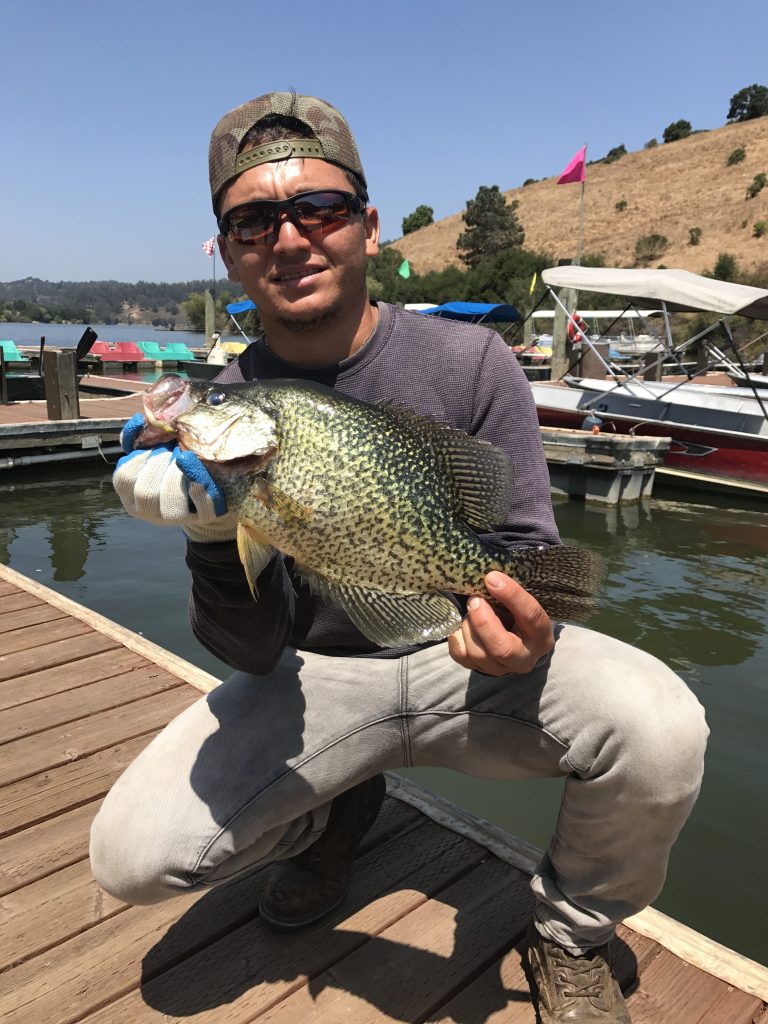 The bass and crappie population at Chabot has improved in recent years, due to the habitat project conducted from 2003 to 2006 by Jon Walton, the former owner of Walton's Pond, and the park district in coordination with the Black Bass Action Committee and Alameda County Fish and Game Commission. Volunteers organized by Walton put 250 Christmas trees each year in Chabot to create habitat for largemouth bass, bluegill, crappie and other species.
Before they started the project, Chabot was essentially a "big gravel bowl" with little fish habitat. The lake's bass fishery was characterized by a population of a few big bass that gorged upon each year's juveniles, since there was little habitat for the smaller fish to find refuge from the larger bucketmouths.
"This type of habitat project allows us to build the food chain from the bottom up," said Walton. "The trees harbor plankton life and attract juvenile fish to use them as fish hotels. As the bass grow, they will use the fish hotels as ambush sites for forage fish."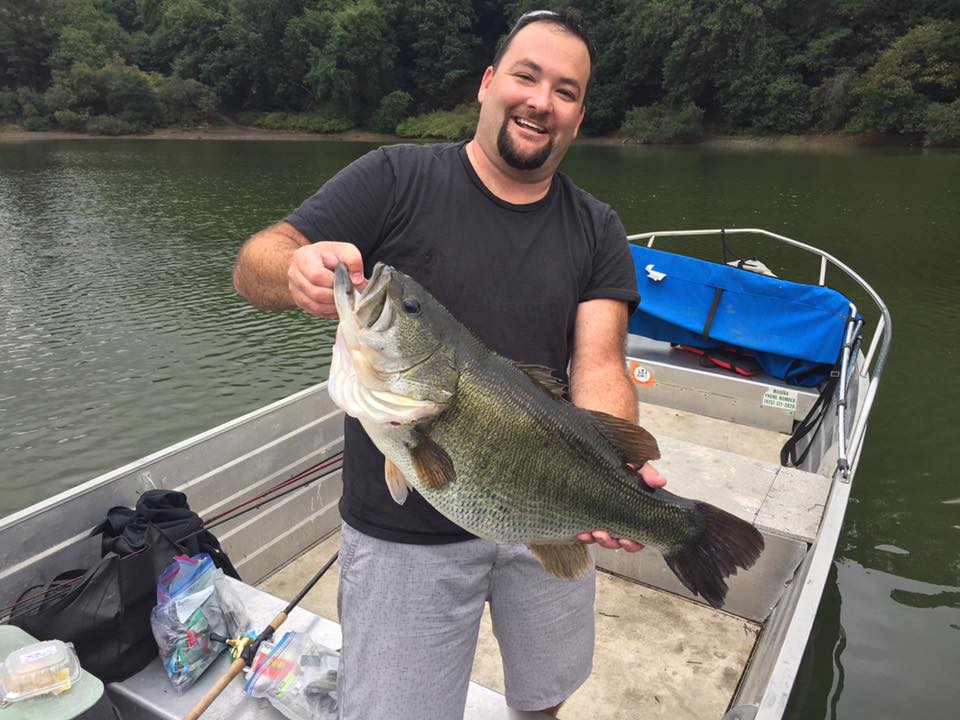 The catch rates, the size of the bass and the numbers of juvenile and adult bass populations have risen since the habitat project was started, as evidenced by electroshocking surveys conducted by the East Bay Regional Parks District (EBRPD).
"The largemouth bass population continues to show good numbers for both juvenile and adult size-classes," wrote Ed Culver, Fisheries Resource Analyst, and Joe Sullivan, Fisheries Program Manager, in their Lake Chabot Fisheries Report 2013-2017. "Because of the sheer numbers of young-of-the-year largemouth bass caught in 2016, we were unable to measure the length and weight of all of them, and used a subsample to show the length frequencies.
"The high numbers of juveniles in our survey indicate that spawning has been successful and there is high recruitment into the population. We anticipate this trend to continue, and hope to see the large year-class of fish observed in 2016 in subsequent sampling years. As these largemouth bass grow, they will provide anglers at Lake Chabot an exceptional largemouth bass fishery," they stated.
The bass in the lake are northern strain/Florida strain hybrids. The park district first stocked Florida-strain largemouth bass in Chabot in 1972. The major forage minnow for the bass is the inland silversides while crawdads are also abundant.
However, it is rainbow trout and channel catfish that draw most fishermen to Chabot. "The fishing for trout is good, not great, now," said Charlie Shonenberger, the new general manager who took over after Stan Wong left in November.
Ed Evans of Millbrae landed a 22.40 lb. rainbow, the lake record and largest-ever trout to come out of an East Bay lake, while trolling a fire tiger Rapala in April 2007.
The big trout potential of Lake Chabot is made possible by the park district's aggressive trout planting program. The lake is stocked regularly from September through June with a combination of Mt. Lassen and Desert Springs trout, funded by the park district fishing access permit. The CDFW plants catchable rainbows in the lake also.
The park district stocked 17,300 pounds of rainbows in 2015, 15,815 pounds in 2016 and 13,000 pounds in 2017 to date, reported Joe Sullivan. The CDFW has also stocked 1,000 pounds of rainbows in the reservoir each year.
Although both shore fishing and trolling are effective methods for subduing the lake's big rainbows, one of the most productive methods is to troll a nightcrawler behind a set of flashers or dodgers.
Bait fishing is also a popular method for hooking trout at Chabot. Use a sliding-sinker-rig with a small treble hook for PowerBait or for nightcrawlers use a size 6 or size 8 snelled hook.
Although Chabot's rainbows are hatchery fish, some native landlocked steelhead from Upper San Leandro Reservoir upstream of Chabot are occasionally washed down into the reservoir during high water years.
The construction of Chabot Dam and subsequent construction of Upper San Leandro Dam on Redwood Creek in 1926 created a unique landlocked population of steelhead that has maintained its genetic integrity and is genetically similar to the native coastal California steelhead.
In this time of declining salmon and steelhead runs in California, the steelhead population may be of significant value to restoration efforts due to its genetic integrity, since they have not been mixed with hatchery trout. In fact, 615 San Leandro Reservoir trout were used in the steelhead reintroduction project conducted on Wildcat Creek in Tilden Park in 1983.
During the summer months when water temperatures are too high to plant trout, the park district stocks channel catfish. The park district planted 3,850 pounds of channel cats in 2015, 7,025 pounds in 2016 and 4,250 pounds this year.
George Goveia of Castro Valley set the lake catfish record of 35 pounds when he fished chicken liver on the lake in 1981.
A few sturgeon also lurk in the reservoir. Jon Clark set the lake white sturgeon record when he landed a 45 lb. fish on May 23, 2013 while using PowerBait.
"The fish community in Lake Chabot is fairly simple consisting largely of inland silversides, largemouth bass, and planted rainbow trout and channel catfish," summed up Culver and Johnson in their report. "There appears to be an ample food source for bass, and thus their population has remained very stable. It is important that we continue to monitor these fish communities because the more we can learn about them, the better we can make decisions to manage this important fisheries resource."
For more information, contact Lake Chabot Marina and Café, 17930 Lake Chabot Road, Castro Valley, CA 94546, (510) 247-2526, http://www.lakechabotrecreation.com.
Lake Chabot Facts
Fishing and Boating; The 315-acre, well-stocked lake is open for fishing and boating throughout the year. The Lake Chabot Marina Cafe offers a well-stocked bait and tackle shop and is open year round (closed Thanksgiving and Christmas). It features a restaurant that serves snacks, breakfast, and lunch. Swimming is not permitted in Lake Chabot.
Regulations: Fishing at Lake Chabot requires a current California Fishing License with stamps and an EBRPD Daily Fishing Access Permit for all anglers aged 16 and older. California Fish and Game regulations apply. Fishing licenses and EBRPD permits may be purchased at the Marina Cafe. No live fish may be used as bait. All other legal bait and lures are permitted. Fish may be cleaned only at the cleaning station along the walk near the parking lot. Catch-and-release angling is encouraged for bass, bluegill, and crappie. However, the release of badly hooked game fish and all non-game fish is not allowed. Please bring any unwanted and tagged fish and your completed creel census card (on back of fishing permit) to the Chabot Marina.
Rental boats and private craft: Rental boats include row boats, canoes, pedal boats, kayaks, Duffy boats, and boats with electric trolling motors. For more information, call (510) 247-2526. Canoes, kayaks, and scull craft 20 feet and under may be carried in and launched ($2). Inflatables with 3 or more chambers are allowed. Float tubes may be used at Lake Chabot. Persons using float tubes must wear waders or other wetsuit material to prevent body contact with the water in the reservoir.
ADA Accessibility: Lake Chabot has several fishing piers that include one with access for the disabled, and there is a wheelchair ramp from the parking lot to the marina. Within the marina area, there are wheelchair accessible restrooms, drinking fountains and picnic tables. The disabled parking spaces are located in the main lot.
Hiking, Riding and Bicycle Trails: Lake Chabot offers over 20 miles of hiking trails, which connect to the additional 70 miles of trails in adjoining Anthony Chabot Regional Park.
Picnicking: Picnic facilities (tables with barbecue pits) are located adjacent to the parking and marina area. These sites include first-come, first-served sites and 6 reservable picnic areas that accommodate 50-200 people each, depending on the site. For information or to make a reservation, call all 1-888-EBPARKS.