I'm not going to lie, we are going into the part of the season where fishing opportunities slim down and as a result so do the potential range of fishing articles you can write.
This isn't to say that good fishing doesn't exist. Sturgeon fishing is good at this time, as is bait fishing for stripers. In a few days steelhead fever will descend on north state rivers and of course trout are hitting in the reservoirs…
Now I could easily whip out a how to article about how to soak eel for sturgeon or how to thread live bullheads for striper fishing. PowerBait for trout? A primer on roe drifting for mid-winter metalheads? In the 14 years I've written this column, we've covered all of this multiple times, so I figure this is a good time to explore something new.
I'm what you'd call a handy guy. I can fix things and build things out of wood and solve problems with a collection of assorted hardware and parts.
I often take a given piece of gear and repurpose it or improve it in some way.
Tape, glue, screws, bolts, rivets and even the ability to sew all play into the ability to fix, improve and create useful stuff.
Over my years of tinkering around the house and fixing and tweaking hunting and fishing gear I've noted a big cross over in fishing and hunting gear and home maintenance. And the cross over goes both ways.
I use a number of common household/hardware store items in my fishing tackle assortment and a some of my fishing gear finds its way into home improvement and gear repair projects.
Without further windup, let's ramble…. I'm going to toss out a whole bunch of tips and tricks for you to ponder.
Black electrical tape is awesome. I have one of those saltwater jigging rods that doesn't have a reel seat. You just clamp the reel on the rod butt wherever you want it…The problem was that the reel would not stay put.

Solution! Using a few rolls of electrical tape, I built up the area where I wanted the reel with a nice thick tapered skin of tape. Then I took a utility knife with a sharp blade and cut out a "reel seat" that eventually fit the footprint of my reel perfectly.
I've used electrical tape to attach deer tags, repair raingear and knee braces, fix rifle slings and more… The tape is sticky and somewhat elastic so you can apply it with a bit of tension…
Let's move on…Braided line is extremely useful around the home! (And by the way when you spool a reel with braid if you want to skip the mono backing to keep the braid from spinning on the spool, you can coat the spool with electrical tape and accomplish the same thing.)
Back to braid, the heavy stuff, say 65 and 80 pound, works great for hanging picture frames, hummingbird feeders and hanging or repairing you wife's wind chimes.
Those uses are pretty obvious. Getting more creative, braid is also dandy for sewing. I just used 30-pound braid to sew up small rips in one of my new Caribou big game meat bags.
If you need to sew something up and you need that area to be strong, reach for the braid. Use it on your jeans, boots whatever.
Speaking of sewing forget those tiny straight needles grandma uses, get your self a variety pack of heavy hooked and straight needles. Hooked needles are oh so easy to work with!
The subject of braid moves us along to my next product, super glue. You can drop the money on the Crazy Glue name or you can buy generic. I used generic most of the time and if I need the good stuff I spring for Gorilla Glue brand…. Hey it has Gorilla in the name!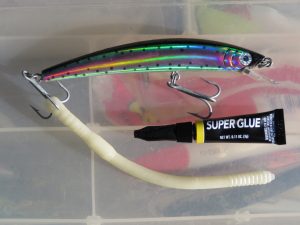 What do I use the glue for? Beyond the obvious I coat my braid stiches with super glue if I need an exceptionally strong seam. I also use it to coat fishing knots in both mono and braid to lock them in place.
Anytime you are using soft plastic baits use a little shot of glue to secure the baits to the hook. That goes for the Delta trollers out there too, that like to pin worms on the hooks of their minnow plugs.
While I can't advise you to do the same, I've used super glue to glue shut a slice in my finger before…. It burns like fire, but it works.
Zip Ties! Big ones, giant ones, medium small and downright tiny, I have them all and I use them all. They can be used to fix so many things and perform so many tasks. Keep a big selection in the garage, some in the vehicle and some in your hunting and fishing stuff.
Your shoe lace is broken…. Get the paracord!…Ooooppps it's gone…Grab the 80 pound braid and quadruple it!…. Braid is gone too…. Grab a half dozen of those medium size zip ties and go to work. You'll get that boot "laced"!
You've got mice or worse rats. Yuck!
You've got traps but nothing good for bait. Attach the head of a Q-Tip to the trigger on the trap, set the trap and put a few drops of Anise Pro-Cure Super Gel on the Q-Tip. Fishy smells work great too. If you can't pull the Q-Tip trick off, a glob of PowerBait dough or a chunk of PowerWorm or Gulp! will often do the job.
My wife hates yellow jackets so we have several of those yellow plastic yellow jacket traps. It takes scent to lure the yellow jackets inside where they get trapped. Pro-Cure works well for this too. Fish scents like anchovy and sardine attract yellow jackets and as with fishing, I've found that Bloody Tuna is tough to beat!
At the moment we have a new kitten in the house. I've taken one of my old deer hair bass flies and clipped off the hook. I attached about 4 feet of yarn to the tip half of a two-piece spinning rod and tipped the yarn with the bass bug. Have you ever seen a kitten fly? It's pretty cool!
Those commercial fishing bibs Fish Sniffer readers see me wearing all summer when I'm saltwater fishing, come in mighty handy in the winter and anytime I've got a messy yucky job to tackle. I love my Grunden's!
I often wear them when I give my dog Lucy a bath. I don them when I break out the power washer and when I clean my ice chests with bleach. Carrying dry firewood that had gotten rained on is a messy proposition that will leave you filthy in short order…A perfect time to break out a thick pair of Grundens commercial bibs.
And finally, if you have Grundens you need some Xtra Tough rubber boots. They work great on the high seas, but they are equally useful at home when I'm walking around raking up piles of wet moldy muddy oak leaves on my property.
I've got more, like coating your wall tent with Thompson's Water Seal using a pump up sprayer or employing large high quality fishing snaps for gear connectors or silent zipper pulls, but we'll save those for later. You've got plenty to think about…
Remember, experimentation is the mother of invention!