The final couple of weeks of the 2017 salmon season produced surprisingly good fishing for late fall Chinook salmon in the Sacramento River in the Jelly's Ferry and Red Bluff areas – and for those targeting steelhead as a record run of sea-run rainbows returns to the Coleman National Fish Hatchery.
The fall Chinook salmon run at the hatchery has fallen 6 million short of producing the annual goal of 12 million juvenile salmon needed to provide mitigation for the spawning habitat blocked by the construction of Shasta Dam.
The king salmon season on the Sacramento, American and Feather rivers ended on Saturday, December 16, and won't resume next year until July 16.
"This year we saw probably the best late-fall salmon season in years," said Robert Weese of Northern California Guide Service. "There were a lot of salmon showing and the weather conditions allowed us to fish."
I fished with Weese and four anglers – Richard Keffer, Roger Rondeau, Kerie Keffer and Garry Keffer – on Thursday, December 14. We hooked eight fish, landing three salmon to 15 pounds and one steelhead. We fished both sardine-wrapped plugs and salmon roe in the Barge Hole.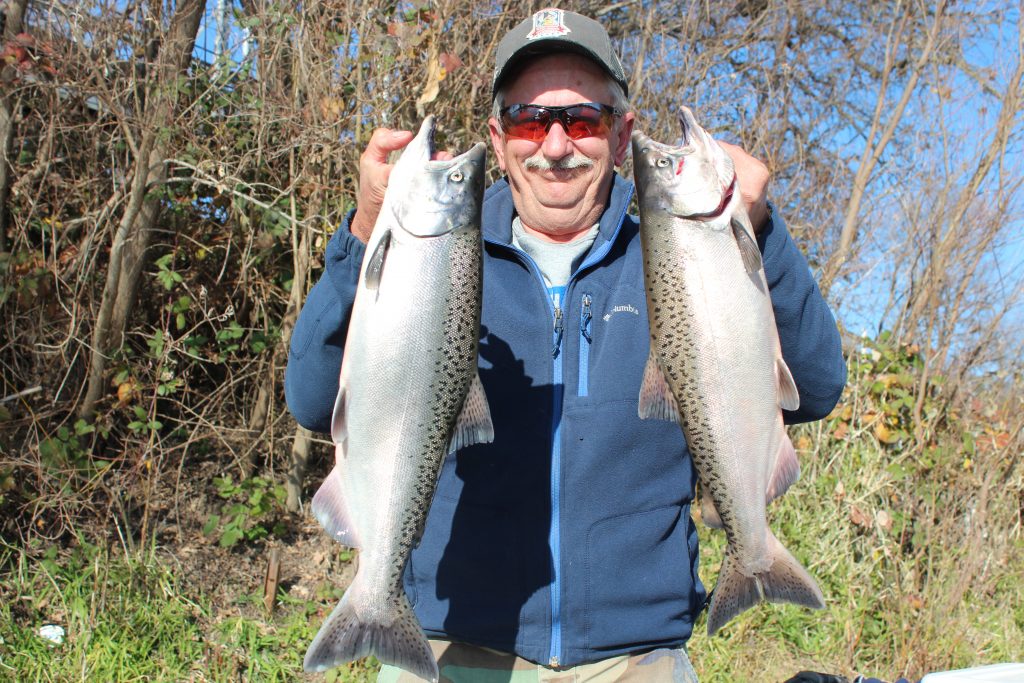 We launched in the pre-dawn darkness at the Jellys Ferry access on the Sacramento. Although it was in the mid-thirties, there was no ice or frost on the boat or the ground and we made our way upriver. We were the only boat that apparently launched at the ramp that morning.
When we arrived upriver at the Barge Hole, several other boats were fishing. We started off the day fishing Flatfish with sardine wrappers. Richard started the day off right by hooking a big salmon on the lure, but it came off right near the boat. Kerrie followed up by hooking a jack that she also got right next to the boat, but it came off.
Finally, Richard hooked the next fish on a plug. Being careful to set the hook hard, he fought the spirited fish for several minutes until it neared the boat. Weese netted the fish and put it in the boat. It was the first fish in the boat that day, a beautiful bright, silver and fat Chinook in the teens.
Roger was the next to hook up as the morning proceeded, landed two bright jack salmon, his limit for the day.
Kerie Keffler hooked a couple more fish that looked like they were good-sized by the way they were running, but both fish came off. I landed the last fish of the day, a scrappy steelhead, that I hooked on salmon roe, after losing another salmon right at the boat.
On the next day, two anglers fishing with Weese landed four salmon weighing 28, 15, 8 and 8 pounds in the same hole. The wind made fishing tough on Saturday, but Weese still ended up with one 12 lb. Chinook caught on roe.
Now that salmon season is over, Weese will be targeting rainbow trout and steelhead in the same river stretch. "We've been averaging 1 to 2 steelhead per day while salmon fishing this season," he noted.
Weese will be drifting salmon roe for the steelhead, as well as trolling Hot Shots.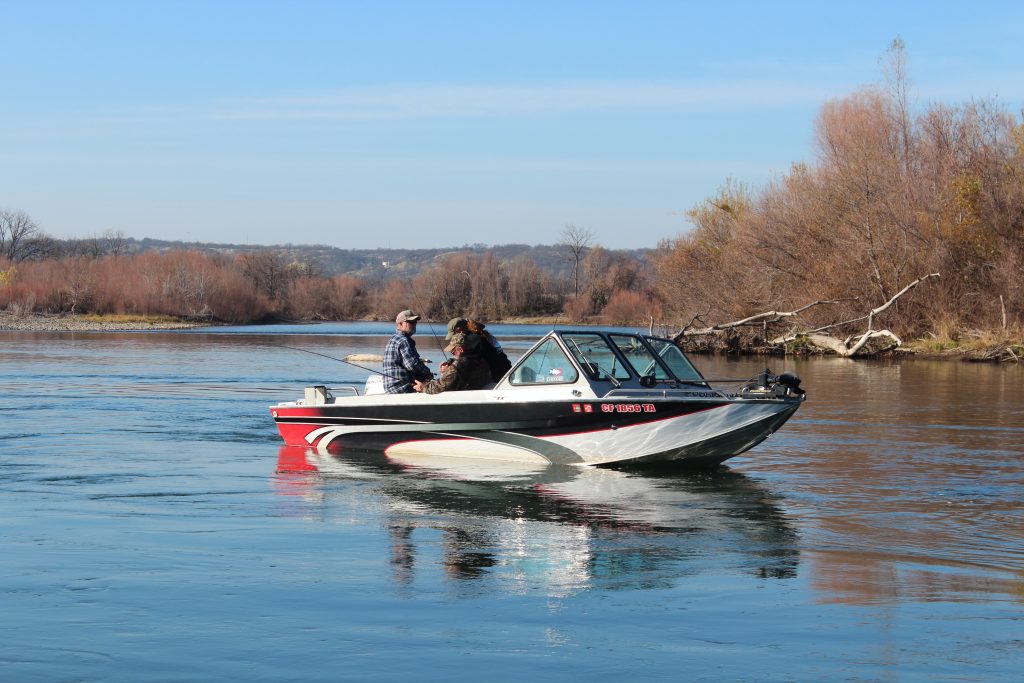 The fall run Chinook run was down significantly from previous years, but the late fall king run appears to be up from previous years and record numbers of steelhead are showing.
Overall 8,200 salmon, a mixture of fall and late fall Chinook salmon, were collected between October 3rd and December 12th at the Coleman National Fish Hatchery (NFH).
"Of the known 5,424 fall chinook salmon, 5,094 were 2 year olds and 329 were 3 plus year olds," said Brett Galyean, Project Leader, at the Coleman National Fish Hatchery Complex. "From the fall Chinook salmon, the hatchery collected 4.2 million green eggs."
He said it is too early to estimate the run size for the late fall Chinook, since late fall spawning operations started the week after and run through March.
However, the hatchery's fall Chinook salmon program will fall short this year and will not meet the 12 million smolt release goal.
"Currently we have on hand 6 million eyed fall Chinook salmon eggs/fry," he said. "We all could sure use some wet weather this spring and have turbid high flows in Battle Creek and the Sacramento River when the fall Chinook salmon fry are released in April 2018."
Why the low fall Chinook return? "You also have to remember the salmon runs are made up of 2, 3 4 and 5 years old fish," said Galyean. "So even though the state might be out of the drought and had 2 wet winters, a large percentage of the salmon that are returning this year went out at as fry in 2015 and were trucked (all 12 million falls Chinook salmon) or were released with low flows (400K late fall Chinook salmon) in the Sacramento."
"The take home message is the salmon runs are still dealing with the drought impacts," he said.
The better news is the good showing of steelhead at the hatchery. During the same collection period of Oct 3rd through Dec 12, the hatchery collected 9,800 steelhead, the largest return ever to Coleman.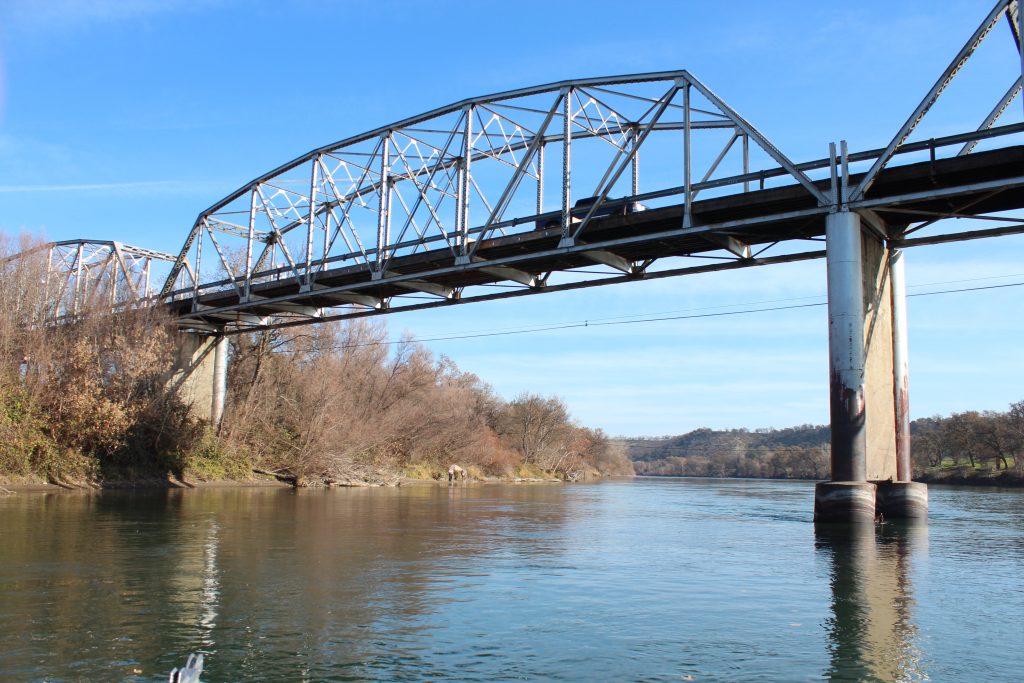 The steelhead spawning at Coleman had not started as of press time.  "The hatchery will start spawning steelhead next week through the end of February," he noted.
"It has been a great surprise having all of the steelhead return," noted Galyean. "We had several days during fall Chinook salmon spawning operations, where the hatchery collected over 900 steelhead. There have been years here at Coleman NFH where we have not had 900 steelhead return between October-December."
Why the great steelhead return? "Most of these steelhead were released during the first week of January of 2016. When we release the steelhead smolts, we truck them to Bend Boat ramp on the Sacramento River, just north of Red Bluff, CA. During the first week of Jan 2016, river flows started at 4,000 CFS. went up to 30,000 CFS and then hovered for the remainder of the week around 20,000 CFS.  My thoughts are the high turbid flows help push the steelhead smolts out, and provided cover from predators," said Galyean.
Robert Weese conducted two snorkel surveys recently at four spots, the Jellys Ferry Riffle, the Stewart 's Plant Riffle, below Lake California, and the new riffle that formed below the old mouth of Battle Creek with the high flows of the past winter.
"During my surveys, I saw no spawning salmon at all, four striped bass, and 6 or 7 rainbow trout. There weren't many pike minnows or suckers either. In the last week of October, there should have been hundreds of salmon spawning. That is 8 acres of prime spawning habitat," said Weese.
Weese, a longtime leader of the NorCal Fishing Guides and Sportsmen's Association, said there are solutions to bringing back natural spawners to the river.
First, keep the flows conducive to habitat. He showed me new side channels that were dry. "At the minimum flows, this habitat is not accessible to spawning salmon – unless they're up to 6,500 cfs," he noted.
Second, he recommends that they take the carcasses from the fish hatchery into the riffles to recreate a microbial food chain.
"The river has a lack of carcasses. The river is dying because there are no salmon spawning. A lot of other species depending upon the salmon carcasses," he noted
Third, he recommended that some hatchery juveniles be released as soon as possible on the gravel bars to repopulate the river. In the past, fishery biologists have argued against releasing fry or doing injection of eggs into the gravel because they would compete with natural fish for food and habitat.
"That's an argument when you have an overabundance of natural spawning fish, but that's not the case now. Right now, we have plenty of clean gravel from last winter's storms. There are just no fish. We want to do a pilot program for 3 to 4 years on the riffles to see what returns," said Weese.
I agree with Weese. We need to start engaging in creative solutions like those he has suggested to bring natural spawners back to the river. Recent scientific studies show that not only do steelhead, trout, suckers and other native species depend on salmon eggs and salmon carcasses for food, but the entire food chain from microbes, to insects, to wildlife such as raccoons and otters, to riverside vegetation, depends upon salmon carcasses to spread the ocean nutrients to riparian ecosystems.
For more information, call Robert Weese of Northern California Guide Service at (530) 755-7196.
Sacramento River Map Facts
Salmon& Trout Fishing Regulations:
• The Sacramento River from the Deschutes Bridge to 500 feet upstream from the Red Bluff Diversion Dam
is open to salmon fishing from Aug. 1 through Dec. 16. The bag limit is 2 salmon per day and 4 in possession. This section of river is open year round for rainbow trout and steelhead fishing. The limit is 2 hatchery trout or steelhead per day and 4 hatchery trout or steelhead in possession.
• The Sacramento River from the Highway 44 Bridge to the Deschutes Road Bridge is open to trout and steelhead fishing all year. Only barbless hooks may be used. The bag limit is 2 hatchery trout or hatchery steelhead per day and 4 hatchery trout or steelhead in possession.
• The Sacramento River from 650 feet below Keswick Dam to the Highway 44 Bridge is open for trout and steelhead fishing from January 1 to March 31 and from August 1 through December 31. This section is closed to all fishing from April 1 through July 31. Only barbless hooks may be used. The limit is 2 hatchery trout or hatchery steelhead in possession.
Fishing Guides:
Guides are available for king salmon, striped bass, steelhead and shad fishing during the different seasons. Guides include:
• Robert Weese of Northern California Guide Service (530) 755-7196
• Mike Bogue of Mike Bogue's Guide Service (530) 246-8457
• Bret Brady of Bare Bones Guide Service (530) 272-7137 or (530) 263-4451
• Manuel Saldana, Jr. of MSJ Fishing Guide Service (530) 301-7455,
• James Stone of Elite Sportsman Guide Service (530) 923-9440,
• James Netzel of Tight Lines Guide Service (888) 975-0990
• Monte Smith, Gold Country Sportfishing (209) 581-4734
• Kevin Brock of Kevin Brock's Guide Service (800) 995-5543.
Bait and Tackle Stores: Kittle's Outdoor & Sport Co., Colusa, (530) 458-4868, Johnson's Bait and Tackle, Yuba City, (530) 674-1912