Sugar Pine Reservoir, a beautiful mid-elevation American River watershed lake located north of Foresthill, is most renowned for its rainbow trout fishing, but it also offers sleeper fishing for smallmouth, largemouth and spotted bass, channel catfish and sunfish.
While the California Department of Fish and Wildlife (CDFW) plants rainbow trout in the lake in the spring and fall, browns are exceeding rare in the catches at Sugar Pine reservoir. The CDFW last stocked the reservoir with catchable browns in the 1990s.
Sugar Pine is one of the favorite lakes for Cal Kellogg, Fish Sniffer Editor, to fish, but he's never caught a brown, though he's landed lots of rainbows and some bass.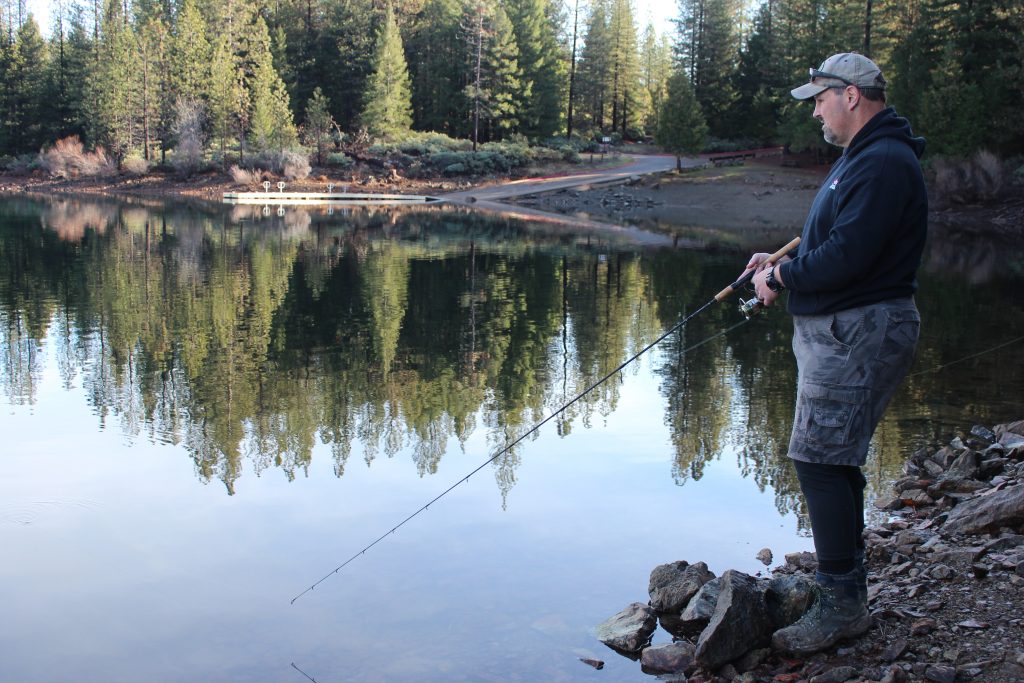 "I've spent hundreds of hours on this lake," said Kellogg. "The biggest rainbow trout I've ever seen caught here a was 22 inch rainbow that my wife, Gena, hooked on the second ever date with me 23 years ago," said Kellogg as we fished the reservoir on an unusually warm winter day. "She caught the fish right off the point that we're fishing."
"The largest – and only brown – I've heard of was a 5 pounder caught by Olin Bycroft of Foresthill, but browns are pretty rare here. Sugar Pine fishes best during the spring," said Kellogg.
About 15 minutes later after Kellogg said that, a guy walked down the water and quipped, "I was going to shoot you, but I decided not to. Have you caught anything?"
"No, there's fish surfacing off shore, but they're not biting our offerings," said Kellogg.
"Hey Dan," Kellogg said to me, "this is Olin, the guy who caught that brown I was telling you about."
I reached out and shook Olin's hand, and quipped, "I'm honored to meet the lake brown trout record holder."
Anyway, we didn't get any bites from rainbows, browns or other fish, and decided to leave. The fishing should definitely get better soon, because a mid winter plant of rainbows was scheduled for Sugar Pine the week of January 21.
For me, Sugar Pine has been a feast or famine situation. I've caught easy limits of rainbow trout while shore fishing three out of the six times I've been there, but didn't catch anything the other times. Ironically, one of the slowest times was when I went to the lake during a rainstorm the day the lake was planted. With trout. However, fishing was hot the following day.
Sugar Pine is unique for being one of one of two lakes in a 150-square mile geographical region characterized by rushing streams in deep canyons filled with wild rainbow and brown trout. The only nearby reservoir is Big Lake, a privately-owned lake and campground.
The lake is not big by Sierra Nevada standards, with a reservoir capacity of 6,921 acre-feet with a surface area of 165 acres. Tahoe National Forest manages the recreation facilities under an agreement with the U.S. Bureau of Reclamation.
True to its name, sugar pines and other conifers surround this scenic reservoir. The reservoir sits at an elevation of 3620 feet on Shirttail Canyon, a tributary of the North Fork of the American River.
Like many California reservoirs, Sugar Pine suffered low water conditions during the drought. But the lake is nearly full and the boat ramp is in full operation, due to the runoff from this snow the snow and heavy precipitation in 2016 and 2017.
Rainbow trout draw most anglers to the lake when the CDFG stocks them in the spring. The Department has historically planted the lake with both catchable rainbows and fingerling rainbows, but hasn't planted fingerlings since 2010.
The CDFW is now planting only catchable rainbow trout and Eagle Lake trout in Sugar Pine. "We released 6,470 trout in the lake 2016, and 16,900 in 2017," said Jay Rowan, California Department of Fish and Wildlife (CDFW) North Central Region Senior Environmental Scientist.
While most of the fish caught at Sugar Pine are recent planters, a decent number of holdover rainbows in the 14 to 20 inch range are caught here also. In addition, wild trout inhabit the lake's tributaries.
Trolling set-ups used at other mid-elevation lakes, such as nightcrawlers behind dodgers, Rapalas, Cripplures, Needlefish and Apex lures, are productive here. Bank anglers do best
tossing out Kastmasters, Thomas Buoyants and Cripplures, Power Bait, nightcrawlers, salmon eggs and Berkley Gulp Baits.. The points near the boat ramp offer the best fishing.
This lake can be fished all year round, though access can get tough after snowstorms in the winter and spring.  Sugar Pine is a relatively quiet, peaceful fishing lake, with a boating speed limit of 10 miles per hour, preventing water skiers and personal watercraft enthusiasts from marring your fishing experience – and making it a good lake for family camping and fishing adventures.
The reservoir also features self-sustaining populations of Florida-strain largemouth bass, smallmouth bass, bluegill and redear sunfish.
CDFW biologists observed five to six year classes of bass and sunfish when they electro-shocked the lake in 2000. Although they saw plenty of 2 to 3 pound largemouths, they didn't see any "monster" bass.
In an electroshocking survey for just three hours in February 2009, Department biologists collected 2 YOY (young of the year) spotted bass, two YOY smallmouth bass and 2 YOY bluegill.
Few anglers ever target Sugar Pine for bas, but it can yield good fishing.  Kellogg targeted the bass at Sugar Pine once with Don Paganelli of Paganelli's Bass Fishing Experience several years ago.
"We caught a total of 12 largemouth bass in the 1 to 1-1/2 lb. range," said Kellogg. "We found the fish in 10 feet of water around trees, brush and other structure. The fish hit best on Senkos and Carolina-rigged Aaron's Magic pattern plastic worms."
The lake also has a small population of channel catfish. The fish average 2 to 3 pounds, though larger fish are possible.
Sugar Pine, contains two group campgrounds, two family campgrounds; a boat ramp, hiking trails, picnic area, swimming beach and a trailer dump station. Most facilities are wheelchair-accessible.
Sugar Pine has great shore access, with a hiking trail winding around the entire lake.
The reservoir has been open to fishing and other recreation since 1985. The dam is a feature of the Bureau of Reclamation's Central Valley Project, American River Division, Folsom Auburn Unit. The reservoir provides water for irrigation, municipal and industrial uses to the Foresthill Divide area.
For more information, contact Tahoe National Forest, 631 Coyote Street, Nevada City, CA. 95959, phone 530-265-4531.
Fishing and camping is also available at Big Reservoir, a privately owned 80-acre lake, out of the Morning Star Campground.  The facilities are open from Memorial Day weekend through October 15.  The lake features rainbow trout, largemouth bass, channel catfish, and bluegill for anglers to pursue.
The daily fishing permit is $30.00 for day users and $12.00 for campers. Camping rates range from $30 to $35 per night.
Anglers are limited to four trout and or catfish per permit, per day. Boat and electric trolling rentals are available, but private boats aren't allowed.  For more information, call Morning Star Campground at 530-367-2129.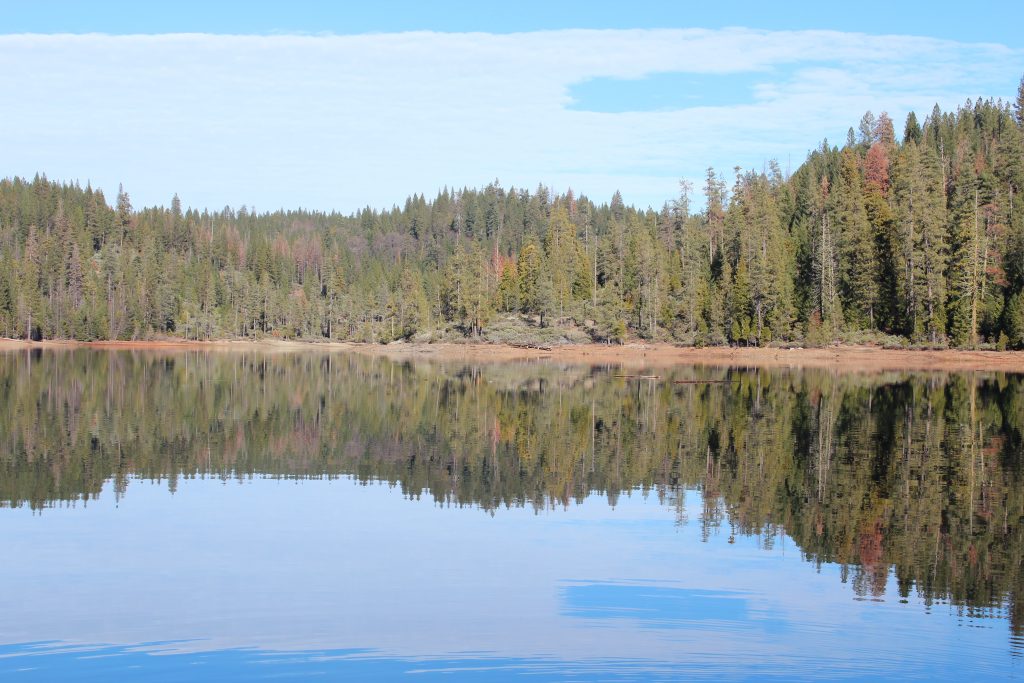 Sugar Pine Reservoir Facts
History and Location: Sugar Pine is located in the Tahoe National Forest at 3,620 feet above sea level.
Fishing season: Fishing is open year round for rainbow trout, brown trout, largemouth bass, smallmouth bass, channel catfish and bluegill. Access can be tough during winter storms. Fishing is most popular from mid-May through November.
Manzanita Picnic Area: North shore, 23 sites. There is mile-long, paved, shoreline trail suitable for wheelchairs. The rail continues on a gentle, rolling grade for another 2.5 miles around lake to south shore.
Camping:
Forbes Creek Group Campground: Southeast side, two 50-person campsites, central parking suitable for RVs. There is a paved boat ramp nearby. Swimming is not recommended near ramp. Fees and reservations required.
Giant Gap Campground: North shore, 30 campsites, some access for trailers/RVs. This is a fee area; reservations accepted. Double or triple vehicle sites are available.
Shirttail Creek Campground: North shore, 30 campsites, some double and triple vehicle sites, and moderate trailers/RVs okay. This is a fee area; reservations are accepted.
Boating facilities: All craft is allowed, but there is a 10-mph speed limit. Paved boat ramp on south shore. This is flat water paddling lake. With the limit on power boating, this is a good lake to let kids learn and adults practice.
Off Highway Vehicle (OHV) Trails: 
Well groomed OHV Trails in the Sugar Pine Recreation Area attract off-road riders of trail bikes, dirt bikes and quads. Parker Flat and Sugar Pine OHV Staging are provided primarily for OHV users. Both sites have vault toilets and a loading ramp. Parker Flat is suitable for car and tent campers. Sugar Pine Staging is for RV use and day parking; tent camping is not permitted. Both provide easy access to the Foresthill OHV trail system. China Wall OHV Staging area, approximately 5 miles further northeast on Foresthill road is also a popular kick-off point to access the many OHV trails that criss-cross the Divide.
Information and Reservations: Tahoe National Forest, 631 Coyote Street, Nevada City, CA. 95959, phone 530-265-4531.For camping reservations, call 1-877-444-6777.
Directions: From Foresthill follow Foresthill Divide Road east for 7 miles, then turn left (north) on Sugar Pine Road #10. It is five miles to the reservoir.