Do you remember 1989? That was the year when the 6.9 Loma Prieta earthquake devastated the Bay Area and the Oakland Athletics led by Ricky Henderson devastated the San Francisco Giants in the World Series!
While the earthquake and the World Series are the big headlines for northern Californians' reflecting on 1989, it was also a significant year for the north state's freshwater anglers.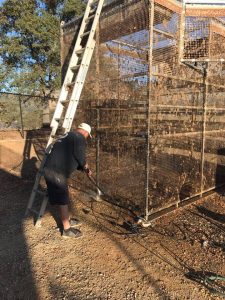 It was in July of 1989 that the California Department of Fish and Game (now the Department of Fish and Wildlife) cut all funding for raising and stocking kokanee salmon in California waters.
In response to this action by the CDFW, a Sacramento-based non-profit organization "Project Kokanee" was formed in 1991 by Hal and Winnie Bonslett, Fish Sniffer founders, and their associates to provide the CDFG with the volunteer manpower and funds needed to keep these fisheries going. Many of our present-day kokanee fisheries exist due to the efforts of the Bonsletts.
Fast forward to the winter of 1997 when a group of friends and anglers met in Fresno. A discussion among them over the need to improve the kokanee and chinook salmon fisheries on the east side of the San Joaquin resulted. They concluded that another foundation similar to "Project Kokanee" was needed to address problems with these fisheries.
This group contacted their friends and invited them to a meeting to discuss the formation of an appropriate organization and evaluate support of San Joaquin Valley fishermen.
The meeting was held on June 3, 1998 and Kokanee Power was formed. Out of the 32 individuals attending, 30 joined the organization and a president, most of the club officers, and an initial board of directors were elected.
In July of this year Kokanee Power will celebrate their 20th anniversary. Over the past two decades the organization has grown in both size and influence.
Today Kokanee Power is a non-profit organization of volunteers & members dedicated to the enhancement of California and Oregon inland kokanee, trout and salmon fisheries.
Kokanee Power, in part, provides assistance to the California Department of Fish & Wildlife and other fisheries enhancement organizations in their ongoing efforts to keep these fish in public waters.
KP also promotes inland fisheries enhancement through various net pen projects such as those at Collins, Lake Almanor, New Melones, and Shasta Lake, support of hatchery programs, education through scholarships & grants, and sportsmanship through various fishing derbies and tournaments.
Kokanee Power's membership of more than 1200 men and women volunteer their time, money and enthusiasm to accomplish this task and make California's freshwater fishing better for everyone!
A Few Words From Gary Coe, Kokanee Power President
When I set out to put together a piece about Kokanee Power's 20th Anniversary I picked up the phone and reached out to Gary Coe, KP's longstanding president for a few comments.
"I'm so proud to be part of this organization," exclaimed Coe. "We are a conservation organization, we are committed to enhancing California fisheries and we also work with California communities, supporting things like kids fishing events and providing scholarships at the community college level. At the end of the day we are fishermen dedicated to improving fisheries and California communities at a grass roots level."
"Everything starts with money and time. Without dollars and man hours you can't accomplish anything. We've raised more than half a million dollars since 2006 and over $750,000 over our 20 year lifespan. Our volunteers have invested many thousands of hours, raising funds and working in the field on projects like fish pens and kokanee egg collection," said Coe.
"Today we are involved in 20 fish pen rearing projects across northern and central California. We are projecting our fish food bill to be about $20,000 this year and we are shooting to help raise around 70,000 trout. When the fish go into the pens they are mainly standard issue planter rainbows, but when they are released up to a year later they've grown into incredible 2 to 4 pound trout that are fully acclimated to the lake. These big hard fighting fish are a great boost to the lakes where they are released," Coe asserted.
"If you aren't a member of Kokanee Power, I urge you to check us out. Your investment in dues will be spent enhancing the state's fishing opportunities and celebrating the great sport of fishing. And as part of the organization you'll be hanging out with some pretty awesome folks. Our derbies provide lots of family fun and camaraderie at some of the state's best trout and landlocked salmon fishing destinations. Join us, let's fish and have some fun while pushing forward the sport of fishing," said Coe.
The Kokanee Power Annual Banquet Slated For March 3
Food, fun, raffles, fishing talk and more is what you can expect to find if you attend Kokanee Power's big 20th Anniversary Banquet Extravaganza!
This year the event will be held at Holiday Inn Sacramento near the Downtown Arena at 300 J Street.
The cost for dinner is $65 per person and 10 person tables are available for $600. Cocktails will be served at 5pm and dinner kicks off at 7.
We've already reserved the Team Fish Sniffer table and we hope to see you at the dinner.
To reserve your spot, go online and visit, kokaneepower.org.