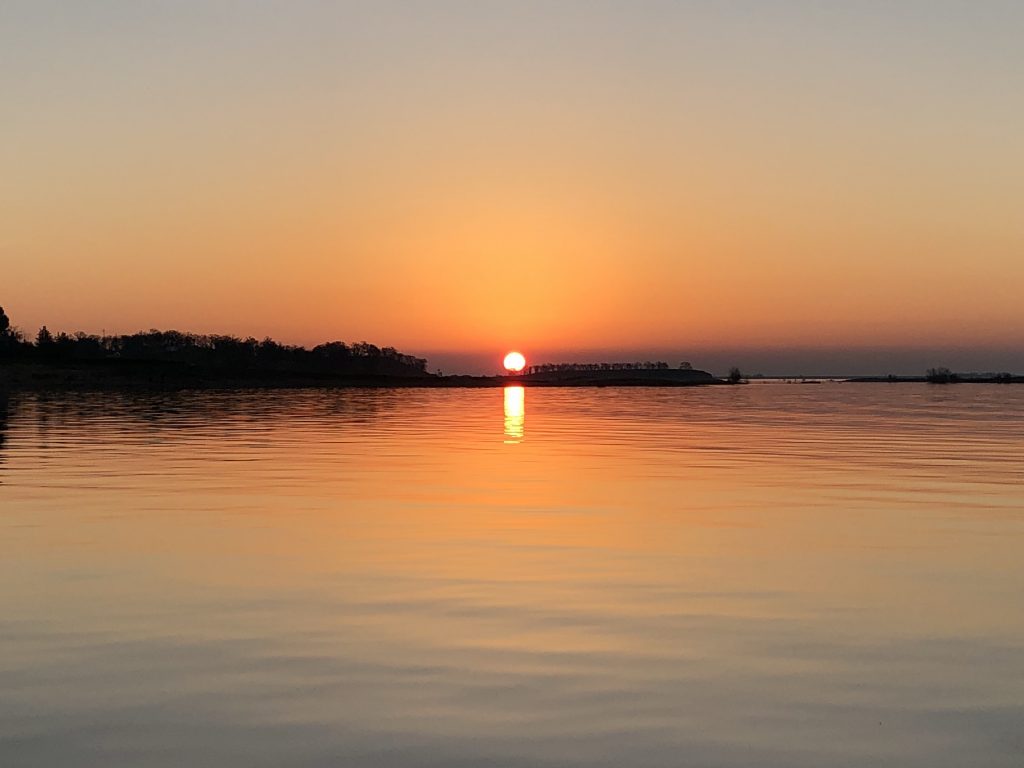 You can enjoy both numbers and size when it comes to fishing for black bass on Lake Camanche. Just ask Albert Berends, former Fish Sniffer staffer and avid bass angler, who reported the trip of a lifetime on the East Bay Municipal Utility District reservoir, located on the Mokelumne River in the rolling Mother Lode foothills east of Lodi.
On Wednesday, February 7, Berends and his fishing buddy Wayne O'Halloran of Rocklin decided to go to Camanche after a previous trip to New Melones Reservoir, where they had caught a lot of bass while vertically jigging.
To say the fishing started off slow at Camanche was an understatement. "We fished all morning until noon with no action," said Berends. "We looked at one point and it appeared like it was worth fishing. We looked on the fish finder and the fish were loaded from 30 to 50 feet deep like a haystack. From the moment we started jigging, it was like jack poling tuna into boat."
The fish, stacked up as they fed on a large concentration of shad, were 75 percent largemouth bass and 25 percent spotted bass averaging 2 to 2-1/2 pounds. The biggest five bass included a 5 lb. 10 oz. largemouth, 5 pound 1 oz. largemouth, 4 lb. 14 oz. largemouth, a 4 lb. 12 oz. spotted bass and a 4 lb. 5 oz largemouth.
They used ½ oz. gold Kastmasters, ¾ ounce chrome Hopkins spoons and 1 ounce white/pearlescent blue Blade Runner spoons on G Loomis rods/Shimano reel combos.
"The boats were coming by and watching us as we hooked one fish after another. They were either cheering us on or swearing at us," said Berends.
"Some guys in a patio boat asked us, 'What are you doing?' We told them and invited them to fish near us. As we caught and released 40 fish, they caught and released 3 fish. They said, 'It was nice of you to invite us,'" he noted.
"We fished from noon to 5:30 p.m," he disclosed. "We estimated that we caught and released 80 bass between the two of us from noon until around 6 p.m. Barely any of the fish were under 1-1/2 pounds. When we would lose one fish, we would quickly get another one on a jig."
"The water temperature was 57 degrees and I honestly expected the bass to be shallower," Berends said. "The water had 15 to 20 feet of visibility. We caught fish in the main body and the river arm, but most of the fish were up the river."
Then on Thursday, February 15, Berends and O'Halloran went fishing at Camanche again. The fishing was still excellent, though not as red hot as on their previous trip. They fished from 7:30 am to 5:30 pm.
"The bait was scattered and so were the bass," said Berends. "We caught about 50 of them with the same techniques as the day before, but the average bass was smaller. However, we can't complain because our biggest fish were bigger. Our best 5 were about an ounce heavier than last week at 24-13."
Berends landed the top fish of the day, a 7 lb. 10 oz. largemouth, while fishing at 50 ft. with a 3/4 oz. Hopkins lure.
"We caught fish all day, but more of them were shallower than last week," he disclosed. "Most of the big bass came between 3:30 and 4:15 in the afternoon when the wind began to blow really hard, and it turned them on, anywhere from 50 to 15 feet deep."
"It was an interesting day because we had to move constantly," concluded Berends. "The fish were nowhere near as grouped up as on the previous trip, but it was really fun watching a lot of the vertical jigged fish respond and strike on our Lowrance electronics. We call it 'video game fishing.'"
Dennis Choi of Rocklin had a great day of fishing on January 29, when he landed this 14.46 lb. largemouth bass while bait fishing for trout at Lake Camanche. Photo courtesy of CAMANCHE RECREATION COMPANY, Burson.   
That's not the only great bass story to come out of Camanche lately. Dennis Choi of Rocklin went fishing for trout off the north shore day use area at Lake Camanche on Monday, January 29. He didn't hook any trout, but he managed to catch and release a monster 15.46 lb. largemouth bass while using Berkley Power Eggs.
"It was my seventy-third birthday," said Choi. "I feel very lucky to catch such a huge fish, especially since it was the second bass that I have ever caught."
This fish is the second biggest largemouth ever caught at Camanche and is eclipsed by only by the lake record of 18.17 pounds set in 2015 by Kevin Miranda.  Miranda landed that huge fish while fishing a river2Sea crankbait near Little Hat Island.
Choi hooked his lunker around noon while fishing with an Okuma 8.6 ft. ultralight spinning rod teamed up with a Shimano reel. The reel was filled with 4 lb. test P-Line CXX line, tipped with a 4-lb. test Berkley Vanish fluorocarbon leader.
"The fish hit so hard that it bent the rod completely over in the holder. I grabbed the rod and as soon as I set the hook, I thought, 'Holy Toledo, this is a big fish,'" he said.
To stop the fish from spooling his reel, Choi cranked down on the drag and used his index finger to control the release of line. It took him 10 minutes to successfully battle the giant.
"Finally, after short stroking the rod and tiring the fish out, I got it to shore. My fishing buddy, Peter Chang, netted the fish by centering the small trout net right under it. When he lifted the net up, the bass just folded in the net," he said.
After filling his ice chest with water and putting the fish in it, Choi and his buddy drove to the marina, weighed the fish on the scale and marina manager Kimball LaMaux shot some photos. They then released the giant fish back into the lake.
In addition to black bass, there are rainbow trout, channel catfish, black crappie and bluegill found in abundance in the lake. There is also a small sleeper population of kokanee that a few savvy anglers target at Camanche.
While many anglers come to the lake to fish from shore or boat, very few are aware of the lake's rich history. After the dam was completed and the reservoir filled in 1964, the remains of several Gold Rush towns were flooded.
The most famous of these was Lancha Plana – "flat boat" in Spanish – a settlement in Amador County formed as a result of a flatboat ferry crossing across the Mokelumne River. Founded by Mexican settlers in 1848, it was situated on the north bank of the Mokelumne River, 9 miles south-southeast of Ione at an elevation of 220 feet. The Lancha Plana Bridge crosses the lake now about where the town once stood.
Other towns inundated by the lake rising waters include Arkansas Ferry, China Gulch, and of course, Camanche, the town that the reservoir is named after.
Since the lake is relatively shallow, with a maximum depth of about 150 feet when full, Camanche offers huge expanses of reefs and rock piles punctuated by standing timber and brush. The low areas between the rock piles act as channels and travel corridors that the lake's bass, trout, crappie, and other gamefish use for travel and security.
Besides the lake itself, the South Shore also features the South Shore Trout Pond, regularly planted with trout in the fall, winter and spring and catfish during the summer months.
For more information, contact: Lake Camanche—North Shore, 209-763-5121, or Lake Camanche—South Shore, 209-763-5912.
Wayne O'Halloran of Rocklin caught and released this 5 lb. largemouth bass and 4 lb, spotted bass while fishing 3.8″ fat Kaitech swimbait on a 3/8 oz. Owner ball head at Camanche on February 15. Photo by ALBERT BERENDS, Granite Bay.