by Louis Cardenas
As I loaded my brand new 2018 Hobie Pro Angler 12, I was stoked to get on the water to test its mojo for the first time. We launched with overcast skies and no wind into glassy water at 7AM in Capel Cove. The plan was to paddle about 30 minutes to our first spot and test the reaction bite in 10 to 15 foot deep water in hopes of finding some bass that had move up from the depths to feed.
After an hour with no action, we moved to my next spot off a main lake point with nice structure and brush piles. I was sitting in about 10 ft of water casting into out 20-25 feet, when BAM!, I landed a nice 2.5lb. largemouth on a drop shot. Not a bad way to break in the new yak!
A few casts later, I shook the tip a few times with a slow drag and felt the line slowly coming my way. I reeled up and hooked another one that came unpinned as the bass broke the surface. Now I knew we found a solid pattern. Within a short period, we landed several more off the deep point.
The fish were holding in 20-25ft water and responding to a painfully slow presentation. After watching the bass relate to bottom structure on my electronics for a good hour, I decided to switch over to green/ brown jig tipped with a strike king rage craw as a trailer. Within a few casts slow dragging the bottom, I get hammered, and I mean hammered. Its rare that I get hit that hard on a jig bite. That fish turned out to be the biggest of the day at just over 3.5lbs.
As the day went on, the bite slowed down. We managed to land 9 in total for about 10 pounds. As we talked to others heading back to the ramp, it sounded like it was generally a tough bite overall. Water temps remained in the in the 55-56 degree range with only about a foot of visibility. All of our bites came 10-25 feet deep on a very slow presentation. It's only a matter of time before the spring bite really erupts at Berryessa.
L

ouis' Tackle Box:
The key, in my opinion, to a successful day throwing a jig is having the right equipment. My jig preferred jig set up is a Dobyns Extreme DX 744 paired with a Lew's Pro Z, spooled with 50 lb Power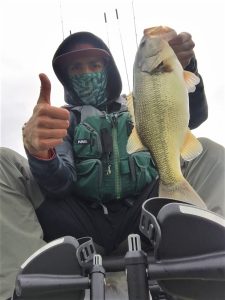 Pro Spectra braid tipped with a 15 lb liter of Segar Invisix Florocarbon. I love this rod. t has the perfect sensitivity with the right amount of tip and a whole lot of power to get the fish out of any cover.
My spinning set up was a Dobyns extreme 742 SF paired with a Stradic Ci4 2500 series spooled with Power Pro Silk 8-15 lb braid and a 10 lb Sunline FC Sniper leader. This rod \just fishes like a dream with sensitivity out of this world.
Kayak fishing presents some challenges that some people don't consider, like how to handle a fish once its in the boat. I use the new Cal Coast Fishing Donkey leashes these to secure my fish in the water with a clip-n-cull that grips to the fishes mouth with out puncturing the fish, allowing me to set up my cameras get my hog trough ready for measurements. Leaving the fish in the water, leashed to the yak is much better for the fish, and minimizes the chances of me loosing any gear in the drink before I get the money shot.
My new Hobie Pro Angler 12 really gives me an advantage slowing down, and dissecting the water. Not only is the platform perfect for fishing a variety of techniques from, its layout and design puts all of my gear right where I need it without any clutter. The Mirage drive is effortless to peddle and tracks exactly where I point it in any conditions. The package allows me to focus on fishing more without constantly fighting to position the boat.
Kayak City Fishing Team:
Being part of the Kayak City Fishing Team has allowed me to expand my knowledge, while allowing me to give back to other anglers at the same time. The team is a diverse collection of anglers that target all types species, and we all have great knowledge to offer. Not only do we have a great team, we are supported by an awesome Staff at Kayak City. Owners Carl and Eric, at Adventure Sports Kayak City, allow us to be able to represent a great brand and to be able to fish and expand this great sport.
For more info check out KayakCity.com.
Follow the fishing tem @kayakcity.fishingteam