The Sacramento Municipal Utility District's Rancho Seco Reservoir, a scenic 160-acre year-round recreational facility nestled in the rolling countryside of Sacramento County between Galt and Ione, has hosted trout derbies every spring since 1993 – and I've covered all but a couple of them.
The 25th Annual SMUD Trout derby on March 17-18, 2018 was another event to be remembered as just shy of 1000 participants took advantage of a break in the weather, to "throw down" on some of the quality Mt. Lassen rainbow trout the lake is producing at this time, according to Vince Harris, owner of Angler's Press.
Chris Martinez took first place honors in the adult division on day one with a giant 7.93 lb. trout, and received a new boat, motor and trailer package for his efforts.
"I was jigging mice tails from my kayak when I hooked the fish," said Martinez. "I caught my limit of five fish."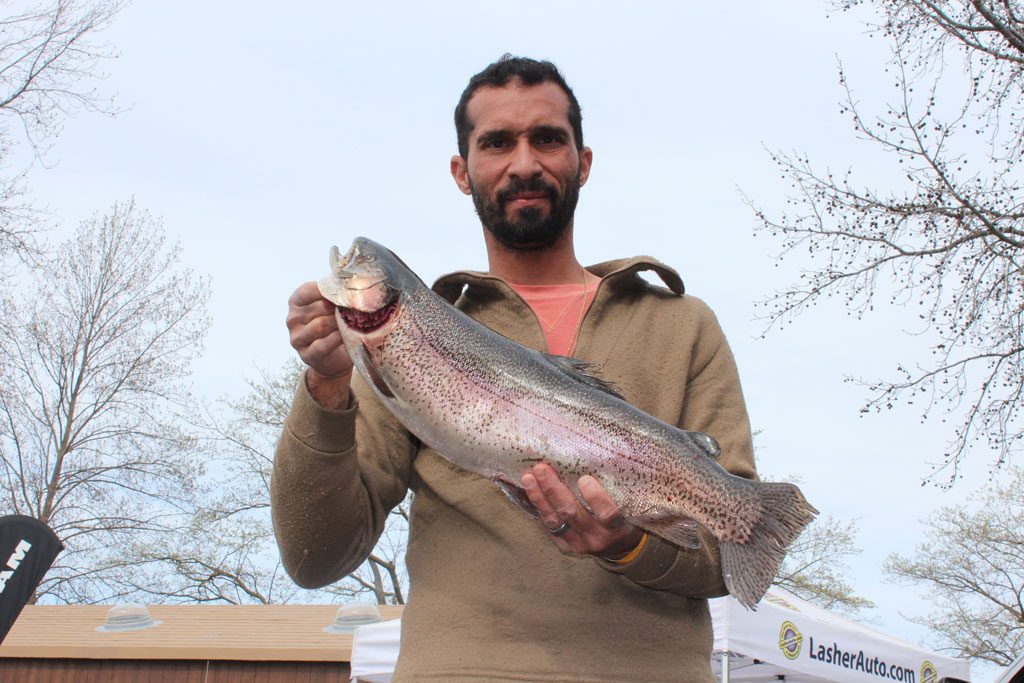 The second through tenth place adult division winners were (2) James Davi, 7.68; (3) Kurt Rohrbach 7.21; (4) Tau Hang, 6.74; (5) Tim Meeks, 6.47; (6) Tony Phanthauong, 6.4; (7) Kevin Coughlin, 6.2; (8) Pat Blewett, 6.17; (9) Tang Thao, 5.93; and (10) John Moua, 5.92.
6-year old Gonzalo Robert took 1st place honors in the kids division side on day two with a 5.33 pound trout and received a new kayak. He was fishing Power Bait from shore with his dad, Gonzalo Sr. and his uncle, Carlos Nazaro, when he hooked the giant fish.
Ethan Curtis placed second in the division with his 3.54 lb. rainbow, while Issac Ferkin finished third with his 1.74 lb. fish.
Mick Fritzsche won first place in the youth division with his whopping 5.13 lb. rainbow trout, winning the first place plaque.
The second through tenth place division winners were (2) Miles Tanzi, 5.02; (3) Steven Holt, 4.8, (4) Paul Sokryko, 4.72; (5) Payton Brudk, 4.47; (6) Anthony Castillo, 4.28; (7) Justin Lee, 3.9; (8) Cameron Ringler, 2.87; and (9) Alex Chavez.
On day two of the event, Carlos Nazario took first place honors in the adult division on the strength of a 6.36 lb. trout. He received a boat, motor and trailer package for his efforts.
"We were fishing Power Bait on day one just as we were fishing the day before," said Nazario. "We each just caught one fish during the day."
The second through tenth place winners were (2) Mildrid Jacks, 5.83; (3) Kurt Rohrback, 5.8; (4) Todd Claerbout, 5.53; (5) Eric Dornback, 4.92; (6) Ericka Harden, 4.46; (7) George Nakawatase, 4.42; (8) Frank Witte, 4.35; (9) Miles Wyzanowski, 3.85; and (10) Mark Fertada, 3.83.
Keegan Vasconcellos won first place in the youth division on day two with his gigantic 5.73 lb. rainbow. He won a kayak for his efforts.
Cameron Ringler placed second with a 3.45 lb. trout, while James Hairman finished third with a 1.41 pounder.
Aiden Wyzanowki won the kids division with his 3.25 lb. rainbow.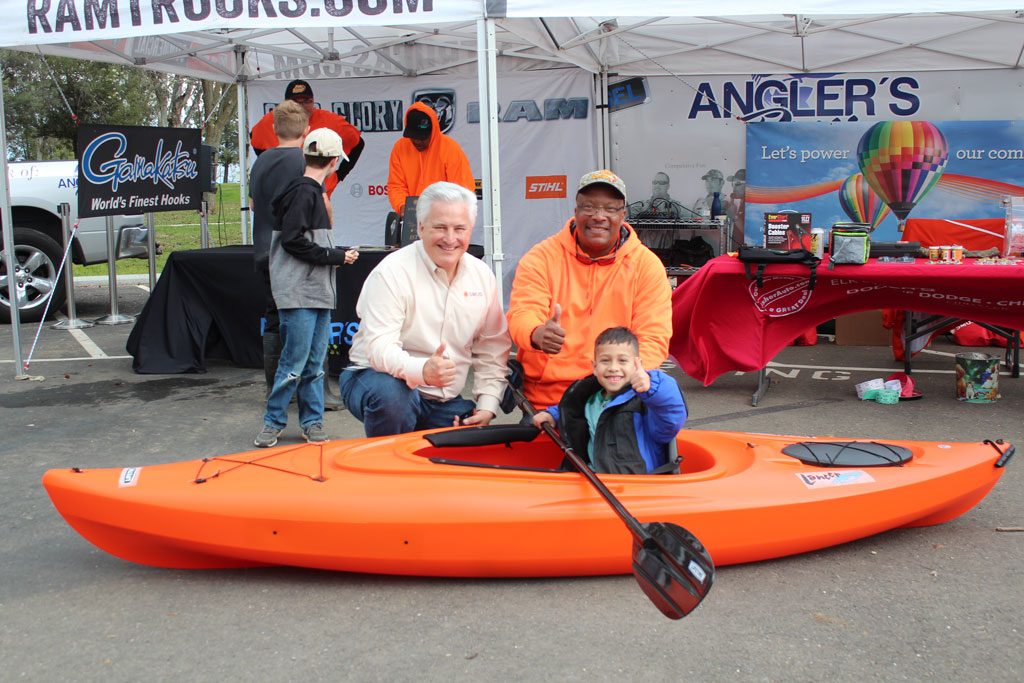 The lake was planted with 2,500 pounds before the derby, with a lot of fish over 5 pounds planted, as evidenced by the catches on both Saturday and Sunday.
The fishing was best on day one, when a bunch of large trout were caught. A number of anglers reported catching their limits. Fishermen caught fish from shore, from kayaks and from other small boats while tossing out Kastmasters, Rooster Tails, small jigs and other lures. Anglers also landed trout while bait fishing with PowerBait, Power Eggs and nightcrawlers.
"On behalf of the SMUD and Angler's Press Outdoors organizations, a big THANK YOU to everyone that participated, and we look forward to seeing – and serving you all at another great event in 2019," said Harris after the event in an email to all of the participants.
Supplied by the Folsom South Canal diverting water from the American River, Rancho Seco was built to serve as a source for emergency cooling water in the event of a nuclear accident. After the power plant was decommissioned in a ballot measure approved by the region's voters in November 1990, the lake became a year-round recreational facility.
Rancho Seco not only kicks out huge trout, but also is legendary for the big Florida-strain largemouth bass that thrive in its fertile waters.
The largest bass are taken in the spring during the pre-spawn, spawn and post spawn periods. Anglers nail them while using Huddleston and other rainbow trout swimbaits, Senkos, swimbaits, plastic worms, spinnerbaits and jigs.
Rancho Seco is a lake with the potential for producing a state or world record largemouth bass. The lake has the three characteristics needed to produce record class fish: Florida-strain genes; conditions that allow the fish to reach large size; and a good food source, particularly planted rainbows.
The lake also features good populations of redear sunfish, black crappie and bluegill, along with channel catfish. Fishing for all four species is best for boaters, float tubers and shore anglers in the spring and summer.
The park sits in the middle of an oak woodland with oak trees dominating the horizon when looking away from the lake. Below the oaks, a variety of grasses and flowering plants grow especially near the vernal pool locations. The lake shore has a thick barrier of blackberry bushes everywhere except the dam and the picnic/camping areas.
Ducks and geese swim in the recreation areas where the shore is clear. Great blue heron eat the fish from the lake. Bald eagles and hawks nest in the trees surrounding the lake. Many insects are present including dragonflies and grasshoppers. Raccoons are a notable mammal using the lake as a water source, with their droppings dispersed along the narrow animal trails cutting across the park.
On August 16, 2015, Brad McGarity of Galt set a new California state record for "hybrid sunfish" when he landed a fish weighing 1 pounds, 4 ounces and measuring 11 inches long and 11.25 inches in girth.
Rocky Mountain Recreation Company is the concessionaire at Rancho Seco. The lake's amenities now feature boat rentals including aluminumfishing boats with electric motors, paddle boats, and kayaks.
Fishing at the family oriented facility, now operated by the Rocky Mountain Recreation Company in conjunction with the Sacramento Municipal Utility District, (SMUD), is available year-round.
For more information about the Rancho Seco Recreational Area, call 209-748-2318 or visit http://www.rockymountainrec.com/lakes/lake-rancho-seco.htm or https://www.smud.org/en/about-smud/community/recreational-areas/rancho-seco-lake.htm
Rancho Seco Facts
Location: in the rolling hills of southeastern Sacramento County east of Herald. From Sacramento, take Highway 99 south to the Highway 104 exit. Go east on Highway 104, 15 miles, to the Rancho Seco Park exit.
Fishing Season: The park is open year round to fishing and other activities from 7 a.m. to 6 p.m. The park entrance gate is locked nightly.
Day Use: The day use fee is $12 per vehicle.
Boat launching facilities:  The park's 160-acre lake is maintained at a constant level year round, so you will find no problem launching. You can launch an electric motor boat, rowboat or sailboat from either of the two boat ramps. The boat launch fee for a trailer and vehicle is $15. The fee for car top launch kayak is $15.
Tent Camping: There are 20 lakeside campsites where you can pitch a tent or sleep under the stars. Each campsite has a barbecue, picnic table and drinking water.  A semi-private 1-1/4 acre grassy area is available for group campovers and special events. Reservations are required at least two weeks in advance.
RV Camping: The southwestern rim of the park features 18 RV campsites. Each site has a barbecue, fire pit, picnic table, drinking water and electrical outlets. A dump station is conveniently located. The maximum stay is 14 days.
Picnic Facilities: One hundred shady, grassy picnic areas adorn the lake's southern shore. Picnic tables and barbecues are available on a first come basis. Picnic areas can be reserved for groups of 30 people or more.
Swimming: the lake is roped off along a 36,000 square foot sandy beach. Lifeguards are on duty during the summer. Children should always be supervised by a responsible adult.
Extras: General Store (open May-September), solar heated showers, fish cleaning station, 3 public restrooms, horseshoe pit, Rec. Room with washer and dryer (for overnight campers only), handicapped access.
Information: 24 hour informational recording, (209) 748-2318; RV, tent and group camping and picnic reservations, 800-416-6992.