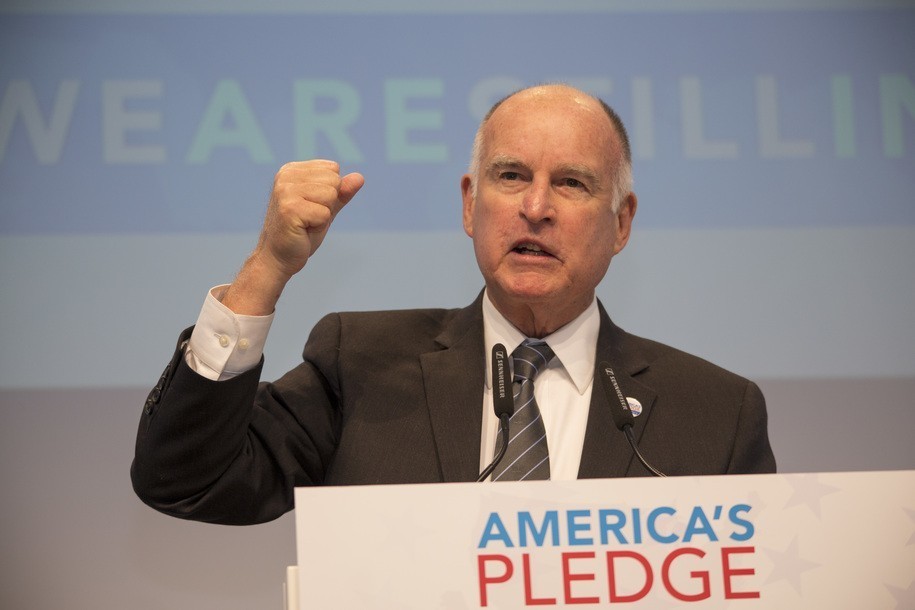 California Governor Jerry Brown yesterday made a last minute appeal to the Metropolitan Water District Board of Directors to vote for the full Delta Tunnels project today, April 10, at their highly-anticipated meeting in Los Angeles.
In a letter to the Board, Brown said, "Tomorrow you have a historic decision to make about the future of California and the basic security of our water supply."
After praising the agency's  "perseverance" over the last decade, he urged them not to back away from voting to finance the full project now.
"Staging its construction may seem plausible, but it will actually risk serious delay in permitting and jeopardize the entire project. Overall costs, would, of course, rise. That is why I urge the Board to support the full project – without delay."
"Your perseverance during the last decade has led California to this moment. Please don't back away now," Brown concluded.
You can read the entire letter here:  Brown letter Cal Water Fix
At a final vote on the proposed Delta Tunnels in Los Angeles on Tuesday, April 10, ratepayers, taxpayer advocates, faith leaders, unions and environmentalists will call on Metropolitan Water District (MWD) officials to oppose increased funding for the multi-billion-dollar project.
They say the funding will raise water bills and property taxes without delivering any water or economic benefits to Southern California residents.
They will also demand that Mayor Garcetti, who opposed the $4.5 billion commitment in October 2017, take a stand against any phased or one-tunnel plan, which would still increase costs by at least $1 billion, and refuse to allow MWD to force the costs on L.A. residents.
"MWD will vote on whether to increase funding by at least $1 billion to $5.2 billion for a phased tunnel plan, or to underwrite $10.8 billion to advance the twin tunnels," said Brenna Norton of Food & Water Watch. "Either proposal allows MWD to further increase costs down the road, if other state contractors decide not to pay their share. MWD will also vote on whether to raise property taxes on Southern California residents in a second item on April 10 agenda."
Tunnels opponents will hold a press conference at the MWD Board Workshop on Tuesday, April 10, 11:00 am, in the building courtyard, Metropolitan Water District Headquarters, 700 North Alameda Street, Los Angeles, CA 90012. Public comment will begin at 12:00 noon.
The press conference will feature Los Angeles ratepayers, Food & Water Watch, Consumer Watchdog, Los Angeles Minsters Forum, SEIU Local 721, Restore the Delta, Alliance of Californians for Community Empowerment (ACCE), Los Angeles Waterkeeper, Sierra Club and Los Angeles neighborhood council presidents.
Last week MWD appeared set to vote on a one-tunnel proposal, noted Norton. However, at the eleventh hour on Friday afternoon, proponents of a two-tunnel plan put that proposal back on the table  and MWD officials will vote on both options.
"Whether one tunnel, or two, Southern California residents would not receive any new water from the project, and it would not increase water reliability, but would largely subsidize corporate agriculture interests in the Central Valley," said Norton. "Central Valley farmers would not lose their water supply under the single tunnel proposal, even if they do not pay for the project. Despite troubling  findings from a federal audit, a state audit, and a recent PRA requeston Restore the Delta, MWD is still advancing the vote on April 10."
Restore the Delta's executive director, Barbara Barrigan-Parrilla, commented, "If MWD's ever-changing planning processes offer a look into what adaptive management could be like during tunnel(s) construction and operations, California's water management system is in deep trouble for the next century.
"If the MWD board manages to come to an agreement instead of a split vote, it is still unclear as to who will finance the remaining 53 percent of the phased-tunnels, or the remaining 35.4 percent of the twin tunnels. This means that if other State Water Project contractors do not commit any funding for the phased tunnels, or if Central Valley Project contractors cannot negotiate a more affordable buy-in to the twin tunnels, MWD must recruit private investors via a public-private partnership to finance the project—a clear attempt to undo protections of California water as a public trust resource.
"Equally disingenuous is MWD's reference to improved water quality on its project charts that show decreased dissolved solids and bromides in their Delta water deliveries as they forgot to inform their Board that the tradeoff is worsened water quality for the 4 million residents of the San Francisco Bay-Delta, California's fisheries, and Delta wildlife. MWD's resolution and supporting documents make it clear that the project does not benefit all Californians as they claim.
"It may benefit a portion of moneyed MWD water users—the top one percent of Southern California corporations and potentially private financial interests and/or corporate agriculture in the Central Valley—but not without shouldering Southern California's middle-class ratepayers and environmental justice communities with tax increases and cost overruns. MWD's interests are the interests of California's financial elite, with California's middle and working classes paying the price."
Those who cannot attend but wish to watch the press conference organized by Food and Water Watch California, Sierra Club California, S.E.E., and Southern CA Watershed Alliance can watch live at 11AM on the Food and Water Watch Facebook page.
Those wishing to watch the MWD board vote online are encouraged to tune in to MWD's livestreamat 12PM.
Background:
The Delta Tunnels, formally named the CA WaterFix, is Governor Brown's controversial water conveyance system proposal that would divert Sacramento River water through either one or two 35 mile-long tunnels under the Delta to deliver water to South of Delta contractors. The phased approach would build one 6,000 cfs capacity tunnel first, and build the second 3,000 cfs tunnel at a later date; the twin tunnels plan consists of two identical 4,500 cfs tunnels built at the same time.