Big rainbow trout went on the bite at Norcal Trout Anglers Challenge (NTAC) event at Collins Lake on Saturday, April 7, as evidenced by the many hefty fish weighed in.
"We were extremely pleased that despite the downpour expected for Saturday, 170 participants came out to participate, including 30 kids," noted Vince Harris president of Angler's Press Outdoors.
Jeremy Phillipson caught the biggest fish taken by anyone during the event, a 5.87 lb. rainbow trout. He easily captured first place in the youth division.
"I hooked the fish while using orange Power Bait from shore near the dam," said Phillipson. Ricardo Diaz III placed second in the youth division with a 2.67 lb. trout. He was fishing white Power Bait from shore with his dad, Richard Diaz Jr, "near the volleyball court."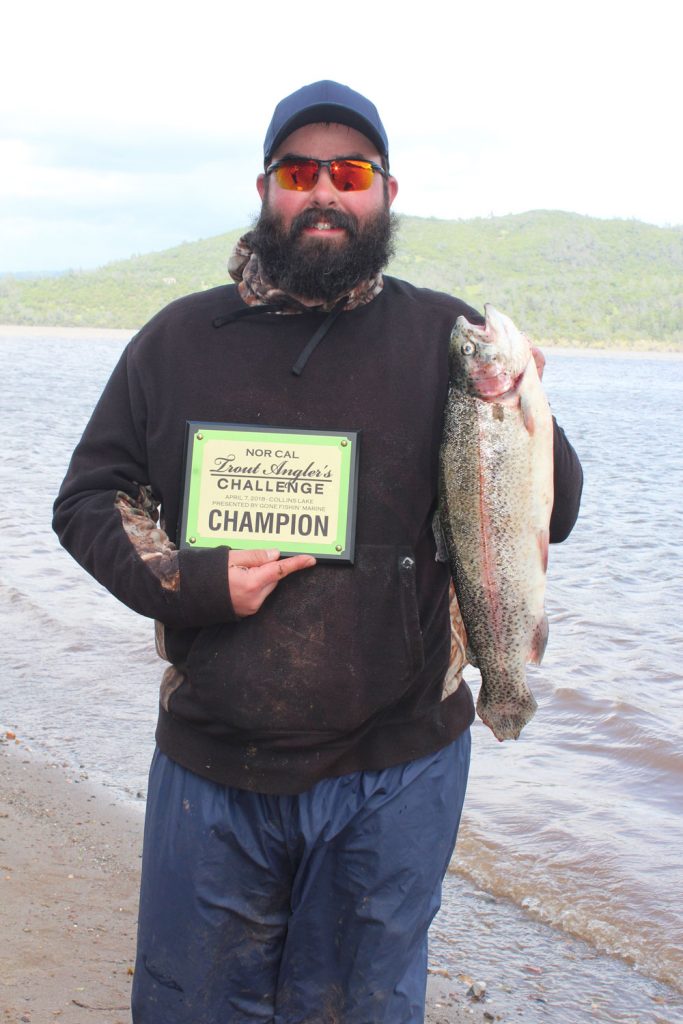 Victoria Reyes of Rocklin finished third by catching a 2.43 lb. rainbow. She shore fished with a nightcrawler/marshmallow combination near the dam with her dad, Ben, to nail the fish.
The fourth through tenth place winners were (4) Winston Huber, 2.37; (5) Kylke Felter, 1.96; (6) Jacob White, 1.76; (7) Makyla Smith, 1.57; (8) Angel Blanco, 1.5, (9) Natalia Smith, 1.47; and (10) Josh Cortez, 1.36.
Ricardo Diaz Jr. won first place in the adult division of the event with his 4.8 lb. rainbow. He was fishing PowerBait from shore by the volleyball court with his son, Ricardo Diaz III.
George Leezy came all of the way from Sparks, Nevada to capture second place in the adult division with his 4.27 lb. rainbow. He was trolling with a Rapala when he hooked the trout. "I also hooked a 1 lb. black bass while trolling" he noted.
Gavin Huber captured third place with his 4.8 lb. rainbow trout.
The fourth through tenth place finishers were (4) Walter Gibbs, 3.57; (5) Mario Castillo, 2.9; (6) Dirk Enzwiler, 2.9; (7) James Fleenor, 2.56; (8) Johannes Versendall, 2.35; (9) Rob Cetinich, 2.22; and (10) Frank Nitta, 2.22.
'I'm really thrilled by this derby because it is truly a family-centered event that allows anglers to introduce the sport to new people within their family or circle of friends, especially children," said Lincoln Young, manager of Collins Lake Resort. "In addition, the derby is affordable."
Sponsors included Fisherman's Warehouse, Gone Fishing Marine, Atlas Mike's, Berkley, Yo-Zuri, Yakima Bait, Costa Del Mar, Silver Horde/Gold Star, Panther Martin, Dodge, Mack's Lures, Pro-Cure, SeaEagle.com, Dick Nite Spoons, Thomas Fishing Lures, Hot Spot, Apex, Rapala and Tasmanian Devil.
Anglers who finished in the top 50 in any one of the 2017 NorCal Trout Angler's Challenge events are qualified to participate in the end-of-the season championship at the lake.
The 1200-acre reservoir, located on Dry Creek, a tributary of the Yuba River, features 12 miles of shoreline located in the beautiful Sierra Nevada foothills just over an hour northeast of Sacramento between Marysville and Grass Valley.
More than 50,000 rainbow trout are planted in Collins every spring and fall, meaning that Collins Lake has the largest private planting program north of Sacramento. Thousands of these trout are trophy- sized, planted at 3 to 8 pounds and growing even larger.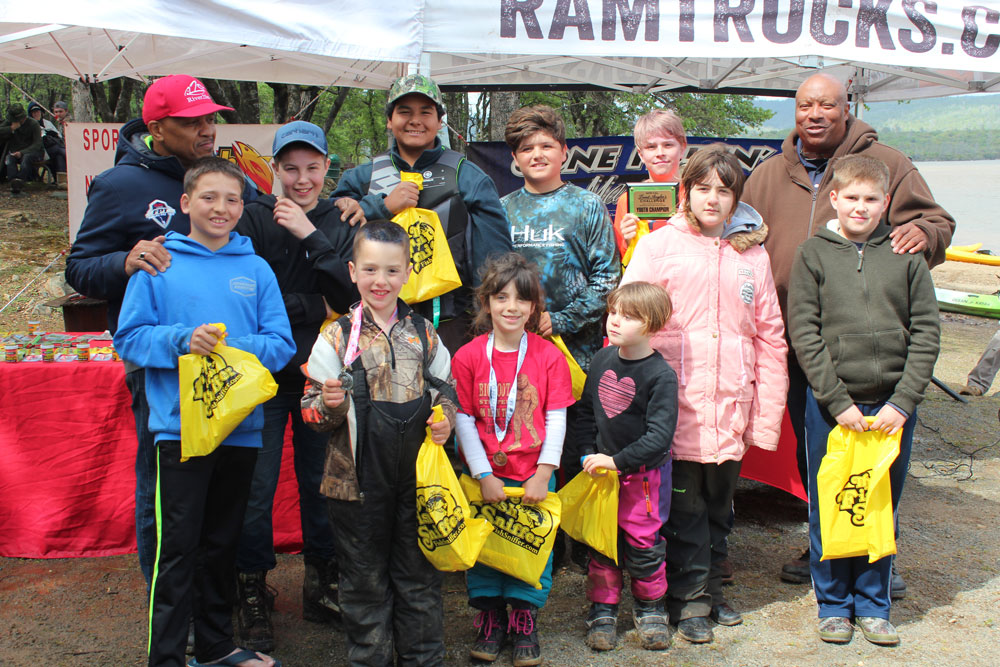 The resort, in cooperation with the CDFW, Kokanee Power and CIFFI, has also sponsored a successful pen-rearing program to enhance the trophy trout fishery at the reservoir.
The CDFW puts the trout in the 12 floating pens at a subcatchable or catchable size. each November. When they are released in increments between mid-March and the end of April, they range from 2 to 3 pounds. The net pens were filled on November 16, 2017, by the CDFW, assisted by volunteers.
Trout grow big and fat in Collins, feeding heavily on the lake's abundant threadfin shad and other forage. Rich Moore set the lake rainbow record of 14 pounds, 3 ounces in May 2009. The lake brown record, set in 1991 by Bill Clutter, is 9 pounds.
Spotted and largemouth bass offer great fishing at Collins also. Dan Raub captured the lake largemouth bass record of 13 pounds, 4 ounces in June 1998 while fishing a live crawdad. James Everhart employed a trout swimbait to nail the lake spotted bass record of 9 pounds, 8-1/2 ounces in 2008.
"Spotted bass are the most abundant bass in the reservoir," said Collins. "We see good numbers of 4 to 5 pounders and fish up to 7 pounds every year. Over the years, we've weighed in at least a dozen spotted bass over 8 pounds."
Channel catfish also offer an excellent fishery at the lake throughout the year, with the best action generally available during the summer and early fall months
"A positive aspect of the recent drought is that it has exposed the shoreline and allowed brush to grow around the lake," said Young. "When the lake filled last spring with the rains, it inundated the brush, providing good habitat for juvenile bass and sunfish to feed and hide from predators. We're seeing the same thing happening this year also."
For more information, contact the Collins Lake Recreation Area at 530-692-1600, www.collinslake.com, and Anglers Press at (916) 768-0938., www.anglerspress.com.