I was using the "hybrid leadcore outfit" I've written so much about in the pages of the Fish Sniffer consisting of a short fluorocarbon top shot, 3 colors of 17 lb. leadcore and 20 lb. braid backing spooled on an Abu 5500-line counter attached to a Vance's trolling rod.
I'd tipped the rig with a shad pattern Hum Dinger, put out 2 colors of leadcore and slipped the rod beneath the kayak's seat. Looking at my GPS I settled into a rhythm of peddling that propelled the Hobie Pro Angler 14 forward at 2.5 miles per hour.
I was peddling along, enjoying the still of the early morning when the trout struck. The rod tip was a bit behind me and out of sight, so I didn't see the strike. Instead I heard it, a strange tick, tick, tick…
The sound took a second to register but when it did, my head snapped to the right. The rod tip was buried in the water. The line was going straight down, line was pulling off the reel and the sound was being made by the surging rod tapping against the kayak's aluminum rail.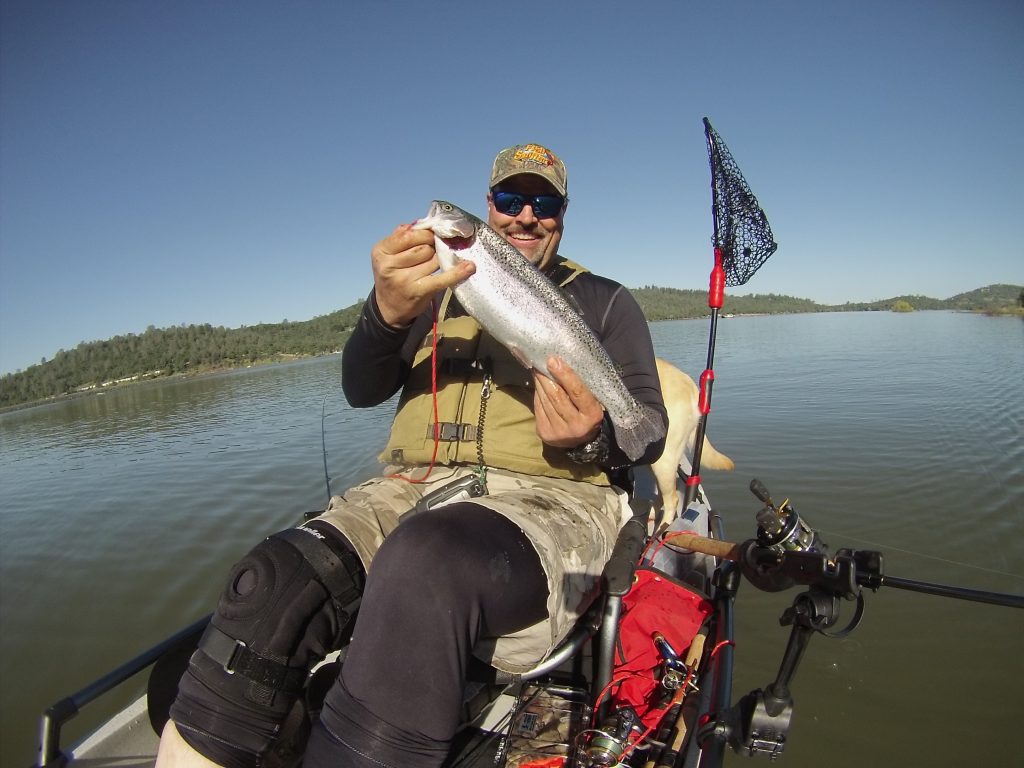 The rod was locked under the seat pretty tightly against the diving trout, but I twisted it free. The fight was on!
The trout was determined to stay deep and swam along at just over 2 miles an hour. Yet I knew that provided the hook held, no trout in the lake could defeat the smooth drag of my Abu and the strength robbing power of my Vance's rod.
My first glimpse of the rainbow was just that, the glimpse of a flash through run off stained water. The trout shook its head, angled down and did everything possible to escape, but it couldn't avoid the net.
I had my first ever "kayak trout" and it was a dandy rainbow weighing between 3 and 4 pounds.
Landing that trout with my Labrador Lucy standing behind me wearing her red "Doggy Life Jacket" was a sign that things had really come together.
It was my third kayak fishing trip. My first two shakedown cruises had been to Folsom Lake and on both occasions Lucy stayed home.
This April 21 adventure to Collins Lake was a real fishing trip with Lucy, Jason Graves and his girlfriend Andrea Kukulka and their two kayaking dogs, Nikita and Chug.
When I decided on a kayak, I went for a really large model so I could take Lucy fishing with me, but you can't be sure how such things are going to work out until you try.
Jason and Andrea are enthusiastic kayak anglers that regularly fish the ocean for lingcod and other species. Andrea's photos pop up often on California Facebook fishing club pages. There's just something about a pretty blond girl holding up a big mean lingcod!
Jason and I had been wanting to hook up for a fishing trip ever since I'd first gotten my kayak and Collins Lake seemed like a perfect location, fairly small with a huge trout population and plenty of bonus bass!
Jason and Andrea had never been to Collins Lake, so it was to be a day of firsts all the way around.
When I showed up to the lake at 7:30 in the morning, I found Jason and Andrea in a lakeside campsite near the dam. They had camped for the night and their kayaks were already in the water. I got my boat ready, backed up and dropped it into the lake. After coaxing an unsure Lucy on to the back of the kayak I shoved off, paddled a few yards offshore and dropped the peddle drive into the Hobie.
Minutes later Jason and Andrea joined me. We maneuvered a bit and started trolling single file across the dam to a section of floating dock off the eastern corner of the dam.
I led the way, Jason followed and Andrea was rear guard.

I didn't get hit on my initial trip across the dam, so I button hooked around the dock and set a course for open water. That's when the rainbow I described earlier came knocking.
After landing and releasing the rainbow, I put the gear back into the water and headed back toward the dock where Andrea and Jason were grinding in a circle. Before I reached them, I hooked and landed another rainbow. It was a solid fish pushing 3 pounds, so I put it on a stringer.
When I finally reached Jason and Andrea I learned that they were on fish of their own, but luck was against them. Andrea had lost a huge rainbow estimated at 6 pounds at the net and Jason had broken off a big powerful fish of his own!
Jason and I continued trolling around the dock. Andrea would troll for a while and then she'd head over to a semi-submerged pine tree. She wants to catch some nice crappie really bad, so she'd go over to that tree and pepper it casting small jigs. She didn't hit any crappie, but she did slap around a bunch of feisty spotted bass!
Around mid-morning the action around the dock seemed to slow a bit so we drifted apart. I made a trolling pass I'd made many times before in a powerboat. I traveled up the west shore trolling fast, past the boat ramp and swim beach hugging the inside of the 5 mph markers. Eventually I trolled the mouth of Elmer's Cove and them navigated up to the powerlines.
Trout hit occasionally along the way. I lost a couple, but landed 7 in all from 2 to 4 pounds. I kept 3 for the smoker!
On the trip back to the truck, Lucy and I stop for a swim and a little bit of fetch the ball. When I got back to the main body of the lake after noon, I could see no sign of Jason or Andrea, so Lucy and I loaded up and headed for the Collins Lake store.
To celebrate Lucy's first kayak trip and my first kayak trout, I got a famous Collins Lake ice cream cone and Lucy got a scoop of vanilla ice cream in a cup. Not only had she experienced her first kayak trip, she'd also gotten her first ever taste of ice cream. She's a fan of both!