The first trip I ever made to Folsom Lake was in the summer of 1963 when my aunt Alicerae drove me up to the lake to fish for bluegill. I had a great day catching bluegill in the Lakehills Estates and Salmon Falls areas of the lake after getting some advice on tackle and bait to use from the owner of the Green Valley Store on the way to the lake.
At that time, anglers didn't target planted rainbows at Folsom – they went fishing for "landlocked steelhead." During the fall and winter, you would see anglers fishing with minnows and nightcrawlers for these 16 to 22-inch fish from the bank at Mormon Island, Brown's Ravine and other areas on the lake.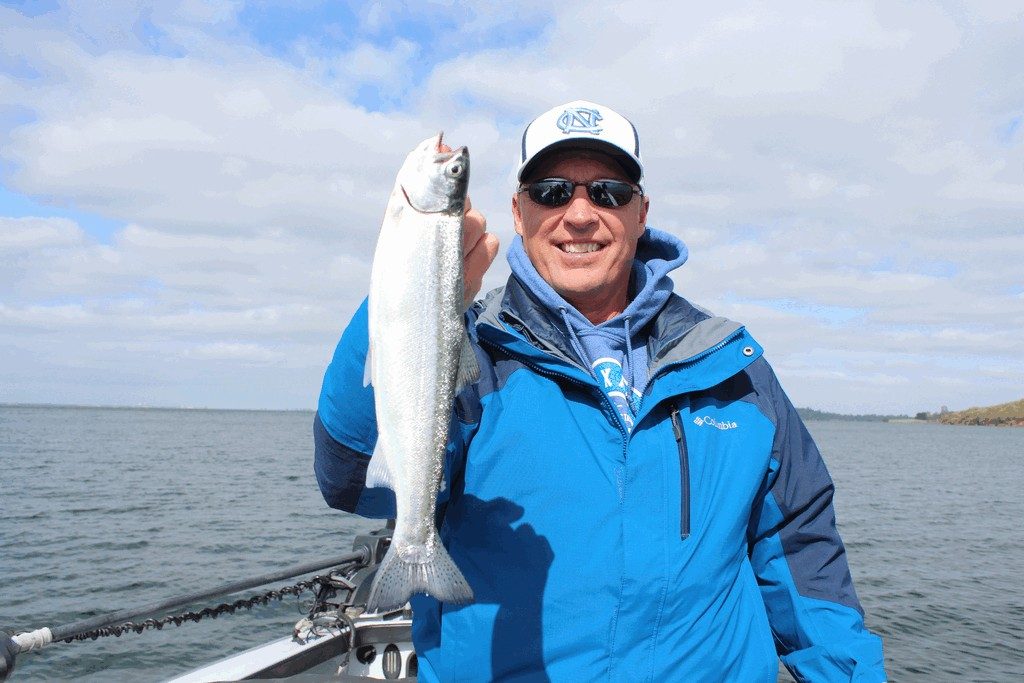 Many years later, I made a trip on May 31 of this year with James Netzel of Tight Lines Guide Service with Jim Harrington of Folsom and Todd Smith of Cameron Park. Rather than fishing with worms and golden grubs under bobbers for bluegill or minnows or nightcrawlers for landlocked steelhead, we were trolling with the latest high-tech gear and rods and reels, using downriggers at 35 feet deep.
The morning started off cool and windy, with a 20 degree drop in the afternoon highs from two days before Netzel put the Speedy Shiners down at 25 feet deep with the Speedy Shiners at 2.7 mph per hour. The trip kicked off with hot action, as we hooked and landed three scrappy holdover rainbows. in the 12 to 14 inch range right in a row in the area outside of Brown's Ravine. They weren't huge fish, but they jumped and put up a good battle for their size.
After we caught several more fish the wind began to pick up more and Netzel drove the boat up into the South Fork, where the water was calmer. After hooking a couple of more trout there, he went back to the main body and mouth of the south fork where we finished the morning.
We ended up keeping 11 rainbows, as well as releasing several others. The rainbows we kept were all square-tailed holdovers ranging from 12 to 15 inches long. We also landed a Sacramento pike-minnow that we thought was a big rainbow or salmon when it was first hook.
The fishing had definitely slowed down from the previous week, when Netzel found some great action on larger rainbows and kings. A trip on Thursday, May 24, produced limits of rainbows averaging 16 to 18 inches long, along with three kings measuring 22, 18 and 17 inches.
"On that trip, we hooked a huge rainbow, the largest I've ever seen, that spit the hook when we got it up right up to the boat," said Netzel. "We fought the fish for 15 minutes and had to follow it with the boat as the angler fought it."
He first thought it might be a sturgeon, but when the angler got it up to the surface, Netzel could see it was a rainbow with a big red stripe on it. "I estimated it was close to 15 or 20 pounds, but we'll never know because it swam away after the hook came off," he said.
One might say that this is all just a fish story until you realize that the American River watershed has produced largest wild and holdover rainbows found in the state.
The American River below Nimbus Fish Hatchery produced a 25.04 lb. rainbow (legally considered a steelhead) in February 2002, while Lake Natoma above the dam produced a 27-1/2 lb. new inland state rainbow record in 2008. And Lake Natoma has produced many hundreds of rainbows in the 10 to 20 lb. class over the past two decades, including one 12.5 lb. rainbow that measured 24 inches long.
The trout in Lake Natoma feed on the same forage species found in Folsom Lake, pond smelt and threadfin shad, so it's not unreasonable to believe that a fish in the 15 to 20 lb. class could also come out of Folsom.
Rainbow trout and Chinook salmon can be caught in Folsom year round, but Netzel said May is the best month to target both species.
Bank anglers experience the top rainbow and king action in the fall during the period of the fall turnover October through December. Fishermen regularly hook a mixture of holdover trout and salmon while tossing out PowerBait, nightcrawlers, minnows and other baits under bobbers and on sliding sinker rigs.
"There is also a fairly significant wild rainbow trout component in the fishery," said Jay Rowan, CDFW Senior Environmental Scientist Supervisor. "The thought is that these fish use the North and South forks to rear, come down to the lake during certain times of year to feed and get out of the warm water in the forks, then head back up into the forks to spawn.
"I'm not sure by percentage how much of the catch they make up, but enough show up in pictures on the net that make me think it's a fairly decent part of the fishery.  They certainly add a trophy component to the fishery," said Rowan.
Rainbow trout plants at Folsom have varied greatly from year to year. The Department of Fish and Wildlife has stocked 7,600 pounds of rainbows in Folsom so far this season – and will stock more trout this fall. The CDFW planted Folsom with 13,300 pounds of rainbows in 2015, 5568 pounds in 2016, and 3250 pounds in 2017.
"Also, in 2014 we put in 41,760 subcatchable Eagle Lake Trout (ELT') as 'put and grow' fish.  I think because of drought they didn't work out so well, but we're looking at giving the ELT subcatchables another shot in the future now that we've got some water," he noted.
Folsom Lake is the second reservoir in the state after Don Pedro where the successful spawning of Chinook salmon has been documented by anglers and CDFW biologists.
The CDFW stocks triploid (sterile) Chinook salmon in the lake when they are available. The Chinooks were first stocked in 1999 and have been a very popular species with anglers because they grow to over 8 pounds in the forage-rich waters of Folsom.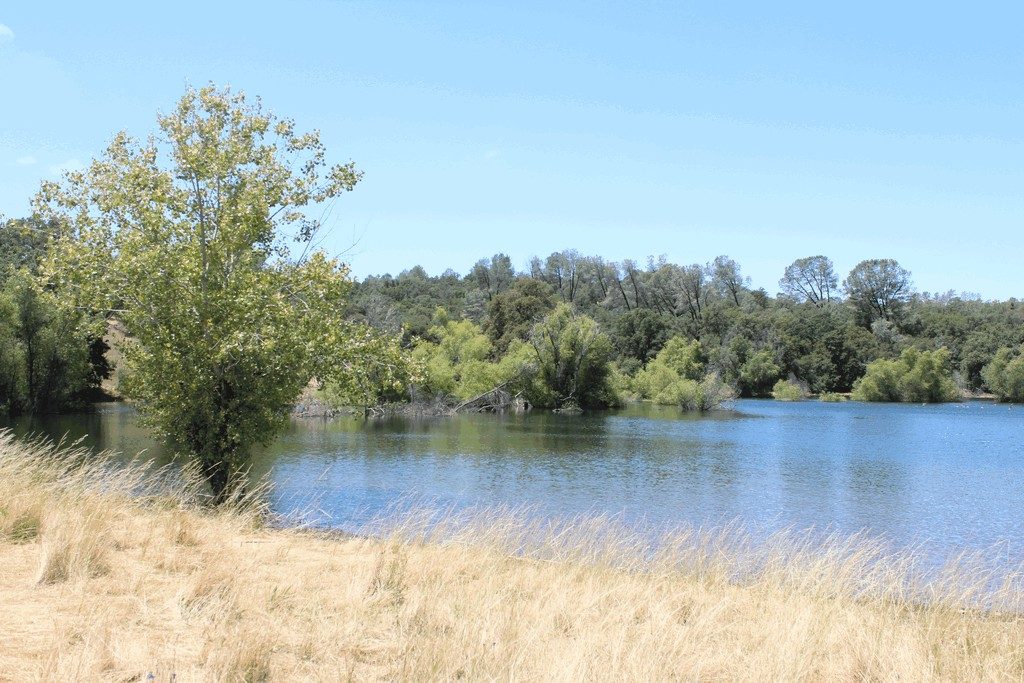 The CDFW planted 30,000 Chinooks in 2015 and another 42,588 Chinooks in 2016, but none were available in either 2017 or this year.
"I'm not sure if there are Chinook still spawning, but I would assume there are," said Rowan. "That survey that we did on the South Fork several year ago was brutal physically and dangerous.  It's not one I'd send anyone in to repeat.  There has been at least some level of natural survival which I assume will try to spawn, but the fish we have stock from 2014-to present will all be triploid."
Besides rainbow trout and Chinook salmon, Folsom also features good populations of spotted, smallmouth and largemouth bass, crappie, bluegill and channel catfish.
For more information, contact James Netzel, Tight Lines Guide Service, 888-975-0990, https://fishtightlines.com.
Folsom Lake Facts
Location and size: Folsom Lake is a reservoir located on the American River in the Sierra Nevada foothills within Placer, El Dorado, and Sacramento Counties. It is about 25 miles northeast of Sacramento ad can be reached via either Highway 50 or I-80. Both Folsom Lake and Lake Natoma have many access points and entrances. The lake contains 11,500 acres of water when full and is located 466 feet above sea level. There are 75 miles of undulated shoreline surrounding the lake. The Folsom Lake State Recreation Area is one of the most visited parks in the California Park system. For more information, call (916) 988-0205.
Fishing season: The lake is open to fishing for year-round. The CDFW plants the reservoir with rainbow trout and Chinook salmon. In addition, the reservoir features naturally spawning populations of rainbow trout Chinook salmon. Other popular species found in the reservoir smallmouth, spotted and largemouth bass, black crappie, bluegill and channel catfish.
Camping: Is available at Beals Point year-round and at Peninsula Campground beginning April 1, through the summer (Peninsula Campground closes October 1). Additional information about camping can be found by calling (800) 444-7275.
Day Use & Boat Launch Fees: The day use fee is $12 at Beals Point, Browns Ravine, Folsom Point, Granite Bay, the Peninsula and Rattlesnake Bar. The boat launch fee is $10 for a power boat. Boat launching is available at Folsom Point, Browns Ravine, Granite Bay, Five Percent and Rattlesnake Bar when the lake is full.
Folsom Lake Marina in the Browns Ravine Recreation Area is a full-service marina. For more information, contact: (916)933-1300, http://www.folsomlakemarina.com
Fishing Guides:
James Netzel, Tight Lines Guide Service, 888-975-0990, https://fishtightlines.com
Jerry Lampkin, TNG Motor Sports Guide Service, 530-320-0994, http://www.tngmotorsports.com
Don Paganelli's Bass Fishing Experience, 916-502-FISH, http://www.guidebass.net