Ryan Hollister of Turlock was trolling a worm on an Uncle Larry's spinner for trout at New Melones Lake when he hooked and landed a surprise brown bullhead catfish measuring 14 inches long on Sunday, May 27.
He was fishing with his dad, Jim, at 45 feet deep over 115 feet of water near the spillway, a strange place for this bottom-dwelling species to be. Yet, he was not ready for even a stranger surprise.
"The fish didn't put up much of a fight – I just dragged it in and my dad netted it," said Hollister. "My dad gave me the net so I could take out the hook and release the fish. I opened the fish's mouth so I could remove the hook when I saw a scaly diamond pattern."
"I told my dad, 'I think this fish has a snake in it. As he pulled the hook out of the fish's mouth, the hook grabbed the snake, a rattlesnake," said Hollister.
The snake was already dead, with bite marks on it from the bullhead's teeth. "The snake was longer that the catfish that ate it," said Hollister, a high school geology and environmental science teacher at Turlock High School.
The duo didn't get the species they were targeting – rainbow trout, although they lost one near the boat. They did release a couple of spotted bass, and of course, the snake-eating catfish.
They were fishing about 75 yards from shore near the spillway. "I don't know what that catfish was doing that far from the bank, but it was a very memorable day," he concluded.
In a tweet to Hollister, Jon Rosenfeld, a conservation biologist and lead scientist for The Bay Institute, quipped, "Congratulations on catching a personal example of how food webs really work. Fish eat whatever they (a) overlap with in space & time that (b) fits in their mouth + (c) does not eat them first."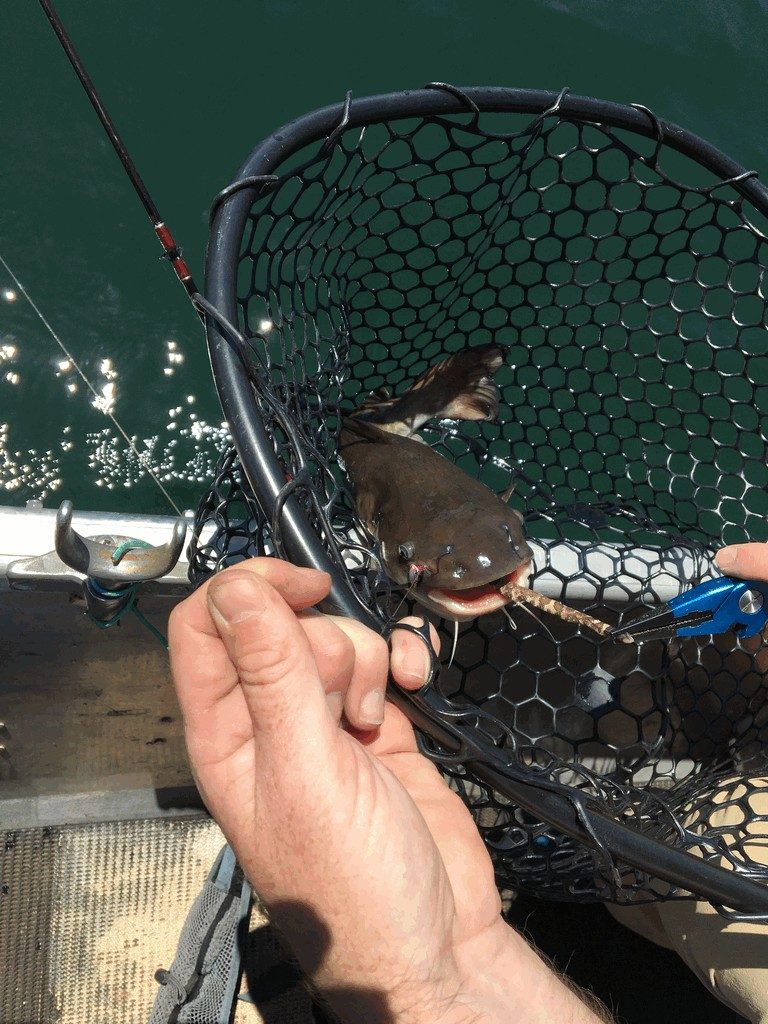 Dr. David Steen identified the unlucky snake eaten by the bullhead as a Northern Pacific Rattlesnake, Crotalus oreganus ssp. Oreganus It is found in North America from southwestern Canada, through much of the western half of the United States, and south into northern Mexico.
In Canada, it is found in southern British Columbia. In the US, it occurs in Washington, Oregon, western and southern Idaho, California, Nevada, Utah, Arizona, and likely west-central New Mexico. In northern Mexico, it is found in western Baja California and the extreme north of Baja California Sur, from sea level to an altitude of 8,200 feet.
Hollister hooked a big trout during the trip but lost it before he could get it in the boat.
While most of the trout being caught now at New Melones are hefty rainbows in the 2 to 8-pound range, Monte Smith of Gold Country Sport Fishing reported that Butch Betschart landed a brown trout weighing 9 pounds, 10 ounces, while trolling with him on Thursday, May 25.
The two anglers tried for 45 minutes to help revive the fish after releasing her, but the brown succumbed to the battle. Butch decided to contact a taxidermist and have his fish mounted.
The big brown is not the only fish they hooked on that trip. "We lost two large rainbows and hooked and released two crappie, a 13-inch smallmouth and a 12-inch kokanee while trolling shad at 30 to 50 feet deep in the main body," said Smith.
"On our previous trip, we caught two rainbows weighing 4 pounds, 10 ounces, and 5 pounds, 10 ounces while trolling with Ex-Cel lures behind Sling Blades at 40 to 50 feet deep in the main body."
On his next adventure at the lake after the trip producing the brown, an angler fishing with Smith landed a 5-1/2 lb. rainbow trout measuring 24 inches long, as well as 4 crappie to 12 inches.
For more information about trout trolling adventures on New Melones, call Monte Smith at Gold Country Sportfishing, (209) 581-4734.
Gene Hildebrand of Glory Hole Sports in Angels Camp summed up the recent trout fishing at New Melones.
"Over the past week, Glory Hole Sports has seen an abundance of beautiful rainbow and brown trout that anglers have landed while out on New Melones Lake. From a 3 lb. 6 oz. rainbow to a 9 lb. 10 oz. brown, the bite here continues to improve weekly, with a couple limits being landed this week," said Hildebrand.
The main lake has produced many of the trout at the dam, as well as near the Highway 49 Bridge.
"Put your time in on the water and you will be successful. Some of the hot baits on the lake for trout have been hoochies in different colors along with dodger or flashers, rolling shad with a dodger, or Apex lures in a rainbow trout pattern," he advised.
Maybe you'll get lucky and even catch a catfish with a rattlesnake inside of it like Ryan Hollister did while trout fishing at New Melones Reservoir.
•