It had been an early start for Gena, Lucy (my Labrador) and I to arrive at Bullards Bar Reservoir's Dark Day launching facility by 6 o'clock in the morning.
Due to some bad information from the navigation app on my cell phone we were late and didn't make it to the ramp until 6:30. I felt horrible. It was one of the very few times I've been late for a fishing trip in my 14 years at the Fish Sniffer.
It was the first time I'd fished with Brett Brady of Bare Bones Guide Service, so being late was extra embarrassing.
Brett, Kathy Souders and Larry Edmondson were waiting for us at the ramp. Kathy and Larry were great people and members of the Rooster Tails Fishing Club in Auburn, California. They didn't mind the delay. They knew the bite was on big time!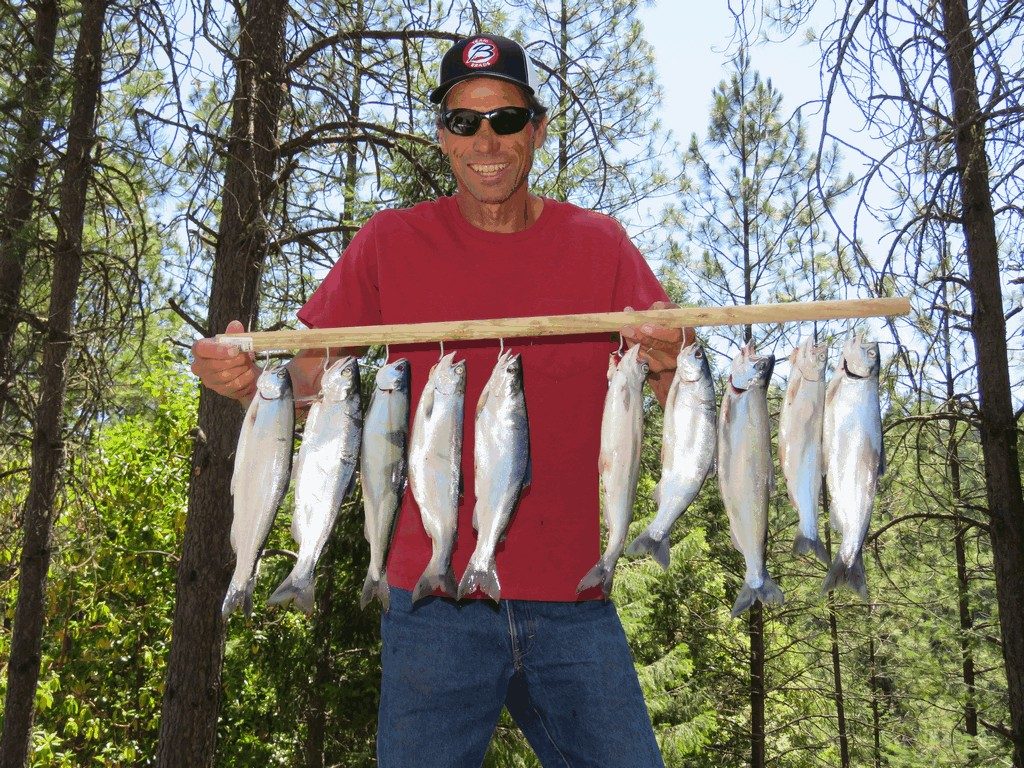 A short while later Brett had everyone aboard the boat and we were motoring away from the floating dock. As I shot video, Gena chatted with Larry and Kathy and Lucy investigated all the strange smells on Brett's boat.
We only ran for 10 minutes or so before we arrived at the houseboat fleet in Emerald Cove.
"The kokanee are holding right there between the boats and the bank. This is a really cool area to fish. You can stay in the shade until late in the morning. Since we are so close to the boats we are trolling in the 5 mile per hour area, so we won't be bothered by wakes or fast boats," Brett remarked.
"Oh they're here. They are just a bit deeper than they have been. They are holding at about 60 feet right now. They are pretty schooled up and the schools will get even tighter as the sun hits the water and the fish start concentrating in the shade along the bank," disclosed Brett.
Brett is a pro staff for Brad's Killer Fishing Gear and he's been hooking a lot of kokanee on Brad's Kokanee Cut Plugs. I think Brad's rolling baits are fascinating. Rolling baits are deadly and nothing rolls like a Brad's Cut Plug. My goat for the day was to watch Gena, Kathy and Larry reel in fish while I shot video and talked to Brett about kokanee gear and tactics.
As Brett started dropping rods armed with Paulina Peak dodgers and the aforementioned Kokanee Cut Plugs tipped with shoe peg corn soaked in tuna scent he quipped," I bet I can't get all four of these rods on the downriggers before we hook the first fish.
Brett was correct. He barely had rod No. 2 in the water before Rod No. 1 was dancing from the gyrations of a kokanee at the end of the line.
That fish escaped but the next two made it into the cooler…5 minutes into the trip and we'd hooked 3 salmon. We were off to a fast start on what would prove to be an epic day of kokanee fishing.
The fact of the matter is that it was likely the fastest kokanee bite I've ever been a part of and I've done a lot of kokanee fishing with a lot of the best guides in the game.
A few of the fish were dinks in the 10 inch range, but the vast majority of the fish ranged from 13 to 15 inches. They were perfect eating-size fish. The salmon were fat, sassy and perfect in appearance with zero blemishes from parasites. They were true chromers!

The bite started out great and got better. We had too many double hook ups to count. We had a triple or two and a four way hook up. We probably could have had a bunch of 4 way hookups except it was a rare occurrence when all 4 rods were actually in the water at the same time.
Between hookups we watched bald eagles and ospreys grab fish from the surface of the water. At one point an all-out fight between crows, an eagle and an osprey broke out with lots of squawking and power dives!
By 10 o'clock the cooler was filling up and the bite was doing nothing but getting more intense. The fish dropped down a little deeper, but lost none of their enthusiasm.
With the hook ups coming one after another, there was plenty of smack talk and laughing going on. Larry was outnumbered by the girls and taking the brunt of the abuse!
By 11 o'clock the cooler was packed with 40 kokanee and we'd either lost or released an equal number. In fact, I wouldn't be surprised if we had 100 total hookups on the day. It was amazing!
Brett is a top hand when it comes to catching just about anything including, kokanee, trout, landlocked kings, river kings, stripers and sturgeon at a long list of northern California waters.
If you'd like to sample the outstanding kokanee bite at Bullards Bar, give Brett a call at (530) 263-4451. He'll put you on the salmon and answer any and all questions you might have about kokanee fishing.