I had just landed a nice kokanee and was trying to get my line back in the water. "Kirby…right there" I uttered while pointing to his rod. I dropped my rod to grab the net, only to see a rod tip shaking on the opposite side of the boat. "Gary, your outside rod!" I exclaimed.
The next few minutes were a blur of pumping rods and nets flying in every direction. When the dust had settled, all six rods laid in tangled heap across the back of the boat. Although the boat trolled onward, no fishing lines were in the water. We couldn't get corn on our hooks fast enough. The sun still hadn't crested the eastern peak, but a glowing smoky haze laid silently over the water. Kokanee pandemonium had broken out on Stampede Reservoir.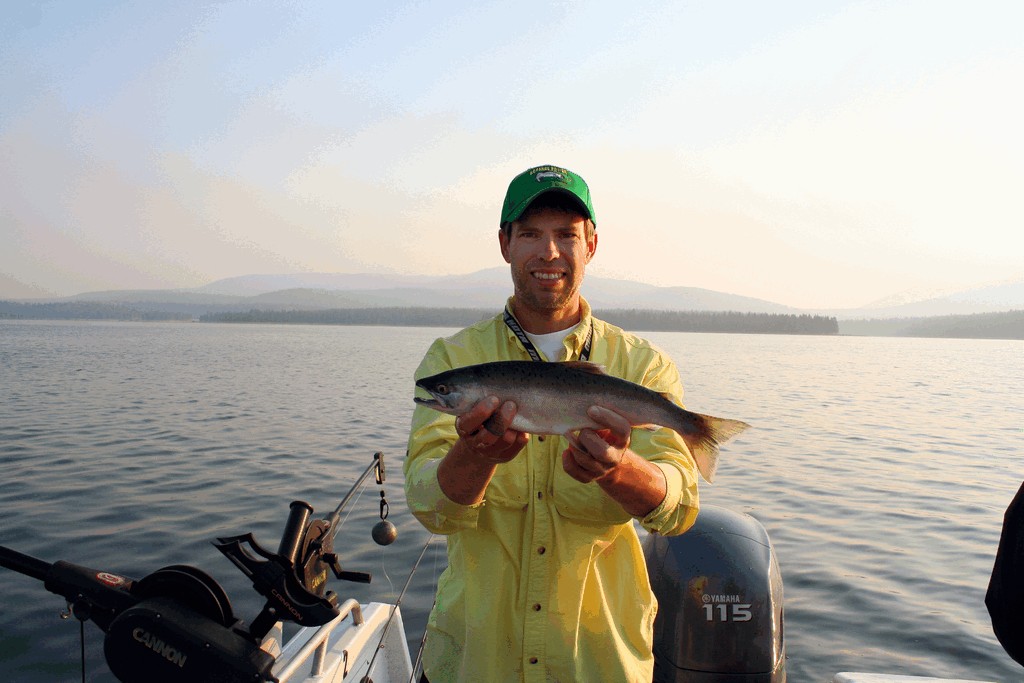 Each year, it seems like one body of water rises to the top as the best kokanee fishery in Northern California. Lake Berryessa held the title for a number of years, only to be knocked off by the drought and the sudden resurgence of Whiskeytown Lake. Last summer at the Whiskeytown Kokanee Power derby, I proclaimed it was the best kokanee fishing I had ever seen.
Whiskeytown fished great this year and has the current edge on other lakes as far as average size. However, I have NEVER seen anything like the kokanee fishing this year at Stampede Reservoir.
Let me provide some examples. During my first trip this year on August 4 with Kirby Desha and Gary Ledbetter, we limited out for the three of us in 45 minutes flat. Our limits included three fish over sixteen inches.
Next up was on August 7, when we fished the three of us plus Kirby's father-in-law Willie Brusin. We were off the water with 20 fish in the cooler by 7:20 am. There were a few smaller fish mixed in, but for the most part we were averaging solid fifteen inchers.
Stampede Reservoir is a scenic high sierra lake formed by a dam impounding the Little Truckee River. It sits at an elevation of 5,949 feet above sea level, about seven miles northeast of the town of Truckee. It features two campgrounds and one launch ramp with a single dock. While I have camped there before, this year I have been making morning runs that take me about an hour and forty-five minutes from my driveway in Roseville.
If you are lucky enough to make it to Stampede this year, I can offer a few tips before heading up. One thing to note is that the dam road is currently closed due to construction, so you have to access the reservoir from HWY 89 to the West. Follow the orange detour signs along the winding back roads. You will reach a hard to read brown sign indicating a left turn to the boat ramp.
I would suggest getting to the ramp just before dawn, as the early morning bite has been the best time to be there. As the day progresses, the action tapers off and tougher fishing sets in. However, there will still be flurries of activity throughout the day. Just remember that Stampede is famous for gusty afternoon winds that will stir up unpleasant whitecaps.
Fishing wise, insane numbers of big kokanee are making the catching process fairly easy this year. That being said, here are a few pointers to set you in the right direction.
During my latest trip at the Kokanee Power derby on August 11, the fish were stacked up over deep water from the launching ramp to the dam. The area south of the islands was also holding a lot of fish. We started catching fish between 50 and 65 feet deep in the morning, but got fish 80 feet down later in the day. In most cases, I was fishing over at least 100 feet of water with the downriggers set at higher depths where I was marking fish. The depths and locations will change as the year progresses, but as of press time it was wide open out there.
You will want to troll in the normal kokanee speed range of 0.8 to 1.3 miles per hour, depending on your preference. Anglers have been doing well using micro hoochies with and without small spinner blades added. Fluorescent orange, pink, and red are the popular colors, but stick with what you have confidence in. Run your lures behind nickel dodgers, and don't forget to tip each hook with a kernel of white shoe peg corn scented to your liking. Tuna seems to be popular these days, but krill and anise are classic favorites.
Once the male kokanee salmon start developing hooked jaws and absorbing their scales, I tend to favor Apex-style lures over anything else. I use a lot of speed variations and turns to elicit strikes from aggressive pre-spawners looking to attack. It's my favorite style of kokanee fishing without a doubt.
If you can make it up to Stampede Reservoir this year, by all means do it. When you factor together the size and numbers of kokanee, 2018 is shaping up to be a class for the history books. Don't miss out!