It was an event my boyfriend, Matt, and I had been looking forward to since last year, an event more than 120 anglers did as well…The annual kayak fishing Albion Open.
As first light glanced onto the valleys surrounding our route, we sped west to keep up with the receding, morning fog. After winding roads along Highway 128 we noticed the tall, wooden truss bridge that landmarks Albion and its fruitful coastline. We crossed the bridge and saw the palette of colors from kayaks on both land and sea.
After checking into camp, we checked on fellow anglers. The salmon bite was on! Many two fish limits of salmon and many singles were brought in early that morning. Conditions were getting rough on the ocean and many anglers called it a day. We decided to head out on Hobie kayaks to see what we were in for.
Large mixed swells at short periods challenged my stability, attention, and sanity. The grey clouds loomed among us and the wind grazed mist across my face. After tolling for an hour, we headed in. No salmon!
The next morning, we headed out again. It was tournament day, a day to catch the biggest lingcod, cabezon, and rockfish in order to take home a brand-new Ocean Kayak.
We sought for the chrome fish, instead. Conditions were rough but the wind was mild. Our lines weighted by the pull of our Deep Six Planers with trailing plastic squids. We trolled to the buoy west of the Albion River's mouth. Dozens of kayakers were already out, scattering to find the bite. We rode the waves and kept our lines down at least 35 feet.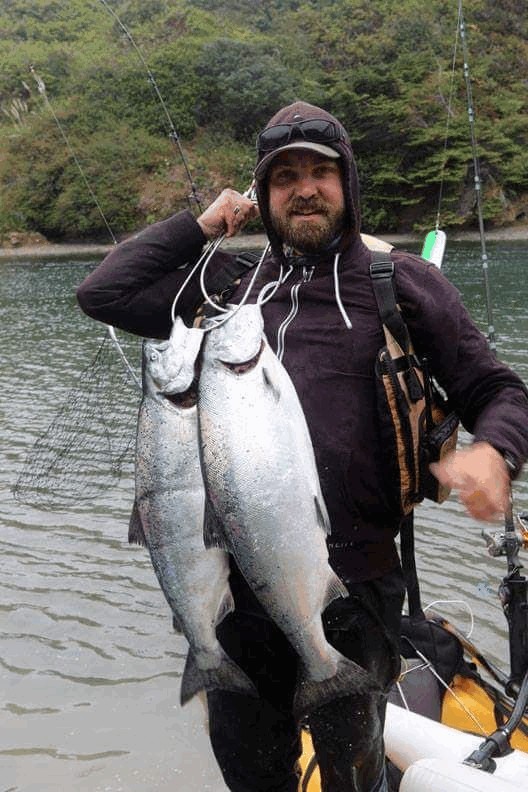 An hour passed and we considered heading further west, but then I felt a sudden tug on my rod. I snapped the rod back. It was a fight but I could tell it wasn't a monster.
I reeled it in and saw silver gleam through the water. Keeping the line taught with the shaking fish, I landed it, a beautiful, ocean Chinook salmon. Less than ten minutes later, Matt caught one of his own.
We headed in after trolling for a few more hours. Our kings were small in comparison to many of the large salmon being pulled from kayaks that weekend, but Matt and I were happy with our first kayak salmon catches. They both measured twenty-four inches!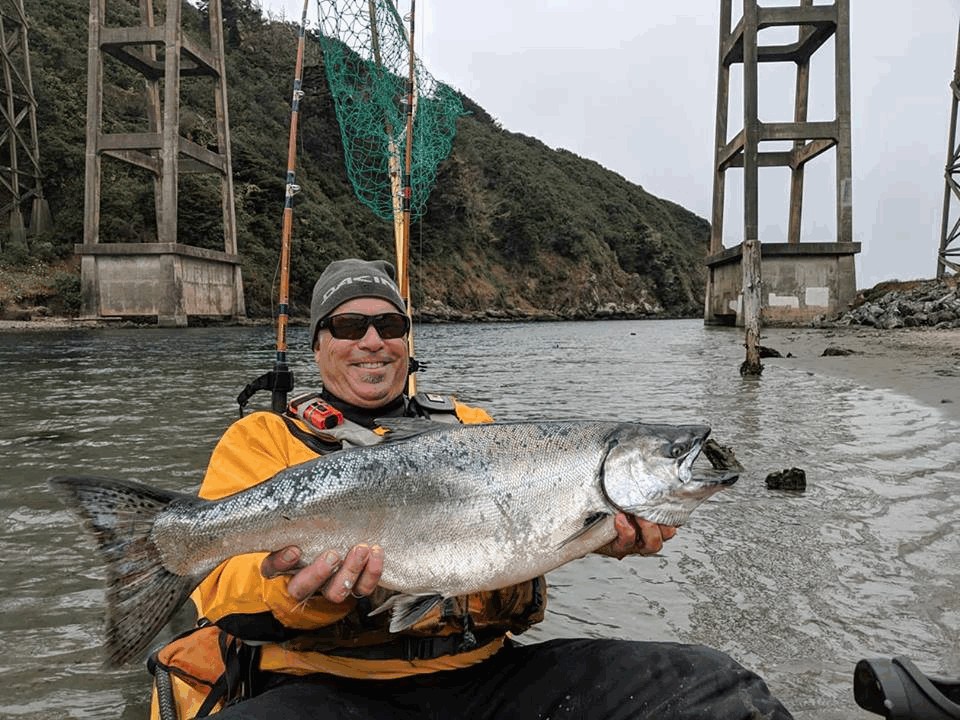 We spent the rest of the day hanging out with the many Nor Cal Kayak Angler members who attend the yearly Albion Open event. Fresh salmon sashimi and potluck dishes trademarked the Albion Open of 2018. Many tournament and raffle prizes were handed out and there were endless happy faces. A joyous time, that's exactly what it was!