I have always been an enthusiastic kokanee fisherman. I love fishing for the little silver bullets all over northern California, from Whiskeytown to Don Pedro and everywhere in between. They fight extremely well, are a ton of fun to catch, and I love them on the barbeque!
The first week of August I made the journey to that hallowed kokanee lake – Flaming Gorge Reservoir. Mark Kalinowski of Concord and I sailed east in his big Ford Excursion towing his beautiful 22-foot Rogue Jet. It was a nice treat for me to be the passenger for a change and able to take in the sights instead of concentrating on the road.
The 14-hour road trip culminated about 6 pm in Green River Wyoming, where we bought our fishing licenses and headed to camp at Buckboard Marina in the central part of Flaming Gorge. As we pulled into the small campground, both Mark & I perked up as we spotted a distinctive bright blue Wooldridge boat outfitted to the gills.
Mark exclaimed "Hey – that is Sambo's boat!" Sure enough we spotted Sambo Lage of Concord and his buddy Gary Edminster, who we often see fishing kokanee and trout tournaments in Northern California.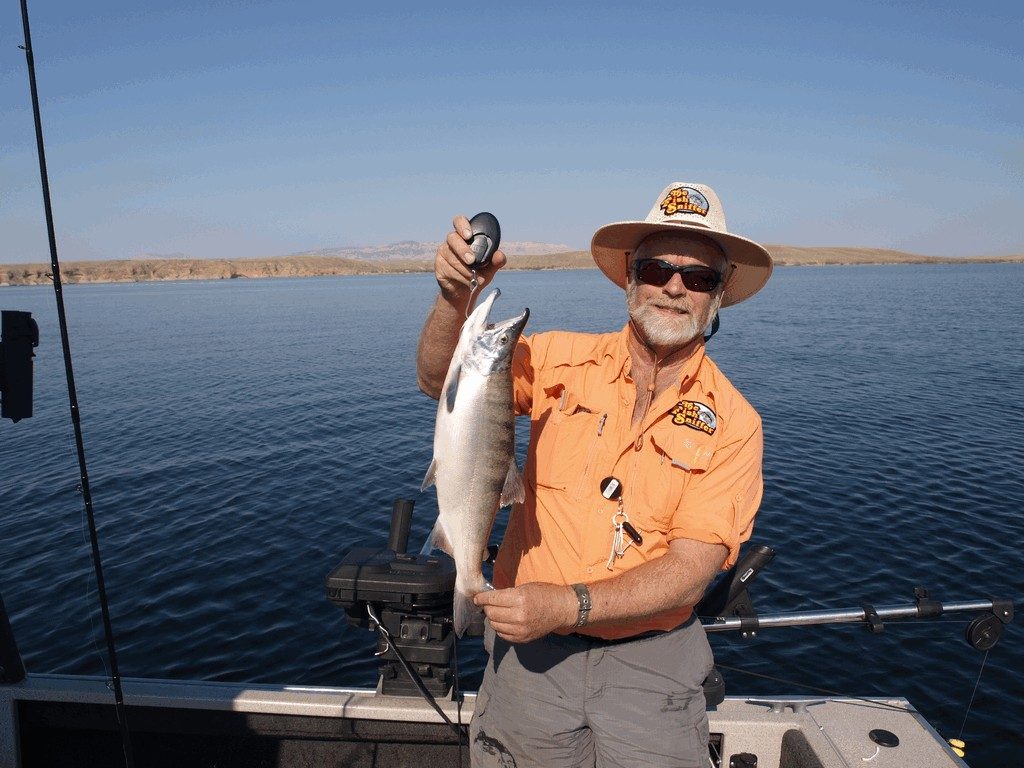 Sambo said they had been there for a few days and were catching a ton of nice kokanee. They gave us a few tips on what to use and where to go, and we said we'll see you on the water. Sometimes it really is a very small world!
Thursday morning we launched the Rogue Jet and headed east to where we could see a pretty good size "fleet" of kokanee boats. We went around the main flotilla and worked what Mark called the "rock wall" area.
There were lots of fish on the graph, and we were soon hooked up with our first Flaming Gorge koke! I was running a Vance's watermelon dodger with a pink Yakima Bait Tight lines kokanee rig with a plain piece of shoepeg corn at 55 feet deep when my rod in the aft downrigger bowed to the water.
I jumped up and grabbed the rod just as a silver missile erupted from the surface of the lake 75 feet behind the boat and the fight was on! Everyone who has caught kokanee know how well they fight for their size, and this one was about 19 inches long and tearing drag off the Daiwa Lexa 100 reel like a freight train!
After that first jump, he headed straight down, keeping a tremendous bend in my lightweight Cousins Rod. He stayed down and fought valiantly until I was able to ease him the back of the boat and Mark netted him. What a great way to start our trip!
We fished until about 2 pm. It was unusually hot – up to 95 degrees in the afternoon, even at the six-thousand-foot elevation. We ended up catching a total of 34 fish, which included 4 mackinaw to about 3 pounds. The kokanee ranged from a small of 16 inches to the biggest at 21-½ inches and about 3 ½ pounds.
Most of the kokes were caught from 45 to 65 feet deep at 1.4 mph. The surface temperature was 72 degrees each morning. Our best setups were Vance's, Sling Blade and Paulina Peak dodgers followed by pink and orange spinner hootchies. Pretty much the same outfits we use here at Stampede, Whiskeytown and others.
We did catch a few on plain hootchies in pink and orange, but the spinner hootchies did the best. I tried my favorite method of using Vance's cannonball flashers followed by a pink Sockeye Slammer and manage to catch 2 fish that way, but they seemed to be shy of the cannonball flashers.
Friday morning we launched again at Buckboard Marina and headed south to the "power lines" area. We moved to several different spots trying to find that elusive 5-pound kokanee with no luck. We ended the day with 18 kokes to the boat, all on the same gear and the same size as Friday.
Our last morning we decided to do something different and headed up the lake to the north about 4 miles to find some trout. We started fishing upstream as soon as we started to see some of the distinctive rugged rock walls that form the upper part of the lake.
We hadn't trolled 100 yards when my "cutthroat" color Tasmanian Devil was ripped off the downrigger set at 25 feet. The drag buzzed as the fish ran back and forth across the surface and then dove and sulked for a few minutes. Finally in the net was a robust 18-inch Flaming Gorge rainbow!
We continued trolling upstream for a couple hours. The water was colored by an increasing amount of what we called green slime – or algae. It didn't seem to bother the trout, as we ended up with a total of 13 nice rainbows from 14 to 18 inches by 10 am. Tasmanian Devils in "cutthroat" and "bleeding frog" were the best bets, but we did catch a couple on Excel and Needlefish spoons, trolling from the surface to about 30 feet deep in water no deeper than 60 feet.
Flaming Gorge Reservoir was completed in 1964 and is over 90 miles long. It was created by damming the Green River. It is world famous for large fish, including kokanee up to 6 pounds, mackinaw or lake trout up to and over 40 pounds, as well as rainbow and brown trout. It is a long, hot and this year smoky 14-hour drive from my home in Colfax, but the fishing is definitely worth the effort.